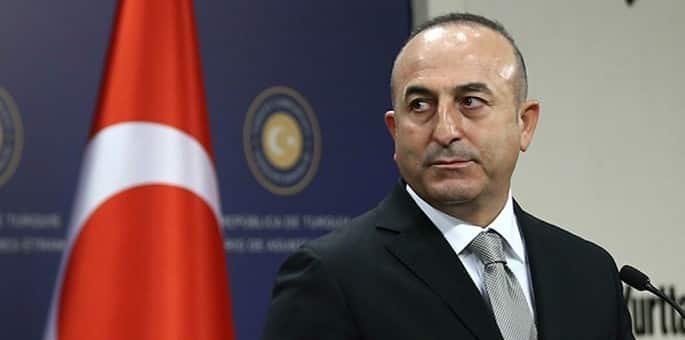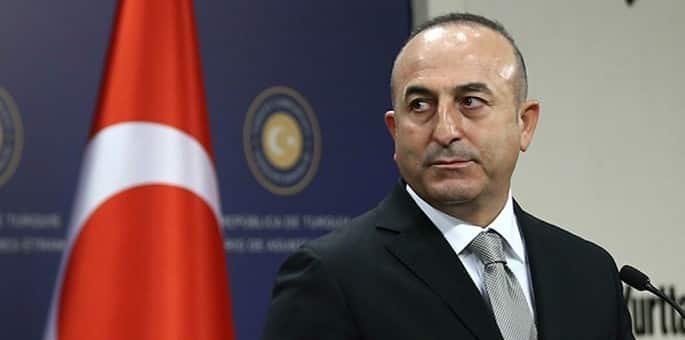 In statements made publicly, reported by Reuters, and in private communications with foreign ministers across what had once been the Ottoman Empire, Turkish Foreign Minister Mevlut Cavusoglu tells of a US agreement that goes well beyond the lines set by President Obama, Secretary of State Kerry and General Allen, placed in charge of US operations against ISIS.
The US has long held the line against military action against Damascus but Cavusglu has publicly pushed the US to that line and privately confirmed the US has agreed to cross it entirely.
From a Reuters story, Cavulglu speaks about how US trained anti-Assad forces are to be aided:
"They have to be supported via air. If you do not protect them or provide air support, what is the point? There is a principle agreement on providing air support. How it is going to be provided is in the responsibility of the army.

Turkey has said that any support program must be part of a comprehensive strategy which includes battling forces loyal to Syrian President Bashar al-Assad.  Cavusoglu reiterated that while fighting Islamic State is prioritised, the 'regime must also be stopped.'"
The official US position has been quite different with official State Department sources viewing any attempt at establishing a "safe zone" inside Syria as an act of war.  However, sources across the Middle East have Cavusgoglu promising not just a "safe zone" but US pilots engaging in air attacks on Syrian Air Force bases and against "infrastructure targets" intended to weaken and collapse the Assad government.
Turkish Leverage, Obama Weakness
The error the US made is clear.  The US meetings with the Turkish Foreign Minister outlining US positions and limitations was organized, not by Secretary of State Kerry or even Vice President Biden but rather Undersecretary Victoria Nuland, architect of US policy that has led to a full scale civil war in Ukraine.
Sources indicate that Nuland's representatives, working at cross purposes to the Obama administration, pointed out the president's weakness as a "lame duck" and cited America's lack of credibility in the region after an American backed reconquest of Mosul, Iraq's second largest city, failed to materialize as promised.
The US/Turkish agreement was made including "handshake" codicils, knowing well no American military operations could be mounted without congressional approval.  Even normally hawkish Senator John McCain, long a supporter of Al Nusra, has indicated unwillingness to allow any direct US support against the Damascus government.
Dirty Hands
Over the past month, 6 Turkish officers, major and above, have been killed or captured inside Syria as have a number of both Saudi and Qatari officers as well, according to a Syrian National Security advisor.  Names and photographs of some of those mentioned have been published, including a Turkish chemical weapons expert killed in a raid on a facility where hundreds of barrels of household cleansers were stored, precursors for making chlorine gas.
Where Turkey and the US differ inexorably in policy is motivation itself.  In truth, Turkey is picking Northern Syria "clean as a Safeway chitterling."  Entire factories have been hauled away into Turkey along with valuable antiquities and millions of barrels of Syrian oil.
Though this is openly admitted and curiously overlooked, one factor that is overlooked is perhaps more a threat to Turkey than it is to Syria.
The looting of Syria by Turkey is far from national policy.  It is the personal policy of Prime Minister Erdogan himself, along with his family, close friends and business partners.  They receive and market the oil, the antiquities and the factories assemblies, machine tools and inventories.  This is about high level corruption in Ankara and Erdogan's rule by cronyism.
Offsetting Russia
Russia is being leveraged as well.  With sanctions against Russia tied to the annexation of Crimea and attempts to dislodge Russia's energy stranglehold on Western Europe, Russia has turned to Turkey as a partner in a "southern route" gas pipeline that would terminate at the Greek border.  This move is seen to potentially divide the European Union and, eventually, "peel off" members whose need for affordable natural gas would make "debt slavery" to Strasburg and Brussels even more unattractive than it already is.
Egypt just announced a $2bn purchase of advanced Russian combat aircraft.  Russia is looking on Egypt as a hedge against Damascus, should Syria fall to the Turkey, Saudi, Israeli nexus.  At some point, Russia will either have to bring military forces into Syria, dooming economic partnerships with Turkey, or watch Syria fall.
Putin watchers predict a Russian "stand down" on Syria as Russia's economic challenges have pushed Putin closer to his Israeli "kitchen cabinet," a group long critical of Russia's interest in Syria.
US Silence
While Cavusoglu's pronouncements, in direct contradiction of all official US positions, reverberate across the region, the US remains silent and is predicted to remain so. Was Secretary Kerry's "hands off" approach to these critical negotiations with  turkey needed "deniability" or was the US outmaneuvered?
ATTENTION READERS
Due to the nature of independent content, VT cannot guarantee content validity.
We ask you to
Read Our Content Policy
so a clear comprehension of VT's independent non-censored media is understood and given its proper place in the world of news, opinion and media.
All content is owned by author exclusively. Expressed opinions are NOT necessarily the views of VT, other authors, affiliates, advertisers, sponsors, partners or technicians. Some content may be satirical in nature. All images within are full responsibility of author and NOT VT.
About VT
-
Read Full Policy Notice
-
Comment Policy