… by  Jim W. Dean,     with  Press TV, Tehran
[ Editor's Note:  We have an old story coming back around, how on "all things Israeli" even a Bush-regime-inspired national security risk can be carried on by Obama.
The Zionists feared exposure of their ongoing attacks on America would threaten having the Israeli public and the worldwide AIPACs having to fund their military budget, something they could easily do.
One of the biggest goals of Israeli espionage is to have its targets not only pay for their offensive operations, but also subsidize the Zionist military budget. One extension of Israelis' supremacist thinking is that "the stupid people – cattle" voting for pre-owned political leaders should pay.
Given their fear of a new president attempting to end the American taxpayers financial support of Israel's attacks within America, the cartel proposed a move to a ten-year funding method. The Neocons in the Bush November 2000 political coup tripped over themselves in agreeing to do this.
The act disenfranchises American citizens, because regardless of what Israel does to us, the funding is committed. Out the door flies one of the biggest levers to encourage "adjustments" in Israel's behavior, so opponents can't touch Israel's being the biggest WMD threat in the Mid East nor their make-believe Palestinian peace negotiations.
We have an opportunity here to raise a stink about this process by pushing for going back to the annual funding method, and then adding curve balls, like an independent certification that Israel has not engaged in major espionage operations against America while receiving US funding.
Monitoring this would have to include open access to our own Intel files on this legacy problem, with criminal penalties for non-compliance, as in aiding and abetting in this espionage by obstruction of justice. It is a perfect poison pill issue for the 2016 election campaign, with all candidates refusing to comment on it.
But if we do not take the offensive folks, they are going to keep putting it to us, our children and our grandchildren. And, with this renewal being a once every ten year deal, I suggest we make this a high priority… Jim W. Dean ]
______________________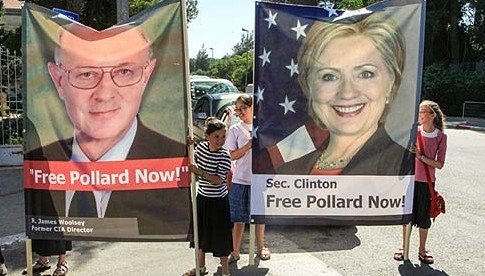 –  First published  …  May 29,  2015  –
The United States is poised to increase its annual military assistance to Israel amid Prime Minister Benjamin Netanyahu's fears over nuclear diplomacy with Iran, according to reports.
With the current $3 billion annual military aid package set to expire in 2017, US and Israeli officials are discussing a new 10-year deal that could be worth up to $45 billion.
A US official said on condition of anonymity that the new agreement could bring US military aid up to $3.7 billion a year.
During a briefing with reporters on Thursday, Netanyahu refused to say how much Israel was requesting from the United States.
However, he said the increased military assistance was not a "quid pro quo" for a possible nuclear deal with Iran, which Israel strongly opposes.
"There is no trade-off requiring I agree to this [nuclear] deal with Iran. The deal is bad and we will continue to oppose it," Netanyahu said, according to Israeli media.
Alistair Baskey, a White House National Security Council spokesman, acknowledged Thursday that US and Israeli officials were expected to discuss ways in which "long-term security cooperation between the two countries can be further strengthened."
But, he said "no such detailed discussions at a senior level have occurred recently."
The administration of former US president George W. Bush signed an agreement with Israel in 2007, providing it with $30 billion in military assistance over 10 years. Most of that money must be spent on American military products.
The money is separate from the nearly $500 million in annual US funding for Israel's missile system programs in recent years.
Netanyahu made a speech before a joint session of Congress on March 3, warning US lawmakers that the White House was negotiating "a very bad deal" with Iran.
Representatives of Iran and the P5+1—the US, Britain, France, Russia, China and Germany, began their latest round of talks on drafting the text of a final nuclear deal in the Austrian capital of Vienna on Wednesday.
Author Details
Jim W. Dean is Managing Editor of Veterans Today involved in operations, development, and writing, plus an active schedule of TV and radio interviews. He broke into television work doing Atlanta Public TV programs for variety of American heritage, historical,military, veterans and Intel topics and organizations since 2000. Jim's only film appearance was in the PBS Looking for Lincoln documentary with Prof. Henry Lewis Gates, and he has guest lectured at the Army Command and General Staff School at Fort Gordon, GA.
He is working to find time now to database his extensive video archive of Americana and interviews filmed during his public TV days so individual topic segments can be key word searched to quickly use in future multi-media projects.
Read Full Complete Bio >>>
Jim's Latest Posts
ATTENTION READERS
Due to the nature of independent content, VT cannot guarantee content validity.
We ask you to
Read Our Content Policy
so a clear comprehension of VT's independent non-censored media is understood and given its proper place in the world of news, opinion and media.
All content is owned by author exclusively. Expressed opinions are NOT necessarily the views of VT, other authors, affiliates, advertisers, sponsors, partners or technicians. Some content may be satirical in nature. All images within are full responsibility of author and NOT VT.
About VT
-
Read Full Policy Notice
-
Comment Policy