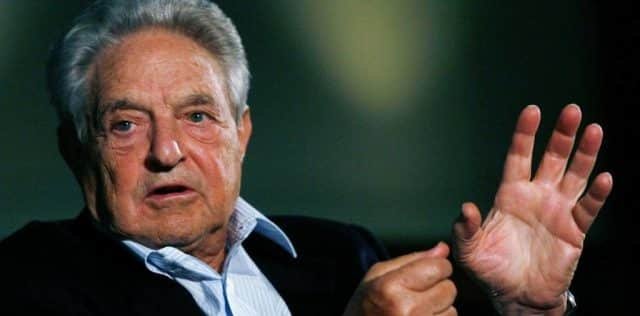 … by  Sputnik,  Moscow
[ Editor's Note:  There is nothing new here really, just a dressed up version of an old scam by a mega hustler to go into a warn torn situation to buy up depressed assets in a volatile situation, and then layoff the downside risk on the EU taxpayers.
They take all the risks, Soros keeps all the profits, and then claims to put those into one of his foundations where he can add to another color revolution and start the process all over. You just can't make this stuff up.
Will Georgie spread a little cash around to get the EU votes that he needs… and/or promises some job slots in his foundations? How would the EU justify it not finding $10 billion of projects in the EU to guarantee when all their stimulus attempts have failed so far, and Greece is still twisting in the wind?
Dear EU public, You folks will need to organize EU-wide marches this summer to send a message to uncle Georgie and your EU leaders he is planning to seduce with his insider's scheme that you will not meekly accept your sucker role that Mr. Soros has assigned to you.
Soros should be hounded publicly wherever he shows his face in the EU for this stunt. It's the least you can to do to send a message to all the other banksters and gangsters that this public guarantee scam has been laid to rest… Jim W. Dean ]
_________________________
–  First published  …  June o2,  2015  –
A leak by the hacker group CyberBerkut revealed an internal paper allegedly written by George Soros, which plans to make the European Union underwrite political risks for investors in Ukraine.
A draft internal discussion paper allegedly written by investor George Soros in March was leaked by the hacker group Cyber Berkut on Monday.
The paper outlines George Soros' alleged plan to use the European Union's credit rating to finance risk insurance for his investments in Ukraine through its own budget and debt. The plan would effectively make the EU underwrite Ukraine's political situation at a cost of up to 11 billion euros ($12 million) every year.
Once the risk insurance is available, Soros would allegedly invest up to $1 billion in Ukraine's private sector. The sum is relatively minor when compared to loan packages negotiated for Ukraine, with the last IMF bailout amounting to $17.5 billion.
Ukraine's military conflict in the Donbass and its diplomatic conflict with Russia is mentioned at the beginning and the end of the paper as a justification for the strategy. According to the paper, they are ideas that "Ukrainian and allied leaders should agree on" to support Soros' alleged plan and do not appear to be his actual appraisal of the situation.
Privatizing Perception
Both the means Soros allegedly lists to provide the insurance and the means to profit from the situation rely on perception rather than what the paper calls "deteriorating external reality." While saying that it is important to show Ukraine as a country that is not corrupt, Soros himself allegedly shows little concern for transparency when talking about Ukraine's constitutional reform.
"The process has been slowed down by the insistence of the newly elected Rada on proper procedures and total transparency," the paper says.
The paper says that the government must "produce a visible demonstration" of Ukraine as a country that is not corrupt within three months to get the EU to provide the investment guarantees. Soros allegedly intends to create this demonstration through his initiatives, such as the National Reform Council, a body organized by presidential decree which allows the Ukrainian president to push bills through Ukraine's legislature.
Once Ukraine's image as a country which is not corrupt is temporarily secured, Soros allegedly plans to secure the EU's Macro-Financial Assistance (MFA) program by getting the European Council to approve it through unanimous consent. That would allow the EU to grow its allocations to Ukraine in the next budget from 1 billion euros to 11 billion euros, according to the paper.
The second part of Soros' alleged plan is to create a "surprise to the business community" by announcing the insurance scheme and his plan to invest $1 billion, with the hope that more investors will follow through with the remaining $10 billion of insurance.
Ukraine's two leading stock exchanges currently have market capitalizations of $10.7 billion and $5.7 billion, which would allow Soros' investment to have a good chance of a high return in the short term.
"The investments will be for-profit but I will pledge to contribute the profits to my foundations. This should allay suspicions that I am advocating policies in search of personal gain," the paper says.
What Would Soros Invest In?
Other than Ukraine's fledgling equities markets, which lost 15.5 percent in the past year, Soros could profit from the Ukrainian government's privatization plans.
"The centerpiece of economic reforms will be the reorganization of Naftogaz and the introduction of market pricing for all forms of energy, replacing hidden subsidies with explicit subsidies for needy households," the paper says.
Splitting Naftogaz into separate companies, as the Yanukovych government also planned as part of an agreement into the EU, could allow Soros to take control of one of the new branches and essentially privatize its profits.
The paper also discusses using EU money in Ukraine for other initiatives, which are not disclosed.
"Using MFA for purposes other than balance of payments support and using it to make political risk insurance commercially attractive runs into a number of legal hurdles that need to be overcome in the next three to five months," the paper says.
Author Details
Jim W. Dean is Managing Editor of Veterans Today involved in operations, development, and writing, plus an active schedule of TV and radio interviews. He broke into television work doing Atlanta Public TV programs for variety of American heritage, historical,military, veterans and Intel topics and organizations since 2000. Jim's only film appearance was in the PBS Looking for Lincoln documentary with Prof. Henry Lewis Gates, and he has guest lectured at the Army Command and General Staff School at Fort Gordon, GA.
He is working to find time now to database his extensive video archive of Americana and interviews filmed during his public TV days so individual topic segments can be key word searched to quickly use in future multi-media projects.
Read Full Complete Bio >>>
Jim's Latest Posts
ATTENTION READERS
Due to the nature of independent content, VT cannot guarantee content validity.
We ask you to
Read Our Content Policy
so a clear comprehension of VT's independent non-censored media is understood and given its proper place in the world of news, opinion and media.
All content is owned by author exclusively. Expressed opinions are NOT necessarily the views of VT, other authors, affiliates, advertisers, sponsors, partners or technicians. Some content may be satirical in nature. All images within are full responsibility of author and NOT VT.
About VT
-
Read Full Policy Notice
-
Comment Policy