Most weapons here are custom designed and built by us. Others are "standards" or interest items. Included is the most extensive catalog of modern assault type weapons (almost exclusively AR based) in the world. Among these are things the US military only dreams of having.
Custom built weapons are usually range tested and, where needed, custom tuned and lubricated. There is always a break-in period for all semi-automatic weapons.
For further information or to purchase any of these guns, please contact Mike Chester at Chet's Firearms of Howell, Michigan. [email protected] or phone 517-548-9558. Ask for Mike. Prices do not include shipping to your local FFL.
---
The "Franken Pistol" .223 Monster

This is the lightest and most compact "truck gun" in history.  The polycarbonate lower receiver with brass reinforcements is proven stronger than its aluminum counterparts. We have created the smallest platform possible to humble in famous MP5, beating it with 4x the range, 3x the energy, with no recoil, less weight and a perfect optics platform.
Loadout:
Super premium 8.5 inch .223 barrel with A2 flash hider
Full auto rated bolt carrier group
Forged aluminum upper receiver
Tennesee Arms "Ghost" Lower Receiver with brass fittings and DPMS trigger
Odin Works 7 inch Keymod quad rail ($200 value)
Troy Industries QD Swivel Assembly ($60 value)
Ergo soft rubber custom pistol grip ($45 value)
1-4.5 power AR illuminated 26mm tactical scope ($220 value)
Quick Release scope mount with accessory platform ($80 value)
$799
---
AK Pistol on AR Platform, Devastator
This thing is an incredible shooter, much lighter than an AK Pap, no recoil and it pounds out fire.  Key, of course, is that it uses inexpensive and plentiful 7.62×39 Ammunition.
Loadout:
7.5 inch Phosphate coated barrel
A-2 style muzzle brake
10 inch tube handguard
Magpul MOE pistol grip
Full auto rated bolt carrier group
Special extended buffer tube for arm brace
Shockwave Blade arm brace
UAG Holographic Red Dot
20 round magazine
$699
Sig P 226 DAK
Used Police Trade In
In DAK, Double Action Kellerman. This is the weapon the feds use, as good a combat weapons as exists. This is an alloy frame designed by the US military and carried by Navy SEALS. You should get one anyway.
Grips: Black Polymer Factory Grips
Slide FinishNitron®
Features: Accessory Rail, DAK Trigger
MSRP$1,108.00 Price
$499
SALE
---
AR10 Carbine .308 16 inch
Delivering a premium AR10 for under $1000 is a challenge without cutting corners. We use a premium barrel and fully finished full-auto bolt carrier. With scope in place, match iron sights are totally usable. Furniture is top rate including a custom front rail. Modular design allows this to strip down to super-light field gun, SWAT sniper or gun-safe queen. This is the only 800 meter buffered action semi-automatic carbine in the world.
Premium 16 inch .308 barrel
Forged aluminum upper and lower receiver with door and forward assist ($100 value)
Full auto rated bolt carrier group
Custom pistol grip ($45 value)
Carry handle with dual aperture match grade sight(works with adjustable front sight post) ($40 value)
Carry handle pic rail mount ($30 value)
Barksa 3-9X40mm variable power scope ($80 value)
Aluminum lower pic rail for handguard ($30 value)
UTG Harris style bipod ($70 value)
Blackhawk stock (ACS stock shown in picture) ($100 value)
A-2 style muzzle brake
20 round magazine
$1299
$999 

---
Sig P250 Compact 9mm (suppressor ready)
Sig Sauer P-250 compact 9 mm with suppressor ready threaded barrel and extra grip
2 grip modules included (medium and large accommodate different hand sizes)
Item Number 250C-9-BSS-TB
Caliber 9mm Action TypeDAO
Barrel Length 3.9 in
Sight Radius 5.8 in
Weight w/Mag26.5 oz. Mag
Capacity15 rounds
Sights SIGLITE® Night Sights
Grips Interchangeable Polymer Frame
Finish Black Polymer
Slide Finish Nitron® Accessory
Rail Yes
Threaded barrel with cap.
MSRP $608.00 ( CA Compliant No MA Compliant No) $479 – Brand New
---
Star Super B 9mm 1911 PistolThese are police pistols from Spain in 9mm "single stack." These are virtually identical to a 1911 .45. The barrels are perfect, finish excellent and are exceedingly accurate. These are very solid, dependable weapons that can handle tremendous abuse.
$289.00
---
Walter PPX 9mm Two Tone
These are German made Walther's. This is a full size 9mm and an excellent weapon.
Loadout:
Caliber:9mm.
Finish:Brushed Stainless
Trigger Pull:6.5 lbs
Barrel Length:4″
Capacity:16 rnds
Overall Length:7.3″
Weight (empty mag):1.7 lbs.
2 Magazines included
$389 – Brand new
---
Zastava M88 9mm Pistol
Includes 2 magazines
$259 – Brand new
---
Glock 21 .45ACP

Barrel: 117 mm / 4.60 in.
Magazine Capacity: Standard: 13
$459.00
---
---
Dan Wesson .357 Model 15 8″ Revolver

Loadout:
Rare Dan Wesson .357 with excellent trigger
$799
---
300 Blackout M4 Carbine
16 inch premium Melonite barrel
Blackhawk stock
Custom pistol grip
Custom Flash Suppressor
15 inch Custom Free Float handguard with rails
Forged Aluminum upper and lower receiver
Full automatic rated bolt carrier group
3-9x 40mm Bushnell illuminated red/green scope
30 round magazine
Price:
839.00
This rifle has been sold, but we have the parts in stock to build another like it.
---
Limited Edition Ghost Pistol .223
7.5 inch .223/5.56mm Wylde barrel
10 inch custom ultralight handguard
KAK industries Flash Can (within a can, a VT exclusive)
"Ghost" Tennessee Arms Polycarbonate/Brass Reinforced Lower Receiver
Aluminum Forged upper receiver
DPMS trigger group
Full auto rated bolt carrier group
Ergo custom pistol grip
Padded pistol buffer system "upgrade to Sigtac/Blade available)
Mini-Red/Green CQB Holographic sight with riser
Price: $729 – Memorial Day Sale $599 through June 30
---
VT Custom M4 Carbine in .223
16 inch M4 barrel
Forged aluminum upper Bushmaster upper with built-in carry handle (not a flat top)

Also available without a handle

Forged aluminum lower receiverlower receiver
Full auto rated bolt carrier group
10 inch aluminum free float quad rail w/end cap
Foregrip with pop-out bipod
Custom pistol grip
(0ptional iron sight capability)
$669 with optic ($749 with match iron sights)
---
---
.308 24 inch Sniper Rifle (Limited Production)
As with most of our products, we can redress this as a field gun with adjustable stock, premium iron sights and red dot. As it sits, this will do the job.
Loadout:
24 in. stainless barrel by DPMS
Matrix Aerospace upper and lower
Nickel boron bolt carrier
6-24X50 scope mounted on cantilever mount
13 in. quad rail, low profile super-premium
UTG Harris style bipod with quick disconnect
Articulating sniper stock
custom pistol grip
20 round magazine
$1399
AR10 18 inch Sniper Platform .308 Limited Production
(a "G" favorite)
We go as light as possible on this weapon to support a match grade 18 inch sniper barrel. Optic is a super-premium Eterna, very bright, utterly clear. I would call this one of the best combat weapons in the world but, truth be told, it is more of a hunter. This is a personal design and picking this up is like "comin' home to mama."
Loadout
Upper and Lower receiver: Matrix Aerospace matched set ($465 value)
Barrel: DPMS 18 inch fluted bull sniper system ($600 value)
Nickel Boron Bolt Carrier Group ($275 value)
Keymod ultra-slim 13 inch rail ($275 value)
Brunton Eterna 1.5-5 26mm scope ($600 value)
Forged Aluminum 1 inch riser ($30 value)
Custom grip ($45 value)
UTG A2 .308 Stock and Buffer System
$1599
---
---
M1919 Semi Automatic Shotgun 12 Bore/3 inch Magnum 5 plus 1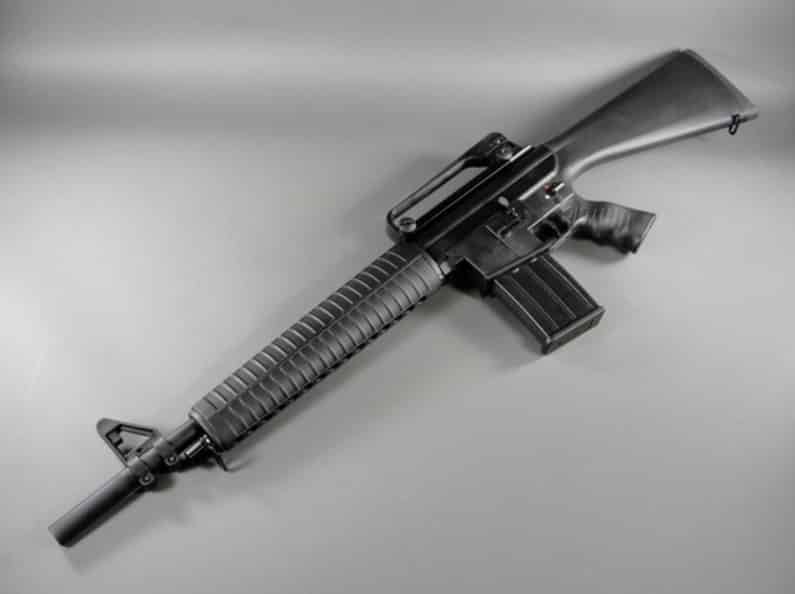 Video (unknown person) makes it clear why we like these. Magnum ammo, unless you are big like the dude in the video, is an experience. This thing is for either blowing cars apart or for someone facing really serious personal security issues or both, as is often the case.
Type: gas operated, semi-automatic
Gauge: 12, 3″ / 76mm chamber
Length: 964 mm
Barrel length: 470 mm
Weight 3.25 kg empty
Capacity: 5 rounds in detachable box magazine
$579 (magazine shown below is "aftermarket")

---
An "Old School" AR Pistol
5.56mm/.223 Wylde
Exactly like a MAC 10 but a thousand times better. Perfect ergonomics, perhaps the scariest "business end" view in town and light as a feather…
Additional rail space is on the scope, 6 inches of it, room for a mini red dot, light and laser, all where the balance needs to be.
Loadout:
7.5 inch chrome lined 5.56mm/.223 Wylde super premium barrel $250 value
Full Automatic rated bolt carrier group
Aluminum Free Float Tube ($155 value)
KAK Industries Flash can ($70 value)
Ergo rubberized lower grip ($65 value)
SigTac Stabilization Brace ($149 value)
8.45 inch Custom Pistol Buffer Assembly ($85 value)
End Cap/Swivel ($65 value)
Brunton Eterna 1-5x AR Scope ($499 value)
Cantilevered 6 rail/12 screw riser mount ($100 value)
Magpul 30 round magazine ($20 value)
$999
---
SigTac Custom "Can within a Can" .223 Pistol
All Business
"Imagine staring down a barrel big enough for a rat to crawl out"
By "all business," we really mean it. This is absolutely perfect ergonomics and top components in a unique custom design. Can anyone say this isn't a "bad boy?" Moving us back in time to when the grease gun and MAC 10/Ingram were hottest things around. We built on this tradition, cutting the weight in half, doubling the range and accuracy and, oddly enough, not violating any laws either.
Loadout:
7.5 inch chrome lined 5.56mm/.223 Wylde super premium barrel $250 value
Full Automatic rated bolt carrier group
9 Inch Aluminum Free Float Tube ($155 value)
KAK Industries Flash can ($70 value)
Ergo rubberized lower grip ($65 value)
SigTac Generation 2 Stabilization Brace ($149 value)
8.45 inch Custom Pistol Buffer Assembly ($85 value)
End Cap/Swivel ($65 value)
BSA Red Dot ($79 value)
Magpul 30 round magazine ($20 value)
$749 Complete
---
CZ-70 Pistol 7.65 Browning (Mil Surp)
This is a used CZ-70 pistol chambered in the 7.65 Browning (32ACP) It is the civilian model of the famous VZ-70 used by the Czech military and is based on the world famous Walther PP design. We have gone through this gun completely and replaced all of the internal springs and the sear. The exterior has been touched up, but it has not been totally restored to new condition. It is all black, but the photos show reflections from the slide that make it appear as a two tone. It comes with 2 7 round magazines and a hard plastic case. It is fully capable of shooting modern .32ACP ammo, both full metal jacket and hollow point. We are offering it for $249.00.
Biography
Gordon Duff is a Marine combat veteran of the Vietnam War. He is a disabled veteran and has worked on veterans and POW issues for decades. Gordon is an accredited diplomat and is generally accepted as one of the top global intelligence specialists. He manages the world's largest private intelligence organization and regularly consults with governments challenged by security issues. Duff has traveled extensively, is published around the world and is a regular guest on TV and radio in more than "several" countries. He is also a trained chef, wine enthusiast, avid motorcyclist and gunsmith specializing in historical weapons and restoration. Business experience and interests are in energy and defense technology.
Gordon's Latest Posts
ATTENTION READERS
Due to the nature of independent content, VT cannot guarantee content validity.
We ask you to
Read Our Content Policy
so a clear comprehension of VT's independent non-censored media is understood and given its proper place in the world of news, opinion and media.
All content is owned by author exclusively. Expressed opinions are NOT necessarily the views of VT, other authors, affiliates, advertisers, sponsors, partners or technicians. Some content may be satirical in nature. All images within are full responsibility of author and NOT VT.
About VT
-
Read Full Policy Notice
-
Comment Policy