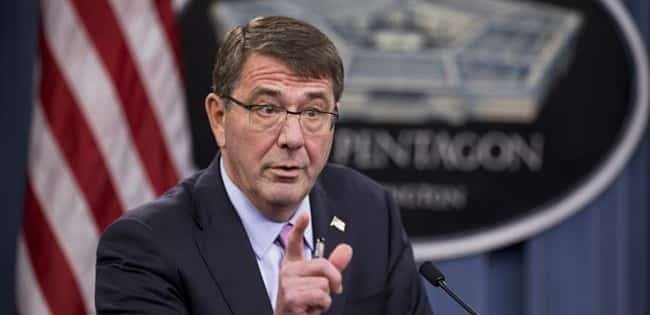 from Press TV,  Tehran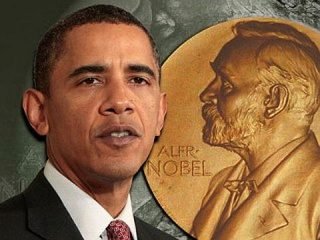 [ Editors Note:  Well Ashton Carter was suffering from the classic "foot in mouth" disease here. I can't image how the Obama staff allowed a goof like this to happen — stupid saber rattling right after the Iran nuke talks agreement, which proved the whole nuclear threat issue had been a perpetrated hoax.
Policy statements from top people are usually all cleared by the White House to avoid the too many talking heads problem, especially those who have some motivation to do some headline grabbing with provocative statements like this one. It served no purpose other than to put on the table that the US is still in the aggressive mode. This will make sure that Iran and other Eurasian powers will all be working overtime to build up their defenses.
Obama should dismiss him for this, but if the White House cleared it, then it was Mr. O's goof. It completely undercuts the "let's start a new year", that the prez was putting out in his own initial statements. You just can't make this stuff up. A good chief of staff would have put out the word that there would be no belligerent statements by any top officials as this time, even if "certain parties" might be asking for them. (If you guessed the Israel lobby, you are correct).
Carter is up to his eyeballs in all the US terror war hands on work, and the New Cold War strategy, that the American people never signed onto, nor have been honestly informed as to its true purpose. But neither have the folks pushed back against it much, other than forcing a stand down on the pending airstrikes on Syria at the last minute, their greatest moment so far. The Pentagon and White House need to get a lot of calls on this stupidity… Jim W. Dean ]
____________________________
–  First published  …  July 15,  2015 –
Defense Secretary Ashton Carter says the US might utilize the "military option" against Iran in a bid to pacify Israel after Tehran, Washington and five other world powers concluded nuclear talks in Vienna.
"We remain prepared and postured to bolster the security of our friends and allies in the region, including Israel; to defend against aggression; ensure freedom of navigation in the [Persian] Gulf; and check Iranian malign influence," Carter said in a statement on Tuesday.
"We will utilize the military option if necessary," the Pentagon chief added. He is scheduled to travel to Israel next week to meet with his counterparts.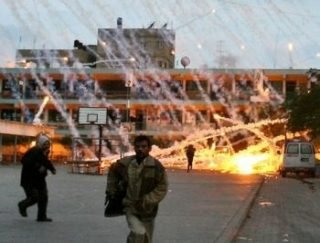 President Barack Obama noted that "Carter's visit next week to Israel is a reflection of the unprecedented level of security cooperation between the United States and Israel, and that the visit offers a further opportunity to continue our close consultation on security issues with Israeli counterparts," the White House said in a statement on Tuesday.
Iran and the P5+1 group of countries — the US, Britain, France, China, Russia plus Germany — reached a conclusion on the Joint Comprehensive Plan of Action (JCPOA) in Vienna on Tuesday.
According to the text of the Joint Comprehensive Plan of Action, Iran will be recognized by the United Nations as a nuclear power and will continue its uranium enrichment program.
The JCPOA will put limits on Iran's nuclear program in exchange for the removal of sanctions against the Islamic Republic.
In response to the agreement, Israeli Prime Minister Benjamin Netanyahu said it was "a historic mistake for the entire world." "Whenever there is a readiness to make a deal at any cost, this is the result," said Netanyahu.
Carter also reassured the long-time US ally that "our military — including tens of thousands of US forces in the Middle East — are full speed ahead maintaining a strong presence in the [Persian] Gulf."
"As we implement this historic agreement, deterrence remains a major component of America's national security," he added.
_____________________________
Author Details
Jim W. Dean is Managing Editor of Veterans Today involved in operations, development, and writing, plus an active schedule of TV and radio interviews. He broke into television work doing Atlanta Public TV programs for variety of American heritage, historical,military, veterans and Intel topics and organizations since 2000. Jim's only film appearance was in the PBS Looking for Lincoln documentary with Prof. Henry Lewis Gates, and he has guest lectured at the Army Command and General Staff School at Fort Gordon, GA.
He is working to find time now to database his extensive video archive of Americana and interviews filmed during his public TV days so individual topic segments can be key word searched to quickly use in future multi-media projects.
Read Full Complete Bio >>>
Jim's Latest Posts
ATTENTION READERS
Due to the nature of independent content, VT cannot guarantee content validity.
We ask you to
Read Our Content Policy
so a clear comprehension of VT's independent non-censored media is understood and given its proper place in the world of news, opinion and media.
All content is owned by author exclusively. Expressed opinions are NOT necessarily the views of VT, other authors, affiliates, advertisers, sponsors, partners or technicians. Some content may be satirical in nature. All images within are full responsibility of author and NOT VT.
About VT
-
Read Full Policy Notice
-
Comment Policy