________________________
Al Qaeda video showing capture of US backed force
[ Editors Note:  We are hearing growing concerns from high level American security people over what is being perceived as a loss of control over the chain of command.
We have published before that military auditors assigned to carefully watch over overseas military operational funds, began seeing firewalls pop up where they had never been before which blocked their ability to trace funds or confirm if they were spent on the approved project.
The "phantom" soldiers army in Iraq has been well publicized over its contribution to having a several thousand man ISIS force chase them out of Mosul in one of the worst military defeats in modern history. More Iraqi soldiers probably died car accidents   while fleeing than in combat.
But we are being told over and over that many who should know cannot confirm who is running some of these operations. And it goes beyond the usual smokescreen of claiming they are CIA ones. The scale of men and munitions moving around cannot be down without substantial military involvement.
The 2500 TOW missiles mentioned below is a major deal, and our sources know of no appropriation for such or how they would have been removed from US stockpiles depleting our reserves to that extent.
And then we have "how were these TOWs really used" and "how many were sold to other parties,"…and "how many are being saved for another day, another terrorist military operation in another country or countries?." When there should be major investigation going on, all we are seeing are whispered concerns.
Are there really people outside of government that are able to fund and run operations like this outside the chain of command? Inquiring minds wonder… Jim W. Dean ]
_________________________
–  First published  …  August 31,  2015  –
John McCain is dancing a jig.  His friends in al Nusra, the ones he visited in 2012, have, according to many sources, captured the American trained "Division 30" force trained in Turkey.  However, the al Qaeda force claiming responsibility, and the group McCain met with is definitely al Qaeda, may well have had help from "friends" in Washington, friends that knew this disaster would be a major blow to President Obama in an election season.
Could this be more American treason?
When it was announced in March that the US would be training Syrian opposition forces to fight ISIS and al Nusra, we knew the vetting process would fail.  The CIA tried the same task in Jordan, spending over a billion USD and only succeeded in training ISIS' best cadres in the US of captured and "Israeli donated" advanced American weapons systems.  This is al Qaeda's statement outlining the capture:
This is the Pentagon's denial:
"While we will not disclose the names of specific groups involved with the Syria Train and Equip program, I can confirm that there have been no New Syrian Force personnel captured or detained," (Defense Department spokeswoman Commander Elissa Smith)
Now the entire 54 man US trained force, the most expensive military training campaign, on a "man to man" basis, in history, is up in flames.  It isn't like America hasn't failed before, the billions spent training the Afghan army and police, the Iraqi Army sent to war with no planes, no combined operations capability, all were created intended to fail in the first place.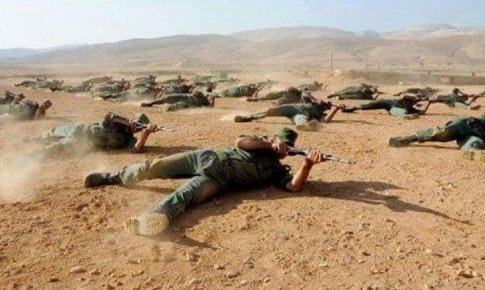 This is why, too little too late, President Obama announced today that his force, called "Division 30," shown surrendering to al Qaeda in the video above, will receive American air support, were any of them still "in the game" which they are not.  From a Russian based report:
"Al Nusra, the al Qaeda franchise so close to the heart of Murdoch's good friend, Senator John McCain, announced it was going to go after any fighters that became involved in what they call "the American experiment."  President Obama's announcement is a response to that move on the part of al Nusra.  You see, if fighters who sign up for America's failed training program in Turkey are immediately slaughtered or forced to flee the region, as has happened with the first very small batch that graduated, America will suffer a humiliation.

This has already happened even though the Wall Street Journal never published it nor was it covered in the western press, it happened all the same.

What was also announced in the real story is quite the opposite of the version published in the Wall Street Journal and republished in Russia Today, a publication far more likely to be read in the Middle East where real damage can be done.

The US has acknowledged that it may give direct air support to "some groups possibly aligned with the Damascus regime."  Now this is a real statement and represents the political change that makes a presidential announcement necessary. "
What makes all of this difficult to believe is that al Nusra, the "American enemy" here, backed by Washington Neocons led by John McCain and Lindsey Graham, assaulted the Syrian city of Idlib in March using over 500 of the latest American TOW missiles which the Pentagon claims they captured but won't explain who they were captured from.
But then, the Pentagon loses lots of things, 350 nuclear pits from the Pantex facility in Amarillo for instance, 250,000 AK 47 assault rifles purchased for the Iraqi Army and much much more.
Once, a day before the 9/11 attack, they announced they lost $3 trillion dollars, yes "trillion," not billion, according to then Defense Secretary Donald Rumsfeld.  Then again, the records were destroyed when an airliner, measuring around 20 feet in length (aka, a cruise missile, armor piercing naval model), skimmed over the Potomac River and slammed into the offices of the investigative group looking into the loss, killing all members who were called into a meeting with the Chairman of the Joint Chiefs of Staff, who was mysteriously late.
Conclusion
We know that groups within the US clandestinely supplied ISIS and al Nusra up to 2500 TOW missiles between September 2014 and March 2015, flown into Turkey by American transport aircraft landing in Incirlik Air Force base in Turkey.  The weapons were then trucked to Hatay Province, Turkey where they were offloaded at a Saudi run training facility for later distribution.
Those who arranged these shipments, who have organized the resupply of ISIS units by US C130 aircraft in Iraq have also been supplying ISIS and al Nusra with intelligence.
There is no doubt of this.  It is not the least bit unreasonable to assume that this is just another act of treason, one of so many.   Do we need remind readers that 97% of the world's heroin supply, according to the US, is flown out of Afghanistan by the Taliban, a force that has never had access to aircraft.
And so it goes…
Gordon Duff is a Marine combat veteran of the Vietnam War. He is a disabled veteran and has worked on veterans and POW issues for decades. Gordon is an accredited diplomat and is generally accepted as one of the top global intelligence specialists. He manages the world's largest private intelligence organization and regularly consults with governments challenged by security issues.
Duff has traveled extensively, is published around the world and is a regular guest on TV and radio in more than "several" countries. He is also a trained chef, wine enthusiast, avid motorcyclist and gunsmith specializing in historical weapons and restoration. Business experience and interests are in energy and defense technology.
ATTENTION READERS
Due to the nature of independent content, VT cannot guarantee content validity.
We ask you to
Read Our Content Policy
so a clear comprehension of VT's independent non-censored media is understood and given its proper place in the world of news, opinion and media.
All content is owned by author exclusively. Expressed opinions are NOT necessarily the views of VT, other authors, affiliates, advertisers, sponsors, partners or technicians. Some content may be satirical in nature. All images within are full responsibility of author and NOT VT.
About VT
-
Read Full Policy Notice
-
Comment Policy