An open letter from Los Alamos local hero Bill Hudson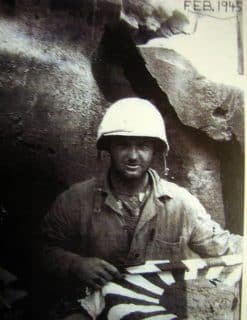 [ Editor's Note: This just fell out of the sky into my lap tonight and I knew instantly I would republish it here as it just oozed old school Americana. With all the problems America has had, reading this was a walk on the bright side. We deal with a steady diet of trauma and tragedy here, and it was a nice break to walk in the light of Mr. Bill Hudson, a 90 year old Marine.
Bill was an athlete who found himself being trained for the early Marine version of their underwater demolition teams (UDTs) for beach invasions. He is one of a dwindling numbers of Iwo Jima living survivors.
It was my pleasure to have another old Marine, Woody Williams for an afternoon video session on the other side of my double fireplace that splits my editing office from my small video studio.
We spent 90 minutes going over his days on Iwo, where on the third day when the drive to split the island was blocked by defenses so strong, where so many had been killed, that no Marine would advance anymore.
Woody was the supply guy for his company's demolition team, all of whom were dead by noon. All eyes turned to him, and the sleight 5'5″ man who had to wait for the height requirement to be lowered to join the Marines, grabbed a flame thrower and a satchel pole charge and crawled to the front.
In less than two hours he had taken out six pillboxes which broke a hole in the Japanese dense lines. Woody would have done it quicker but after each pill box he had to crawl all the way back to the demolition supply bomb crater to get another tank because Marines that had cover would not leave it. They had all seen too many die. Woody is now the last surviving Medal of Honor recipient from Iwo.
Bill Hudson had a book written about him which I have not been able to get so I cannot relate his combat stories. But Bill got another kind of Medal of Honor. Both he and his wife were designated "Living Treasures" by the community they lived and worked in, a Western practice of making people living monuments before they die.
The story of their lives is a microcosm of the WWII generation. The combat vet athlete meets and marries a gorgeous figure skater from the Ice Capades, who would one day become a senior Olympics skating champion. They loved Los Alamos and its people and showed it their entire lives.
Bill has done one last service to Los Alamos and to us all. If you want to say thank you, do it while you are still alive. He's currently in home hospice but had one more item on this to do list, to give us his "message in a bottle" now.
I will make inquiries to see if he is still up for a phone chat, so that I might be able to share the pleasure of having a chat with him for you. And if that is not possible, I will take the opportunity for all of us to say, "Thank you Bill"… Jim W. Dean ]
________________________
–  First published in the Los Alamos Daily Post  …  August 9,  2015  –
My name is Bill Hudson and this is the final word from "an old jock" to the wonderful community of Los Alamos where I have lived most of my life. 
I arrived in Los Alamos in 1949, a first year teacher, just graduated from New York University. How lucky I was to find myself in this amazing town that offered me not only a great job, but also motivated students, a beautiful setting, a diverse population, and most of all, a town that enabled me to continue to grow as a person and become the man I am today. I celebrated my 90th birthday in May.
I first taught PE at Mesa Elementary School, which is now UNM-LA. Later, I rotated teaching among all the elementary schools. Los Alamos High School was built in the late 1940s. When the swimming pool opened, in 1951, I was offered the job of managing the pool and scheduling its use. First, I started swimming lessons for all the elementary school classes. All the high school students swam one day a week as part of the PE program.
From these programs came my first competitive team consisting of three students, two boys and one girl. We made many trips down the two-lane highway to Albuquerque. This was the beginning of the Aquatomics, a swim team that has spanned 50 years and is going strong today.
The boys and girls swimming teams also became part of the LAHS athletic program in the mid-1950s. During my years as their coach, the boys won 7 state championships and the girls won 5.
Kayaking, scuba lessons and Red Cross lifesaving were all part of our pool programs. All of my children participated in these extracurricular activities at LAHS and graduated from here.
While running up Pike's Peak many years ago, a group of us had a conversation that spawned the Los Alamos Triathlon. We weren't sure what all a triathlon involved and even misspelled the word on our first T-shirt! (You can see it on the quilt on display at the Larry R. Walkup Aquatic Center.) The Los Alamos Triathlon is presently the longest continuing triathlon in the U.S.A.
In the 1970s, my wife Maureen began teaching figure skating and coaching a fledgling hockey team at the skating rink. She herself had been a professional skater in the Ice Capades and on Holiday On Ice.
In addition to athletics, I became active in other endeavors. Since the beginning teacher's salary in the early 1950s was about $2,600, it seemed a good idea to begin a credit union for the teachers in Los Alamos.
As a charter member, I was fortunate to help organize this enterprise. In the beginning, we could hardly raise $300 to get it started. This year, the credit union celebrated its 50th anniversary with assets worth nearly $16 million and more than 1,100 members.
In addition to the schools and athletics, I had major roles in Light Opera and Little Theatre presentations and especially enjoyed the annual Los Alamos Schools Melodramas, in which I played either the villain or the hero. I loved to sing and participate in acrobatic dance.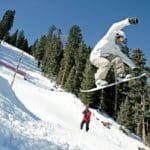 I have watched and been a part of Los Alamos as it grew. I have skied at both Sawyers Hill and Pajarito Mountain when we had only a rope tow and T-bar.
I remember the hassle of getting clearances for visiting teams to come through "the gate" to compete with our teams.
I remember when we had two shoe stores, two theaters, several women's clothing stores, a men's clothing store and the most wonderful bakery in the world with everything made fresh each morning, followed by lunches, to boot.
There were three grocery stores and Lou Pierotti's Soda Bar and his famous Clowns, a five-man softball team. What a great town this was, and still is.
I want to say "thank you, Los Alamos" for being such a wonderful community with your awareness of the importance of learning, intellectualism, the fine arts, athletics, Boy Scouts and Girls Scouts, Little League, the county fair, and for encouraging our young horse enthusiasts.
Thank you for your unending interest in our children.
Being an active person in the community, being a part of its development, and being selected along with my wonderful wife, Maureen, as Living Treasures, helped me realize I have had a life well spent. The strength of this community is in our people — the energy, the intelligence, and in our ability to get things done. I thank you for being the community you are. It is wonderful to have been a part of it all.
As we say in the United States Marine Corps, Semper Fi.
Bill Hudson
Los Alamos, NM
______________________________
Author Details
Jim W. Dean is Managing Editor of Veterans Today involved in operations, development, and writing, plus an active schedule of TV and radio interviews. He broke into television work doing Atlanta Public TV programs for variety of American heritage, historical,military, veterans and Intel topics and organizations since 2000. Jim's only film appearance was in the PBS Looking for Lincoln documentary with Prof. Henry Lewis Gates, and he has guest lectured at the Army Command and General Staff School at Fort Gordon, GA.
He is working to find time now to database his extensive video archive of Americana and interviews filmed during his public TV days so individual topic segments can be key word searched to quickly use in future multi-media projects.
Read Full Complete Bio >>>
Jim's Latest Posts
ATTENTION READERS
Due to the nature of independent content, VT cannot guarantee content validity.
We ask you to
Read Our Content Policy
so a clear comprehension of VT's independent non-censored media is understood and given its proper place in the world of news, opinion and media.
All content is owned by author exclusively. Expressed opinions are NOT necessarily the views of VT, other authors, affiliates, advertisers, sponsors, partners or technicians. Some content may be satirical in nature. All images within are full responsibility of author and NOT VT.
About VT
-
Read Full Policy Notice
-
Comment Policy