…from Russia Today,  Moscow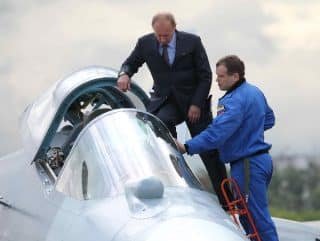 [ Editor's Note: The T-50 did not fly at the Paris Air Show, as it seems someone felt that should be held back for the main event at home. As we have been writing at VT, Russia does not intend to get sucked into an arms war, a repeat of the Cold War trap that ruined its economy and made the US defense industry rich.
The Russians are thinking long range, and defense. We saw the new battle tank debuted for Victory day, the first with a modular design for multiple use platforms, upgrades, quality control and keeping the per unit cost low. It appears the modular trend has been brought over into their war planes.
The lower cost gives Russian arms sale an export price advantage and better profit margins, which can be added to longer production runs to save on the defense budget or to pay for more of the home team planes.
US Defense contractors will never move from their huge cost overruns, having made the US taxpayer pay through the nose for superiority in the past, but currently a crop of white elephants. If China gets its game on, building better and cheaper upgrades, the US Asia Pivot and New Cold War will fall victim to our built in cost overruns, which no one at the pig trough has ever had any problem with.
Before the new T-50 is fully deployable, it will have its first engine upgrade, as it seems the initial testing has revealed a burnout problem. By having a very careful roll out with lots of testing, when glitches are found, the fixes are piggybacked onto the newer advanced engine, which they seem to start designing as soon as the last one is finished.
The older designs still have a use… for the export versions, but which would not have the live or die electronics upgrades. The gamble there is the buyer will try to upgrade themselves and have a plane that could compete with the seller's.
The pilot is not overloaded with complex decisions. Target acquisition and monitoring is all computerized, with no backseat weapons officer so the pilot can concentrate on flying and firing decisions.
Its defensive electronic warfare claims are impressive, for attacking missiles and radars. Much of air fighting in the future will focus on defeating the enemy plane's electronics, its essence and Achilles' heel. And you never know how well yours will fight until you learn what surprises an adversary might have… Jim W. Dean ]
____________________________
– First published  …  August 28,  2015  –
Russia's first 5G fighter has showed off in full its ultra-maneuverability at an international air show near Moscow. In 2016 the Russian Air Force will get ready to put the first production models of the stealth fighter jet into service. The jet performed such aerobatic stunts as Pougachev's cobra, Frolov's chakra, the dead leaf and tail-dive.
With a month left before the multirole PAK-FA (T-50) fighter is set to be added to the inventory of the Russian Air Force (series delivery slated for 2017), the 5G aircraft's designers have spilled the beans about the PAK-FA's operational capability.
The current 5G jet engines, which are used in the 4++ Su-35S fighter jet, will be replaced with brand new ones designed specifically for the PAK-FA. Even the current engines have supercruise capability and full authority digital engine control.
The upcoming power unit in 2017 will be more powerful and fuel-efficient, more reliable and will cost less. There is every possibility that new engine would enable PAK-FA to perform stunts previously impossible on any known fighter jet.
In order to fulfill flying tests within the nearest time, three more PAK-FAs will join testing by the end of 2015. So far the fighter jet has delivered on all of the expected technical characteristics.
The weapons declared for the 5G fighter make the aircraft multi-task, enabling it to engage targets virtually anywhere: in the air, on the ground, on the water and even underwater. The tests are now underway.
All weapons and technical innovation in design for the PAK-FA are promised to be ready by 2020, which, among others, will include 12 types of missiles alone, six of which are to be ready by 2017. Some of the PAK-FA missiles will be hypersonic, with most designed specially to fit into fighter's inner bays so as not to interfere with its stealth characteristics.
Some of the PAK-FA missiles are already being tested with "excellent results," Air Force Commander-in-Chief Viktor Bondarev told journalists. Apart from a set of short-, medium-, long- and ultra-long range air-to-air missiles, PAK-FA's weapons list include at least two anti-ship missiles with range from 160 to 260km.
With a 10-ton overall payload, PAK-FA is also armed with a variety of high-precision GLONASS-guided bombs that could weight up to 1.5 tons and be delivered at speeds of up to 1,100kph. The PAK-FA's weaponry even includes an anti-submarine bomb that can target any submersibles to a depth of up to 600 meters.
Unlike the American F-22, so far there have been no reports that PAK-FA will carry missiles with nuclear warheads.
The PAK-FA will have a fully digital weapons direction system developed by Radio-Electronic Technologies Concern (RETC). The aircraft is detecting, classifying, tracking targets and performs target assignment in fully automatic mode, so the pilot only needs to make a decision to attack and choose a weapon. Most of the fighter's weapons are fire-and-forget munitions.
For short-range dogfight and elimination of lightly armored ground targets PAK-FA is armed with the world's lightest 30mm air cannon 9A1-4071K, weighing a mere 50kg, and with an effective range of up to 1,800 meters.
The PAK-FA's hull and wings are stuffed with multiple sensors and detectors, which form the so-called 'smart skin', giving the pilot full information about what's going on for all 360 degrees.
The fighter's radar is fully integrated with active electronic defense station 'Himalaya', enabling the aircraft to do electromagnetic warfare as addition to its weaponry, jamming enemy aircrafts and missiles within the station's reach.
Author Details
Jim W. Dean is Managing Editor of Veterans Today involved in operations, development, and writing, plus an active schedule of TV and radio interviews. He broke into television work doing Atlanta Public TV programs for variety of American heritage, historical,military, veterans and Intel topics and organizations since 2000. Jim's only film appearance was in the PBS Looking for Lincoln documentary with Prof. Henry Lewis Gates, and he has guest lectured at the Army Command and General Staff School at Fort Gordon, GA.
He is working to find time now to database his extensive video archive of Americana and interviews filmed during his public TV days so individual topic segments can be key word searched to quickly use in future multi-media projects.
Read Full Complete Bio >>>
Jim's Latest Posts
ATTENTION READERS
Due to the nature of independent content, VT cannot guarantee content validity.
We ask you to
Read Our Content Policy
so a clear comprehension of VT's independent non-censored media is understood and given its proper place in the world of news, opinion and media.
All content is owned by author exclusively. Expressed opinions are NOT necessarily the views of VT, other authors, affiliates, advertisers, sponsors, partners or technicians. Some content may be satirical in nature. All images within are full responsibility of author and NOT VT.
About VT
-
Read Full Policy Notice
-
Comment Policy