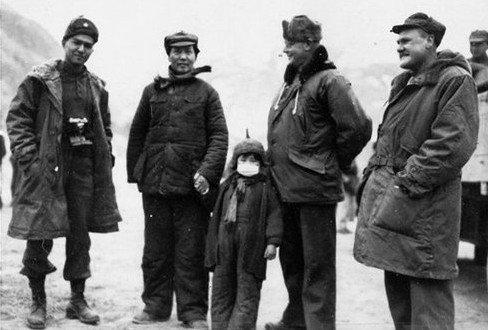 A VT tribute to fellow journalist John Roderick, his adpoted son, their Minka farmhouse, and the story they left behind
[ Editor's Note:  This is a rerun, which I have not done in a long time. Gordon's grape fest tour of the Mosel River in Germany stimulated me to take a trip down memory road. We do need to visit our roots now and then, and not necessarily grape roots although they are quite colorful. The Duff house on the Mosel goes back to the 1600's, and yes, it has been updated.
After our memorable week on the road to Beirut and Damascus, Gordon got to take a detour to see kids and grandkids in Germany. We had planned to bring a group there when we were returning from the Damascus counter terrorism conference in December of 2014, but three of the four of us had been nailed by the opposition food poisoners, so that was nipped in the bud.
We ended up undergoing the full E.coli treatment when we got home, an unbudgeted expense over the holiday. For this last trip, we took an oath to eat no uncooked food. I came home almost two pounds lighter despite all the peanuts that I ate.
We did have at least one wonderful day at the Baalbek Roman ruins in Lebanon, the first for me, and we hope to be tourists in Syria at some point in the future, and not in wheel chairs.
Gordon gave me a blank check creatively when I came onto VT. I wanted the site to go full multimedia and also feature veterans in their non-military lives, so as to not overly focus on active duty service. That resulted in the Living Section, which got lost in the shuffle during the last website upgrade. Most of you have never seen any of them, and a lot are really good.
I am going to make an effort to republish some old VT gems to give us a needed break from the geopolitical wear and tear on our mind and bodies. During my first two years with VT, I spent weekend evenings hunting material, classic concerts, the arts, my "best of" Vimeo pics, and it was a great way to unwind.
What you are about to watch is totally unique, a short independent film of an amazing story. Both filmmaker and subject are unknown to us all, but the story is a universal one about a veteran who lived several lives across multiple cultures.
I loved it, and I wanted to share it with our newest VT readers, a work of art on multiple levels. My goal for the old Living Section work was to create material that would be timeless. 
And we surely hope that all the work that we have done here — exhausting to even think about it all really — will also have some lasting value to those who come along later, to avoid some of the mistakes that we have made. If it doesn't, then we failed… JD ]
____________________________
– First aired and published on VT  … March 12, 2012 –
WWII veteran John Roderick was forged on the 'Old School' anvil. While working for the AP in Washington, DC, he was drafted in 1943 and soon found himself serving in the OSS in Kunming China.
When the war ended AP wisely kept him on in China and the rest is journalism history, as his career proved.

Roderick was soon living in the the caves with Chairman Mao and his army along with Zhou Enlai, Jiang Qing and other guerrilla leaders at their headquarters in a series of caves in Yan'an, China.
Roderick had a front row seat to their civil war with the Nationalists, eventually ending up reporting from Beijing.
In 1948 he was sent to the Mid East to cover the birthing of Israel and the horror that were unleashed there. This included the assassination of UN mediator Count Folke Bernadotte in Jerusalem by the Irgun, one of the early Israeli terrorist groups which produced future political leaders like Menachem Begin.
Later, in 1954 he covered the fall of the French garrison on Dien Bien Phu, but eventually found himself back reporting on China from Japan…Tokyo proper, which brings us the film treat I have for you today. In 1959 Roderick met a young Japanese man, Yoshihiro Takishita, whence began a life long friendship and immersion in Japanese culture.
John's roaming the planet had eventually triggered the nesting gene, and it was Yoshihiro, not yet an architect then, who took him to see a 275 year old Japanese farmhouse, a minka, which was due to be demolished in an dam project. From his book review:
Roderick's 1735 treasure farmhouse – a $14 purchase
In 1959 journalist John Roderick joined the Tokyo bureau of the Associated Press. There, he befriended a Japanese family, the Takishitas.
After musing offhandedly that he would like to one day have his own house in Japan, the family unbeknownst to John set out to grant his wish.
They found Roderick a 250+-year-old minka, or hand-built farmhouse, with a thatched roof and held together entirely by wooden pegs and joinery. It was about to be washed away by flooding and was being offered for only fourteen dollars.
Roderick graciously bought the house, but was privately dismayed at the prospect of living in this enormous old relic lacking heating, bathing, plumbing, and proper kitchen facilities. So the minka was dismantled and stored, where Roderick secretly hoped it would stay, as it did for several years
But Roderick's reverence for natural materials and his appreciation of traditional Japanese and Shinto craftsmanship eventually got the better of him.
Before long a team of experienced carpenters were hoisting massive beams, laying wide wooden floors, and attaching the split-bamboo ceiling.
In just forty days they rebuilt the house on a hill overlooking Kamakura, the ancient capital of Japan.
Working together, they renovated the farmhouse, adding features such as floor-to-ceiling sliding glass doors and a modern kitchen, bath, and toilet.
From these humble beginnings, Roderick's minka has become internationally known and has hosted such luminaries as President George H. W. Bush, and Senator Hillary Clinton.
John Roderick's architectural memoir Minka tells the compelling and often poignant story of how one man fell in love with the people, culture, and ancient building traditions of Japan, and reminds us all about the importance of craftsmanship and the meaning of place and home in the process.
You are about to experience some masterful film making, where a house actually takes on a life of it's own as the star of the film.
Roderick died at age 93 in 2008. The cigars and countless bottle of red wine had worked well for the retired AP Special correspondent. John had adopted Yoshihiro Takishita many years before so he could have an heir, and he does a masterful telling of this wonderful three way story.
The filmmaker, Davina Pardo, weaves a tapestry of themes together here…nailing the pace, the music score. It's the first time I have ever seen a antique farmhouse as the lead role in the film, called Minkas by the Japanese.
Takishita ends up collecting and preserving dismantled ones for that niche market, passing on the rich experiences enjoyed by he and Roderick to another generation.
Remember you can watch the embed video on our page here, or double click to watch full screen at Vimeo as it is in gorgeous full HD. You might call this a collectors edition of 'This Old House'.
It's a one of a kind, which is why it is here. So please enjoy this wonderful story of an old house that gave some much to so many, and continues to outlive its occupants.
Maybe we can all come back some day as an old Japanese farmhouse and luck up finding a pair like this to take care of us, for a while anyway.
Update: Take a moment, pour yourself a glass of wine of whatever, and prepare to take an intimate journey. If you click on the Vimeo link below it should take you to their full HD site. If you get hung up here is the link: https://vimeo.com/20658635 . It is a masterfully created 15 minute short film. Enjoy.
[vimeo 20658635] – Farm House
Jim Davis is the son of USMC MGySgt. Lesley Davis (Ret.) who passed away on April 24, 2006, from ALS caused by Agent Orange. His dad's mission before he passed on was to ensure all veterans, spouses, children, and widows all received the benefits, medical care and attention, and proper facilities from the VA.
Because of the promise made to his dad to carry on the mission, in May 2006 Davis began as a one-man show sending out 535 letters every single week to all members of Congress requesting and politely demanding the fulfill their promises made over the past decades to care for life those who wore the uniform and their families.
Veterans-For-Change was born in August 2006 with a very small membership of 25 people composed of veterans, spouses, widows, family members, and friends and to date continues to grow.
ATTENTION READERS
Due to the nature of independent content, VT cannot guarantee content validity.
We ask you to
Read Our Content Policy
so a clear comprehension of VT's independent non-censored media is understood and given its proper place in the world of news, opinion and media.
All content is owned by author exclusively. Expressed opinions are NOT necessarily the views of VT, other authors, affiliates, advertisers, sponsors, partners or technicians. Some content may be satirical in nature. All images within are full responsibility of author and NOT VT.
About VT
-
Read Full Policy Notice
-
Comment Policy