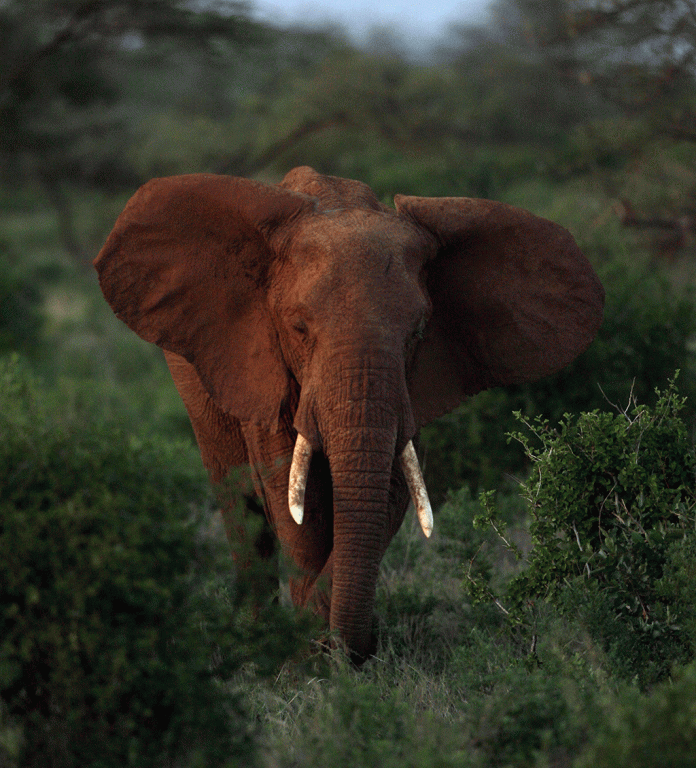 Four rangers killed trying to stop elephant poachers in Congo park
Rangers tracked an elephant's transmitter collar to a poachers' camp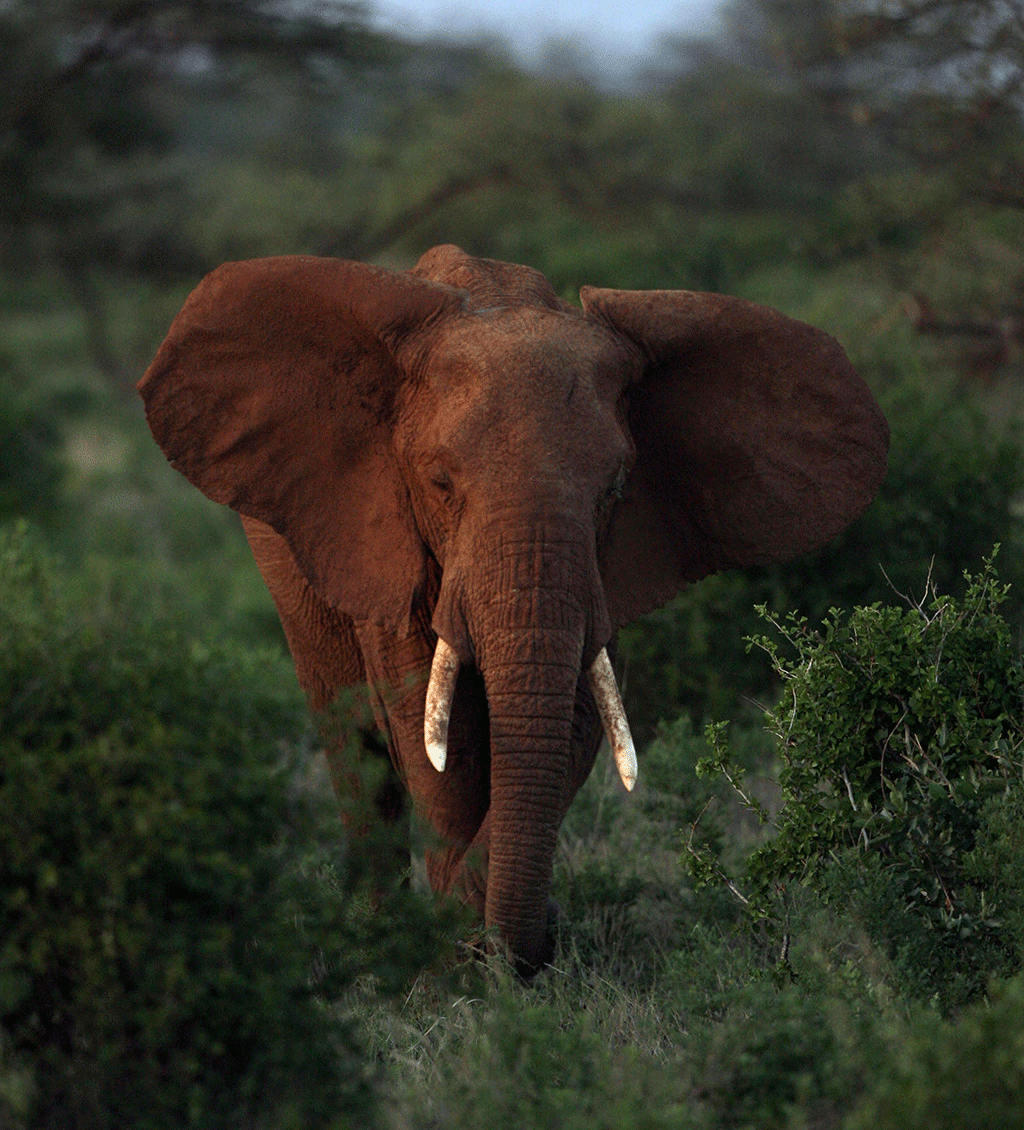 Poachers in the Democratic Republic of Congo killed three park rangers and an army officer this week as authorities seek to re-exert control over a national park, a conservation group has said.
The illegal hunters opened fire on a patrol including nine rangers and a military colonel that had tracked an elephant's transmitter collar to a poachers' camp in northern Congo's Garamba National Park on Monday.
A helicopter operated by African Parks, which manages Garamba, rescued six of the men but was unable to return for the remaining four, the group said. Their bodies were recovered later.
Garamba's park manager Erik Mararv said clashes with poachers were on the rise. Eight people have so far died this year in Garamba, which has long been home to poachers and armed groups, including members of Ugandan rebel leader Joseph Kony's Lord's Resistance Army.
"We have increasingly and more fiercely started to expand our protection zone to cover the whole park in the last six months and this has obviously brought us in to a number of confrontations with various armed groups," said Mararv.
Poaching has received renewed international attention in recent months, with the United Nations calling on member states to improve efforts against trafficking and poaching, arguing the profits fund insurgent and rebel groups operating in Africa.
Africa's elephant population is estimated to have dwindled by 60 percent over the past decade with around 30,000 elephants poached each year largely to supply ivory to Asian countries.
Nigeria's ex-oil minister reportedly arrested in London for money laundering
Diezani Alison-Madueke previously faced accusations oil money had gone missing while she was in office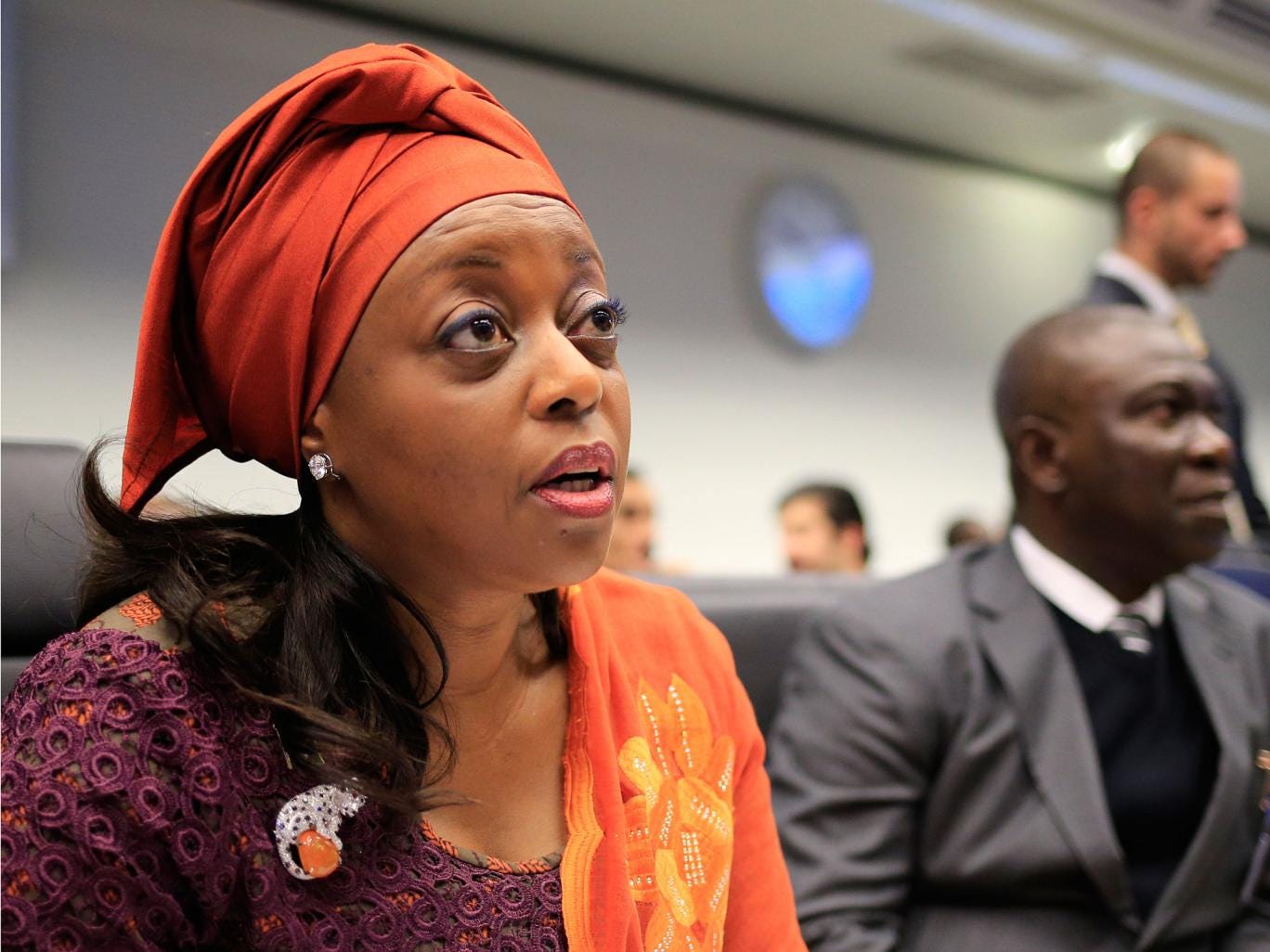 Nigeria's former oil minister has been arrested in London, according to various reports.
UK Police arrested Diezani Alison-Madueke in connection with offences of fraud and bribery, Nigerian newspaper Punchreported.
Mrs Alison-Madueke was one of five people the UK National Crime Agency said it had arrested, but did not name, according to Reuters.
She was minister from 2010 until May 2015, under Nigeria's former president Goodluck Jonathan.
During her time as minister, it was alleged that $20bn of oil money had gone missing while she was in office.
The accusation was made by Nigeria's central bank governor Sanusi Lamido Sanusi in February 2014. Mr Sanusi was accused of financial recklessness himself soon after and suspended.
The National Crime Agency said on its websitethat its "recently formed International Corruption Unit arrested five people across London as part of an investigation into suspected bribery and money laundering offences."
"All five people arrested were released on conditional police bail later that evening, pending further investigation both in the UK and overseas."
While the identities and nationalities of those arrested were not disclosed, the BBC reports family members of Mrs Alison-Madueke confirmed she had been arrested in London.
Nigerian President Muhammadu Buhari recently declared his personal fortune, in a bid to end corruption in the country's government.
Zimbabwe: Grace Takes War to Mnangagwa
By Herbert Moyo and Obey Manayiti
IN a high-risk and adventurous power-seeking manoeuvre, First Lady Grace Mugabe (pictured) yesterday intensified her blitz threatening a political tsunami against Vice-President Emmerson Mnangagwa and his chutzpah-filled faction pressing to take its leader to State House.
Grace — in an ominous sign she wants to clear all hurdles on her path to power — daringly fired more warning shots across Mnangagwa's bows in thinly-veiled remarks at a politically-charged rally in Chimanimani, forewarning he could eventually suffer the same fate as his ousted predecessor Joice Mujuru.
"Only yesterday, just last year when we witnessed some people being expelled, I had said I'm a referee. I will blow the whistle whenever it gets ugly. I'm not scared to blow the whistle. So don't push me to the point where I have to blow the whistle," she warned.
"Zanu PF is like a soccer team, so you should know that you are in a soccer match as part of a team and you must know the referee is watching you. If you kick the ball and kick someone else's knee, the referee will blow the whistle. The tone of the whistle is always determined by how you play. If it is blown so loud that it's heard in Mozambique then you're out, you the player. So I'm saying all those who are engaging in factionalism should stop it forthwith."
Grace's attacks escalated President Robert Mugabe's succession battle to precarious levels as her ailing and frail 91-year old husband faces a chilling endgame after 35 years in power.
The First Lady further confirmed there is now a vicious power struggle between herself and Mnangagwa in the aftermath of Zanu PF's acrimonious congress last December when she addressed the rally at Mutambara Mission in Chimanimani district, Manicaland province, yesterday.
"Factionalism yakashata (factionalism is evil). We don't want it. Those of you who are engaging in factionalism please stop it forthwith," Grace said in remarks reminiscent of the polemics she used last year's during her so-called 'meet-the-people' rallies which culminated in the removal of Mujuru.
Lake Chad's Baga Sola town hit by suicide bombers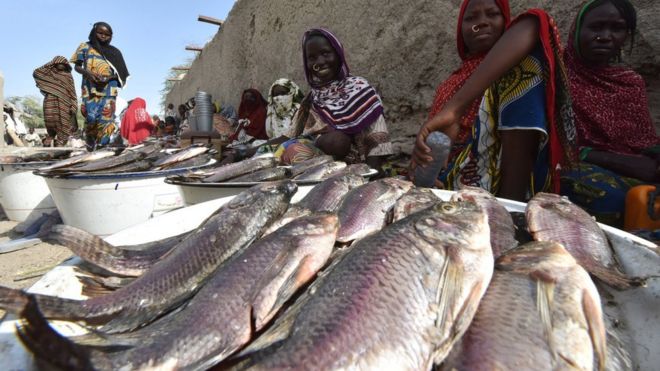 Suicide bombers have attacked a fish market and refugee camp in the town of Baga Sola in western Chad, killing more than 30 people, officials say.
More than 50 people are being treated at the hospital in the town, which is on the shores of Lake Chad.
The camp on the town's outskirts is home to tens of thousands of Nigerians who have fled Boko Haram attacks.
Chad is host to a new regional force set up to tackle the Nigeria-based militant Islamists.
Benin, Cameroon, Chad, Niger and Nigeria agreed to establish the 8,700-strong force, but it has yet to start operations in earnest because of reported funding difficulties.
At least 37 people died in the Baga Sola explosions on Saturday afternoon.
This figure may include the suicide attackers, which some reports put at five.
Witnesses reported hearing three blasts, one at the busy fish market and two at the refugee camp.
Officials suspect Boko Haram to be behind the attacks – the group first attacked Chad in June using suicide bombers to target the capital, N'Djamena.
Since then Chad has banned people from wearing the full-face veil, fearing attackers use the garment to cover explosives, and reintroduced the death penalty for acts of terrorism.
Borno state, which has been at the heart of Boko Haram's six-year insurgency, is on the Nigerian border with Chad.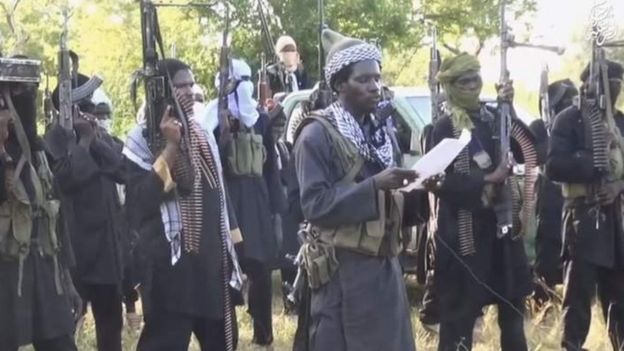 Earlier this year, Chad was instrumental in helping Nigeria's army retake most of the areas Boko Haram occupied.
But in the last few months, suicide attacks in particular have intensified.
This week, two new Boko Haram propaganda videos have been released with footage suggesting it still has scores of fighters.
In one of the videos, the group reaffirmed its allegiance to the Islamic State group and its leader Abu Bakr al-Baghdadi.
According to Amnesty International, at least 17,000 people, mostly civilians, have been killed since 2009, when the group launched its violent uprising to try to impose militant Islamist rule.
Read more: Islamic State ties broaden Boko Haram threat
---
Boko Haram at a glance
Founded in 2002, initially focused on opposing Western-style education – Boko Haram means "Western education is forbidden" in the Hausa language
Launched military operations in 2009
Thousands killed, mostly in north-eastern Nigeria, hundreds abducted, including at least 200 schoolgirls
Joined so-called Islamic State, now calls itself IS's "West African province"
Seized large area in north-east, where it declared caliphate
Most territory retaken this year
ATTENTION READERS
Due to the nature of independent content, VT cannot guarantee content validity.
We ask you to
Read Our Content Policy
so a clear comprehension of VT's independent non-censored media is understood and given its proper place in the world of news, opinion and media.
All content is owned by author exclusively. Expressed opinions are NOT necessarily the views of VT, other authors, affiliates, advertisers, sponsors, partners or technicians. Some content may be satirical in nature. All images within are full responsibility of author and NOT VT.
About VT
-
Read Full Policy Notice
-
Comment Policy