Despite the bizarre conspiracy theories the mainstream media continually produces for a public increasingly unwilling to digest such idiocy, events unfolding in Syria have led both amateur and professional observers to one inexorable conclusion, that the United States or at least some rogue elements that control broad capabilities both political and military, is not just supporting terrorists but created these groups as well, not just recently but, as we will show, 16 years before 9/11.
The world increasingly recognizes that America has lost her mind, at least the majority of public figures quoted in the mainstream media. Hillary Clinton wants a no fly zone over Syria with US jets shooting down Russian planes. Zbigniew Brzezinski wants the US to "disarm" the Russian navy and "arrest" Russian forces in Syria for "resisting" America's plans for conquest.
Then there's John McCain, not to be outdone, McCain who has the power to enact his fantasies, something both Clinton and Brzezinski lack, is not only prepared for war with Russia, he has a plan, forces on the ground in Syria and has already supplied terrorists with weapons Russian commanders in Syria admit represent a threat to their pilots.
All missions flown over Northern Syria, the area controlled by the al Qaeda terrorist army known as Jabat al Nusra, the group that wiped out the Free Syrian Army, have to be flown at above 15,000 feet because of weapons supplied to al Qaeda and ISIS as early as 2012 by the United States.
America, or more appropriately Senator John McCain, had already channeled 100 deadly Stinger missiles into the hands of al Qaeda's worldwide network, a blunder that has raised civil aviation security concerns around the world. A few were used against Syrian helicopters with great success, however the majority have disappeared.
As is so often the case, American political columnists get it wrong, so very wrong. However, Pat Buchanan, writing for Sputnik News does note the absurdity of McCain's suggestions but fails to note the context, that the US had passed out Stinger missiles along with sarin gas shells trucked down from Georgia, something that, as we have brought it up, we will also take a moment to explain as well.
Here is Buchanan's take, perhaps too little and too late, but with the Washington propaganda offensive in high gear, any sign of sanity there is welcome:
McCain proposed arming the Free Syrian Army 'moderates' with portable US surface-to-air missile systems to bring down Russian planes. In Buchanan's view, "not only could this lead to a US-Russia clash, but US-backed Syrian rebels have a record of transferring weapons to the al-Qaeda affiliate," the al-Nusra Front. 
'The end result of McCain's initiative, sending Stingers to Syria, could be airliners blown out of the sky across the Middle East,' the analyst warns.
'When last Obama requested such authority –in 2013, when chemical weapons were used –the American people arose as one to say no to US intervention. Congress backed away without even voting." If the US were to proceed with airstrikes against Syrian army forces, this 'would represent an unauthorized and unconstitutional American war.'
Again, Buchanan's heart is in the right place but his ideas are short of the mark, based on his own limited vision and adherence to the "failed narrative" of the increasingly laughable mainstream media.
As promised, we will add context to the issue of sarin gas, this time from Henry Kamens, an American chemical warfare expert writing for New Eastern Outlook in Moscow:
"A curious thing happened in Georgia last year. After widespread media speculation in April 2013 that Georgia was housing a bio-weapons lab, namely the Richard G. Lugar Center for Public and Animal Health Research in Tbilisi, which the US had long denied existed, the newly recognised facility was visited by the Prime Minister of Georgia, the Georgian Health Minister and the US Ambassador.
Hours later the Georgian government formally announced the liquidation of this Center, with no reason being given. Most countries pride themselves on their levels of scientific development, and would wear a public and animal health research centre as a badge of pride, particularly one which had been established and funded by that most prestigious of allies, the US. Therefore the sudden closure of this facility of May 2013 raises many questions about what its real purpose actually was, and what negotiations took place to first bring it to Georgia and then close it."
However, the issue of today is the Stinger missile, a weapon John McCain is quite comfortable to see in the hands of sworn enemies of the United States and its European allies. Instead of trying to get back those already in the hands of terrorists, John McCain's plan is to give al Qaeda more, this time his plan is to use them to shoot down Russian planes participating in anti-terror operations inside Syria.
What John McCain has done, what John McCain is doing again is treason by both American and international law, pure and simple, but not for the first time. John McCain, a man who has lived above the law all his life and has been to that dance before.
War hero to some, McCain, known as "Hanoi John" to many, faced treason charges for aiding North Vietnam against the United States during the Vietnam War. His commanding officer while a POW, Colonel Ted Guy, charged McCain with treason, charges that would have landed McCain in prison for life, or worse, until McCain was secretly pardoned by President Richard Nixon.
To cover this act, Nixon eventually issued pardons for all innocent US POWs held in North Vietnam, seen as a revolting act by those POWs that heroically resisted without submission much less the full complicity sited by Colonel Guy in his list of charges against McCain.
This is the man that has helped lead al Qaeda against the people of Syria, gas attacks, rape and kidnappings, all generously financed by the US taxpayer.
In 2013, Veterans Today officially requested the transcripts of John McCain's debriefing in Vietnam by Russian intelligence and of his 32 propaganda broadcasts, including those where he stated that America was using biological weapons during the Vietnam War. The Russian government has thus far responded stating it is considering our request.
On October 5, 2015, US Senator John McCain told reporters at Fox News that, in official capacity as chairman of the Senate Armed Forces Committee, he was going to see to it that terrorists in Syria including ISIS and al Qaeda were given Stinger missiles "as we did in Afghanistan."
The problem is that John McCain fulfilled that promise, one he made directly to ISIS commander al Baghdadi during their 2012 meetings, meetings McCain claimed were inside Syria but were actually outside Hatay, Turkey, hosted by Turkish intelligence. During these meetings, according to intelligence sources, McCain agreed to supply what he calls "his guys," now more commonly known as ISIS and al Qaeda, 100 Stinger missiles, "just like we did in Afghanistan," quoting McCain's statement to Fox News.
In Afghanistan, Stinger missiles were transferred to Mujahedeen at the weapons market in the Pakistani city of Peshawar. There they were given to a CIA operative code named "Tim Osman," but better known as Osama bin Laden. From Reagan White House Intelligence Coordinator Lee Wanta: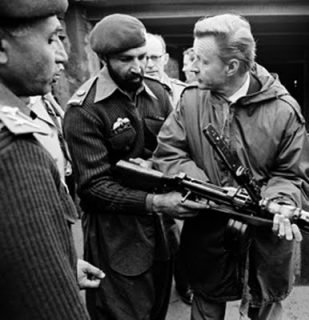 "Wikipedia claims al-Qaeda was founded by Osama bin Laden while in Peshawar, Pakistan during the late 1980s. This is an outrageous fiction.
Al-Qaeda was established under the authority of President Reagan on March 27, 1985, with National Security Directive 166. This established a broad cover organization that could engage in arms and financial transactions otherwise prohibited by US law.
It was never intended as a vehicle for false-flag terrorism. That would come later. It was a cover operation meant to allow clandestine operations that required a high degree of deniability.
Al-Qaeda is an organization totally under the control of the intelligence agencies of the US, Israel, Britain and France. The real foundation of al-Qaeda and its oversight, its very real hierarchy, is outlined below.
A similar organization had been formed to deal with the danger of Soviet expansionism in Europe. It was called "Gladio." Eventually, Gladio became a very real terror organization, operating in Europe for over a decade.
Chosen to head that what we now call "Al Qaeda" was Osama bin Laden or "Colonel Tim Osman," as he was known.
Bin Laden worked directly with White House national security advisors and the Central Intelligence Agency. From his headquarters in Islamabad and Peshawar, bin Laden coordinated American activities in Afghanistan and across the Islamic world.
In August 1989, bin Laden met with CIA station Chief Jimmie Chee me to arrange the repatriation of the last 116 Stinger missiles in inventory in Pakistan.
Details and transcripts of that meeting are available, a meeting held in English."
In light of what was earlier referred to as "insanity" in Washington, it is necessary to provide some historical context, as we have done above. From Lee Wanta, who regularly met with Osama bin Laden including meetings inside the US during times bin Laden was hunted in both Sudan and Afghanistan:
Bin Laden, suffering from advanced kidney disease, was flown to an American facility in the Persian Gulf. From there, bin Laden flew to Los Angeles, landing in the Ontario airport, met by Albert Hakim, representing President Bush (41), Ollie North (free on appeal bond), Admiral William Dickie, attorney Glenn Peglau and General Jack Singlaub, one of the founders of the CIA.
Hakim was the personal representative of President Bush and in overall charge of the project. 'Bud' McFarlane, an Iran-Contra figure pardoned by President Bush in 1992, was also a part of the group.
Bin Laden then left Los Angeles for Washington DC. There he stayed in the Mayflower Hotel. Meetings were held at the Metropolitan Club in Washington. Attorney Glenn Peglau stayed at the Metropolitan. While there, Peglau's room was broken into and "items" removed…
Thus, when discussing McCain's increasingly delusional fantasies, historical context can be everything. It isn't just McCain, it is everyone in Washington, it is the entirety of the media as well. When Russia reels at the insanity of fabricated news, continual hoaxes and half-baked conspiracies, this is an eleventh hour wakeup call to a psychosis that has long existed in the West.
Russia entered a warzone where both Turkey and Israel have openly used their ground troops and air forces in support of the world's most notorious terrorist organizations. Today, prominent American political leaders openly not only advocate but are moving to deliver as well, first line air defense missile systems to the most vicious thugs known to man and do so publicly under the banner of "neoconservative values."
Consider this evidence of a feedback loop in Washington where wild claims and bizarre statements and equally bizarre actions are commonplace, limited only by the public uproar and collective voice of a few dozen media moguls who are if anything crazier than the tyrants they are in bed with.
In America, since 9/11, there are no protests, no "movements," no public outcry. Even before 9/11, President George W. Bush had political opponents rounded up and held before he would enter a community.
Here in Toledo, Ohio, when Bush came to town, police and secret service came to the homes of liberal activists in the dead of the night, rounding up anyone who would carry a protest sign, carting them off in busses down Airport Highway, past the shopping malls and trailer parks to a fenced security area within the confines of the seldom used "international airport."
There protestors remained, cordoned off, their phones seized, allowed to protest on 2000 square foot patch of grass 500 yards off a rutted dirt road, unseen, unfindable and outnumbered by an army of zealous trigger happy police brought in from rural communities in nearby counties.
This is how the nightmare started and why the runaway cart steered by John McCain and many others has been allowed to ramble on. When wondering why America would allow itself to be run by lunatics and fools, think of those standing in that field, awakened at 3AM, taken from their homes at gunpoint, silenced by National Security Letters so that even mentioning any of this to the press or friends would lead to jail time.
A short note to end here. Since 2001, there has been no movement, no publication, nothing left to challenge the official narrative, not unless it was pre-engineered to be self-discrediting or worse, almost nothing at least.
Gordon Duff is a Marine combat veteran of the Vietnam War that has worked on veterans and POW issues for decades and consulted with governments challenged by security issues. He's a senior editor and chairman of the board of Veterans Today, especially for the online magazine "New Eastern Outlook".
____________
ATTENTION READERS
Due to the nature of independent content, VT cannot guarantee content validity.
We ask you to
Read Our Content Policy
so a clear comprehension of VT's independent non-censored media is understood and given its proper place in the world of news, opinion and media.
All content is owned by author exclusively. Expressed opinions are NOT necessarily the views of VT, other authors, affiliates, advertisers, sponsors, partners or technicians. Some content may be satirical in nature. All images within are full responsibility of author and NOT VT.
About VT
-
Read Full Policy Notice
-
Comment Policy