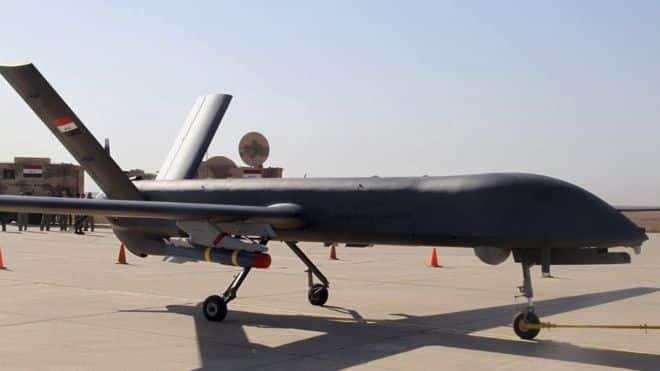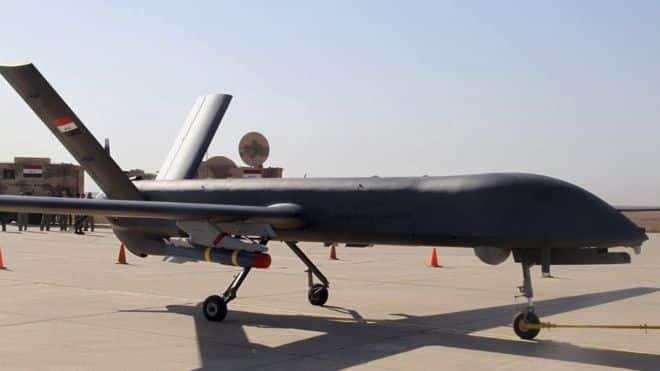 … from Russia Today,  Moscow
[ Editor's Note: Step by step we see Iraq showing that it cannot remain in the clutches of the US and get treated other than with the blow-up doll routine. This is most evident on the diversification of its armaments.
Of course the US left Iraq with a fortune in armaments, many of which, like the AK-47s, seemed to have been looted in the usual Iraqi-military fashion. They always love what is free, but paying cash is a different story.
The unprepared Iraqi officer corps, where real work is disdained in preference to ceremonies and teas, allowed ISIS to build a major army on what the Iraqi deserters left behind when they fled. Iraq paid a huge price for their failure, and while hundreds were discharged, there were no executions for dereliction of duty — something hard to do in a tribal culture without starting a civil war.
Although these Chinese drones are not big ticket items, a lot of them will be needed, as they can be used for a variety of missions. China now has its nose in the camel's tent in Iraq in the way it prefers… through trade. It keeps its military at home, where it has no combat experience, and things like pilot training are a joke because the Chinese don't like to put much wear on their high-end equipment.
A front line American pilot gets more air time in a month than a Chinese pilot gets in a year. If a shooting war were to start, absent any major technological advantage, the lesser-trained pilots will lose, and quickly.
The fear of future sanctions, not being able to get spare parts, or new upgrades from Western suppliers, etc… all contribute to Iraq rethinking having a lot of diversification in arms purchasing like the Saudis do, who like to spread their money around for the friends that it buys.
Once the emerging Eurasian block demonstrates parity in technical quality, a do or die issue in modern warfare, then economics alone will give them the advantage in cost, either for the budget savings or to be able to buy more units of a needed item, like air defense missiles which large land masses need tons of.
For countries on the regional front lines, they have the comfort of knowing their arms supply chain is not a short missile ride from extinction. And they also know those rear area factories will want the best defensive weapons on the outside ring as part of their defense in depth.
This will create a hair-trigger situation, where the one-shot kill mini nukes will be widely used in the next big conflict, as he who hits first and hard will probably be the winner. And the only deterrent to that would be a quick trigger full nuclear response, which is not a poker game any citizens would want to get into… Jim W. Dean ]
__________
– First published  …  October 16, 2015 –
The Iraqi military has released a video displaying the combat deployment of a CH-4B drone which the country recently bought from China. Baghdad has been diversifying its arms supply to decrease its reliance on American producers.
The Caihong (Rainbow) 4B drone flew from the al-Kut Air Base southeast of Baghdad and shot an AR-1 laser-guided anti-tank missile at an Islamic State target, according to the Iraqi Defense Ministry. The first-ever Iraqi combat drone mission was supervised by Defense Minister Khaled-al-Obeidi.
Iraq purchased a number of Chinese combat drones in early 2015, with photos of the robotic aircraft already in Iraq surfacing since at least March. The CH-4B is a dual reconnaissance/combat UAV with a range of 5,000 km, according to producer, China Aerospace Science and Technology Corporation (CASC).
https://www.youtube.com/watch?v=gHVedDpaWI8
The drone is similar to the US-made MQ-9 Reaper can carry a payload of up to 350kg carried on six pads. Its designated weapons include Lan Jian 7 (Blue Arrow 7) laser-guided air-to-surface missiles, TG100 bombs and the AR-1 missiles, the latter being an equivalent of American-made Hellfire missiles.
China is already world's largest producer of UAVs and is working on taking on a greater share in the military drone segment of the global market, competing against traditional leaders like the US and Israel. In September it revealed its heaviest combat drone to date, the Caihong 5.
Earlier this year Nigeria received a number of armed Caihong-3 drones from Beijing, which it appears to have been using in its campaign against Boko Haram militants. China may also have shared drone technology with Pakistan, as its Burraq drone unveiled in November 2013 bears a strong resemblance to the same Chinese model, according to defense experts.
Iraq, which for years had the US as its primary arms supplier, is currently broadening its defense contracts geographically. In addition to China it signed big arms deals with Russia and Iran.
____________
Jim Davis is the son of USMC MGySgt. Lesley Davis (Ret.) who passed away on April 24, 2006, from ALS caused by Agent Orange. His dad's mission before he passed on was to ensure all veterans, spouses, children, and widows all received the benefits, medical care and attention, and proper facilities from the VA.
Because of the promise made to his dad to carry on the mission, in May 2006 Davis began as a one-man show sending out 535 letters every single week to all members of Congress requesting and politely demanding the fulfill their promises made over the past decades to care for life those who wore the uniform and their families.
Veterans-For-Change was born in August 2006 with a very small membership of 25 people composed of veterans, spouses, widows, family members, and friends and to date continues to grow.
ATTENTION READERS
Due to the nature of independent content, VT cannot guarantee content validity.
We ask you to
Read Our Content Policy
so a clear comprehension of VT's independent non-censored media is understood and given its proper place in the world of news, opinion and media.
All content is owned by author exclusively. Expressed opinions are NOT necessarily the views of VT, other authors, affiliates, advertisers, sponsors, partners or technicians. Some content may be satirical in nature. All images within are full responsibility of author and NOT VT.
About VT
-
Read Full Policy Notice
-
Comment Policy