by Jane Rosenstein
The literary prize called Le Prix-Wepler Fondation de la Poste celebrated its 18th year on November 9, 2015. Brasserie Wepler, a brasserie here in Paris famous for its seafood and oysters, located at 14 rue de la Place Clichy, near Montmartre has been hosting the Prix since its beginning in 1998. The restaurant, which started out as a lemonade stand, over a hundred years old was a place where famous authors such as Céline, Max Jacob and Henry Miller met for dining and conversation.
Each year authors whose works are not well-known and not written for commercial purposes compete for the prize. Brasserie Wepler closes its doors to customers to host an elegant soirée. Michele Bessière also provides delicious food and beverages to those in attendence and this year it was great.
Le Prix Wepler- Fondation de la Poste was the idea of Marie-Rose Guarniéri owner of the bookshop La Librarie des Abesses in Montmartre. In 1998 she organized the prize and event with the Fondation de la Poste, an organization of the post office and Wepler Restaurant whose owner is Michèle Bressière. When the organizers created the prize their objective was to promote authors whose innovative works were not written mainly for profit. The jury changes each year to get new opinions.
Mark Suits, our photographer and I were welcomed by Damien Lavel, presse attaché, when we arrived .
As is the custom, twelve finalists are selected. One wins the first prize and is given a check for 10,000 Euros. The winner's editor agrees to put a natioanl banner and advertisement of the book and the prize in the literary pages of a large French newspaper. The prize for honorable mention is a check for3000 Euros.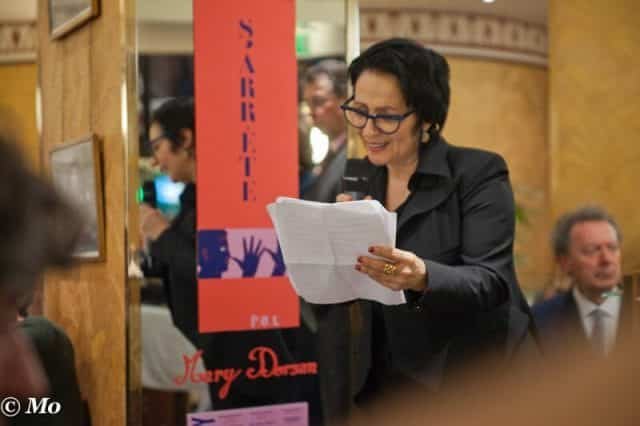 Marie-Rose Guarniéri thanked those who helped her this year: Damien Laval -press agent, Florence Robert- editor, those who were the judges and read the books and Olivia Goudad and Pauline Pierre – her book sellers. She also thanked Michèle Bressière from Wepler and those at the Fondation de la Presse.
The crowd anxiously awaited the announcement of the winners and their speeches.
Pierre Senges won the first prize for his novel Achab(sequelae) Verticle publisher

He was born in Romans in 1968. The book Is the continuation of the adventures of Ahabca captain with a false leg, who fought against a large fish. The novel is based upon both truth and fiction.
His speech was humorous as he recounted the details of the past winners of literary awards. The crowd laughed. Below are some of his comments on previous awards.
1914 The Apeler award went to Paul Valery for Le Retour de Monsieur Tete (The Return of Mr. Tete). The winner was in China and could not return to receive the prize. No one accepted it for him.
1937 The the Jepler prize to a telephone directory of 1937.
1938 The Kepler award was given to an astrophysicist for his work on consideration of fatigue in calculating the curve of time in space..
The literary awards were supposed to be given for literary works!
Pierre thanked Wepler, Fondation de la Poste for the award and said he was glad to receive it.
Lise Charles won the Honorable Mention Award for her novel Comme Ulysse P.O.L. publisher.
She was born in 1987 in Paris;
The story is based on a narration of a French girl. Norman Rockwell lived from 1953-1973 in Stockbridge, . He was a famous painter whose was known for his drawings for the famous New York newspaper"The Saturday Evening Post." Comme Ulysse is the story of a French woman who lived with Rebecca who posed as a young girl for Norman Rockwell and married an artist. Rebecca wanted to become a writer but did not succeed. The young French girl came to live with Rebecca, her husband and children. She named herself Lou and narrated a story about her experiences.
In her acceptance speech, Lise said she was impressed to speak before the audience and both happy and moved to receive the honorable mention award. She thanked Fondation de la Poste, Wepler, the members of the jury and particularly Marie-Rose Guarniéri. She also thanked Paul Otchakovsky-Laurent publisher and Jean- Paul Hirsch who told her to be less serious. She said that the young French girl in the novel is not serious but she herself considers the only serious thing to be literature. She told me afterwards that she was surprised to get the award.
I met a Parisian designer Ellen Parrone from Citystic www.citystic.eu who told me that she has been attending Prix Wepler de La Poste for several years and has a good time each year.
After we feasted on the delicious food offered by Wepler, we danced to the tunes that the great DJ spun. What a great celebration!
Jane Rosenstein is a U.S. citizen living in Paris, France. She is a professional translator/interpreter. She is the owner of The International Connection which does international marketing consultation including sales of wine, interpretation, and translation.
She enjoys the cultural life that living in Paris offers and has talents in organizing events. She speaks English, French, and Spanish. She has a B.S. degree in mathematics from the University of Pittsburgh and an M.B.A. degree from Georgia State University in Atlanta, GA.
ATTENTION READERS
Due to the nature of independent content, VT cannot guarantee content validity.
We ask you to
Read Our Content Policy
so a clear comprehension of VT's independent non-censored media is understood and given its proper place in the world of news, opinion and media.
All content is owned by author exclusively. Expressed opinions are NOT necessarily the views of VT, other authors, affiliates, advertisers, sponsors, partners or technicians. Some content may be satirical in nature. All images within are full responsibility of author and NOT VT.
About VT
-
Read Full Policy Notice
-
Comment Policy