by Jane Rosenstein and Didier Lambert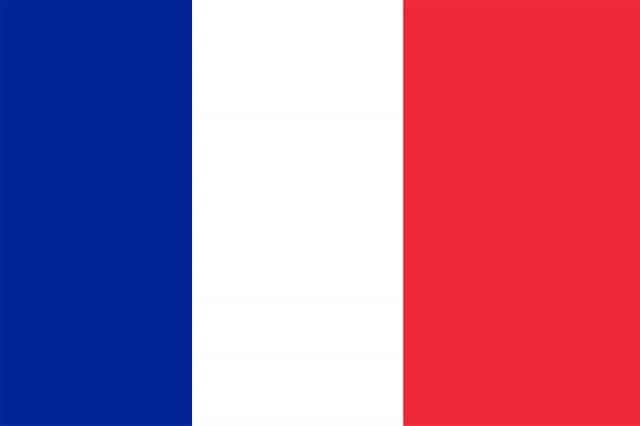 Like USA, France organizes democratic elections. Regional elections are seperate from national Presidential elections. There are often 2 rounds to get the winners.
We attended the speeches of Valerie Pécresse and Marine Le Pen.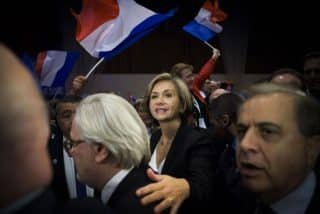 On November 9, 2015, Valerie Pécresse, candidate for the Droite, the right party, for Ile de France, the Paris region, held a meeting at Palais de Sports in Issy-les -Moulineaux. It is interesting to note that there were 2 simultaneous sign language interpreters on stage who alternated interpreting. At the crowd waited for her, there were speeches from various important representatives of the communtiy. After over  an hour and a half, she appeared to a warm welcome. She was wearing black trousers, a white blouse and a black jacket. The women on the stage were also dressed in black.
Valerie Pécresse was in the lead in the first round for Ile de France. and said she hopes to win. Her theme was that it is a choice for the voters; She told us she would improve transportation, housing, unemployment and education. She said is it very bad that Levallois a suburb of Paris is not even on the major highway to Paris. Also the extention of Line 14 in the subway is taking a long time to complete and she blamed that on current socialist government. Her policy including making it mandatory for the transport users to carry identity cards. She said by abstaining for voting it is like voting for her competitors. She told the crowd after 17 years of socialist and communist government officials it is time for a change and to vote for her.
Marine Le Pen, president of the Front National Party. held a meeting in the prestigious Salle Wagram in Paris on November 10, 2015. The large crowd waited with interest while the journalists and TV intervewers spotted some candidates for regional elections. Alain Lavarde, Consular in Spain told me that Marine Le Pen and the Front National Party is the best to govern France. Luien Felicite was proudly holding a banner and said he has been a member of Front National for over 20 years and adores Marine Le Pen. Another man told us that Marine Le Pen and the Front National Party is the best to govern especially because the party is interested in communities in the coutryside and also supports small businesses. He told me that Marine Le Pen supports the immigration of Syrians to Turkey.
While waiting for Marine Le Pen we watched 2 TV screens which featured candididates for the presidents of regions in France. Then the candidates and others appears on stage.
Wallerand de Saint- Just, the candidate for Front National in Paris made a short speech.
Marine Le Pen appeared wearing black trousers, a white blouse and a black jacket and gave a speech telling the voters to vote Front National. She focused her talk on living together as a national community in France and having peace in France. She said the party is "modern politics" and is the avant-garde of change. She encouraged voters to look in front and to support the ideas of equality, fraternity and liberty.

Le Marsaillaise sung at the two meetings was very moving! Vive La France!
Jane Rosenstein is a U.S. citizen living in Paris, France. She is a professional translator/interpreter. She is the owner of The International Connection which does international marketing consultation including sales of wine, interpretation, and translation.
She enjoys the cultural life that living in Paris offers and has talents in organizing events. She speaks English, French, and Spanish. She has a B.S. degree in mathematics from the University of Pittsburgh and an M.B.A. degree from Georgia State University in Atlanta, GA.
ATTENTION READERS
Due to the nature of independent content, VT cannot guarantee content validity.
We ask you to
Read Our Content Policy
so a clear comprehension of VT's independent non-censored media is understood and given its proper place in the world of news, opinion and media.
All content is owned by author exclusively. Expressed opinions are NOT necessarily the views of VT, other authors, affiliates, advertisers, sponsors, partners or technicians. Some content may be satirical in nature. All images within are full responsibility of author and NOT VT.
About VT
-
Read Full Policy Notice
-
Comment Policy