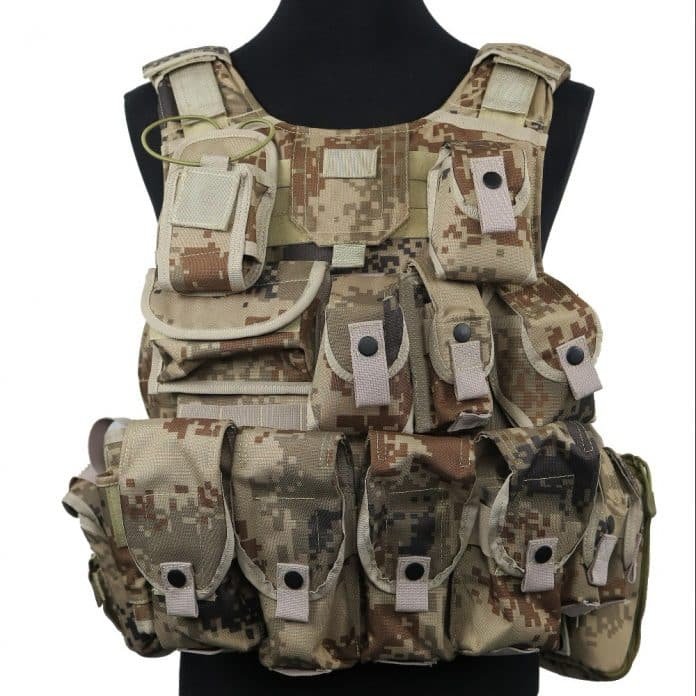 It's 2019 and technology is moving at an accelerated rate. At the same time, U.S. crime and mass shootings are continuing to increase, with greater coverage and a growing national conversation. All of these factors contribute to an expected increase in the body armor market. In fact, the 2.1 billion global body armor market is expected to grow at a Compound Annual Growth Rate of 5.5% from 2019 – 2025.
With an increased focus on soldier survival rates, defense and military agencies are the main consumers. The Army upgraded their protection measures, issuing a lighter weight and narrower body armor system than ever before. Advances in technology are not only pushing innovation in body armor, but also in night vision systems, helmets, mounts and more. Research and Development has been a constant trend in the body armor industry, as technology and demand require constant innovation and advancement. 
We've gone from steel to chainmail to kevlar to UHMWP to… liquid? (We'll talk more on those last two later.) Let's take a look at some of the latest 2019 trends and advancements in the body armor industry.
The National Institute of Justice (NIJ) is expected to issue their revised standard in 2019 to include specific guidance for testing female body armor. Other supposed revisions will adjust the range of small caliber ammunition for the testing protocol and also decrease the focus on blunt trauma evaluation.
Out With Outer Tactical Vests
Innovative modular tactical vests are beginning to replace traditional OTVs (outer tactical vests). Many believe that modular vests allow for increased maneuverability, load bearing and overall protection. 
If you're looking for a modern, premium modular tactical vest package, you might want to check out Spartan AR500 Omega™ Packages.
The level III segment accounted for 23.7% of the overall revenue in 2018. These bodysuits offer better protection as compared to the level I, level IIA, level II and level IIIA. Furthermore, the armor is suitable for full-time wear in several warfare and combat situations
In 2018, ceramic/composite body armor created more revenue than steel core body armor as well as body armor built from other materials. Although ceramic/composite is often more costly, ceramic/composite body armor is known to provide better protection and weigh less than steel body armor. As technology increases, it is likely that steel body armor will be a novelty of the past. 
Speaking of the past, let's take a look at the future.
That's right, it's a real thing. The effectiveness of sheer thickening fluids (STF) has been researched for years, but is just now becoming a reality. STF is a mixture of liquid (polyethylene glycol) and hard silica particles. U.S. Army researchers are creating and testing kevlar soaked in STF, creating liquid armor.
Although STF is fluid and not hard whatsoever, the mixture has unique properties. When a bulletproof vest is impacted, the STF hardens. The technology seems to have potential, but it is still going through the testing phase. The technology could be used in numerous applications, including sleeves, boots, bomb blankets, etc. 
Liquid armor is supposedly more stab-resistant than traditional body armor, which would benefit law enforcement and security guards as they are more likely to be attacked by knives.
One of the biggest trends of 2019 is the rise of lightweight and flexible armor. None have more clout than the latest generation of UHMWPE materials. UHMWPE stands for Ultra High Molecular Weight Polyethylene.
For body armor, UHMWPE fibers are fixed into sheets and layered at different angles to provide maximum strength from all directions. The result is a lightweight armor that allows for improved ballistic protection and enhanced mobility. 
We are the future of personal body armor and tactical gear. Spartan Armor Systems' mission is to provide you with premium, modern, affordable and reliable body armor systems for any mission or situation. We specialize in NIJ 0101.06 compliant body armor, offering level IIIa, level III, level III+ and level IV threat-rated body armor solutions. Check out our signature ceramic/composite body armor packages and the newest tactical gear available. 
We offer a 10% discount to those who serve. 
Spartan Armor Systems is trusted by military, law enforcement, first responders, and civilians as the toughest, affordable body armor available. First responders, military and law enforcement officers receive a 10% discount on every item of every order, with one-week order processing and free shipping. 
Spartan Armor Systems are American made and sourced to ensure quality control standards. We offer a 5-year warranty on all body armor.
Need help figuring out the best configuration or just general body armor questions? Call us at (520) 396-3335 or send a message with any questions via our contact page.
https://www.policeone.com/police-products/body-armor/articles/482958006-6-body-armor-trends-on-display-at-SHOT-Show-2019/
https://www.armytimes.com/news/your-army/2019/03/05/this-unit-will-be-the-first-to-get-the-armys-newest-helmet-body-armor-kit/
https://www.grandviewresearch.com/industry-analysis/body-armor-market
https://www.thebalancecareers.com/liquid-body-armor-3331922
https://www.sciencedirect.com/science/article/pii/S2214914718305932#bib2
https://www.sciencedirect.com/science/article/pii/S2214914718305932
ATTENTION READERS
Due to the nature of independent content, VT cannot guarantee content validity.
We ask you to
Read Our Content Policy
so a clear comprehension of VT's independent non-censored media is understood and given its proper place in the world of news, opinion and media.
All content is owned by author exclusively. Expressed opinions are NOT necessarily the views of VT, other authors, affiliates, advertisers, sponsors, partners or technicians. Some content may be satirical in nature. All images within are full responsibility of author and NOT VT.
About VT
-
Read Full Policy Notice
-
Comment Policy