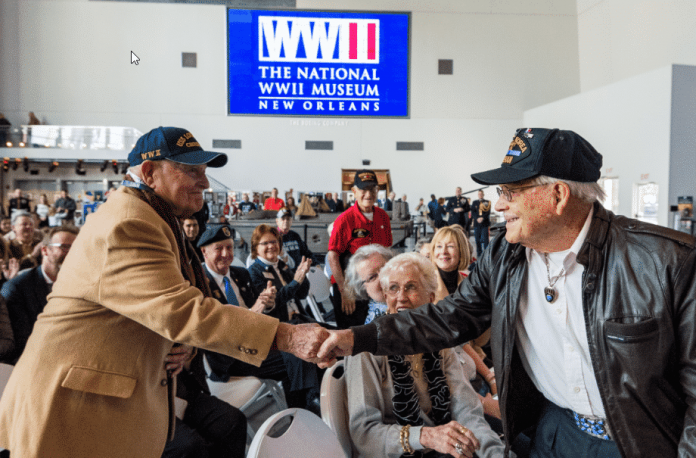 If you've worn the uniform long enough, you're probably accustomed to the gratitude that routinely comes your way on Veteran's Day. At the same time, you know that you aren't a veteran for one day per year – that honor is with you for life. It's good to know then, that we live in a country where veterans are taken care of.
The Department of Veterans Affairs may not provide the levels of service delivery that most people expect, but it is getting better. There are also many hardworking people who are willing to pick up the slack by providing their time and skills to help veterans make a smoother transition from military to civilian life.
This is especially evident when you look at the growing range of online resources dedicated to providing ex-members of the armed forces with a variety of services. Whether you need to further your education, reconnect with fellow veterans or obtain assistance with finances, loans or emergencies, here are 13 websites that will help you get it done.
Veterans Crisis Line
The Veterans Crisis Line was established by the VA to provide help to those suffering from PTSD, depression or other mental health issues. You can use the website's chat feature to consult with a qualified responder, many of whom are veterans themselves.
Support is available 24/7 and you can call their hotline at 1-800-273-8255 when you don't have internet access. Alternatively, you can text 838255 to receive immediate support. There are also a variety of helpful resources available on the website surrounding topics such as self-treatment and identifying the signs of a crisis.
VA.gov
Aside from the Veterans Crisis Line, the VA also has their own website dedicated to providing a number of useful services to its members. Unlike the outdated and confusing layout of the department's old website, VA.gov features a modern and user-friendly design, with seamless access to all the resources they offer.
This includes health care services, such as tracking your prescriptions, scheduling appointments and viewing lab results. The disability section allows you to handle claims, while the records section helps you manage your personal details. There's also an education section where you can check your payment history, change benefits and compare schools.
What's more is that you can obtain housing assistance, help with finding employment and apply for pension on the same website, making it a convenient one-stop shop for a wide range of veteran needs.
Military.com
If you're looking for an easy way to stay up-to-date with all things military, then Military.com is it. While predominantly a military news website, it also offers a wealth of information on benefits, insurance, retirement and general life as a member of the forces. There's also a careers section, where you can search for jobs and get helpful career advice.
Another great part about Military.com is the discounts section, which can help you save your hard-earned cash by listing the best discounts for travel, apparel, accessories and more each month. If you're looking for a bit of entertainment, the videos page has everything from entertaining clips to educational and informative content for you to binge on.
Public Records Reviews
Perhaps you've lost touch with certain loved ones or friends during your time serving. Maybe you formed some new connections with your fellow servicemen, but are unable to contact them today. In either case, PublicRecordsReviews can help you get back in touch with them by using their military people finder tool.
Thanks to federal and state laws surrounding public access to information, you can use their search engine to obtain details such as full names, location history, phone numbers, social media accounts and much more. It's free to use and only requires as much information as you can provide, making it a convenient way to reconnect with old friends.
Helmets to Hardhats
Helmets to Hardhats is a nonprofit program that aims to make the transition to civilian life easier by providing employment opportunities in the construction industry. You can use the website to search for jobs and read up on their knowledge base on the resources page to gain more information on finding the right career for your needs.
USAA
The United States Automobile Association's website offers a range of services that are geared specifically towards veterans and their families. This includes car and home insurance, cash rewards credit cards, home loans, investments and life planning services. The USAA is renowned for their competitive rates and ability to assist with veterans' finances.
Their website also features an advice section, where you can obtain useful information surrounding a variety of topics. Whether you need advice about life after the military, insights into the financial market, tips on insuring your vehicle, or starting a retirement plan, USAA is a great place to find it.
Hire Heroes USA
Finding a secure and lucrative job after being in the military isn't always easy. Hire Heroes USA aims to simplify the process by helping you start a meaningful and lasting career doing something you enjoy. Among the 38,000 people they've helped get hired, many are also military spouses.
On their website, you'll find a wealth of resources, including training tools, job postings and career events. You can also donate to Hire Heroes USA, which helps the company provide counselling sessions to other veterans or sponsor them throughout the process of finding a career.
Military Benefits
Military Benefits is another website that aims to make veteran life easier by providing all the information you need surrounding housing, finance, careers and education. A standout feature here is the military discounts page, which lists all the current offers for veterans and their families.
This includes discounts from online stores, chains, national brands and local establishments in your area. There's also a resources section where you can find information surrounding veteran ID cards, holidays and annual events, as well as charity and VSO resources.
Military Times
You may no longer be serving, but perhaps your interest or passion still lies within the forces. In that case, you may want to stay up-to-date with the latest news surrounding current matters in the military world. This is where Military Times comes in, which is a website dedicated to providing news articles, features and media surrounding current matters.
Like other websites in its category, Military Times also offers education and transition support, with a range of informative pieces covering topics such as transitioning into veteran life and ensuring your mental health. Finally, the Off-Duty section is a great place to unwind and catch up on a bit of entertainment.
Guitars4Vets
Countless veterans are affected by Post Traumatic Stress Disorder, which can make life after the military a painful struggle. Fortunately, programs like Guitars4Vets exist to help ex-soldiers through the healing power of music. The website aims to connect veterans and get them to join a community where they can find solace in song.
To date, the initiative has fulfilled over 40,000 lessons and thanks to some kind donations, has been able to send out over 4,000 free guitars to military veterans. Guitars4Vets is available nationwide, so if you're struggling with your mental health, consider giving the website a visit. You can also donate to help another veteran in need.
Khan Academy
Looking to brush up on your knowledge? Consider checking out Khan Academy, a nonprofit that aims to educate everyone, at no cost to the student. You can choose from a growing variety of courses on topics including math, science, engineering, computing, economics, finance and more. There are also guides for careers, college and entrepreneurship.
What's great about Khan Academy is that it offers a personalized learning experience, allowing you to learn at your own pace and in your own time. Whether you're planning on heading back to college and would like to be a little more prepared, or you simply want to learn more about a certain topic, Khan Academy is a great way to do it.
Patriot Project
Patriot Project is a website dedicated to helping veterans and their families find affordable chiropractic care. They currently aim to start a worldwide tour, where they visit military bases and homes to serve those in need. If you aren't in need of chiropractic care, you can donate to the website and support a good cause.
Road Home Program
Perhaps your wounds of war aren't visible from the outside. This is where the Road Home Program comes in. The initiative provides assistance for a variety of issues, including PTSD treatment, integrative care, family care and clinical care. They also have support groups where you can join like-minded servicemen to discuss your issues or concerns.
The Road Home Program frequently hosts community events, which are great places to get in touch with fellow veterans and raise awareness of the challenges ex-members of the forces face. If you feel like supporting their mission, you can help by making a contribution with your money or time.
By now, it should be clear that there are plenty of great resources to help you live a better life as a veteran. With the help of these websites, you can rest assured that you'll never be on your journey alone.
ATTENTION READERS
Due to the nature of independent content, VT cannot guarantee content validity.
We ask you to
Read Our Content Policy
so a clear comprehension of VT's independent non-censored media is understood and given its proper place in the world of news, opinion and media.
All content is owned by author exclusively. Expressed opinions are NOT necessarily the views of VT, other authors, affiliates, advertisers, sponsors, partners or technicians. Some content may be satirical in nature. All images within are full responsibility of author and NOT VT.
About VT
-
Read Full Policy Notice
-
Comment Policy