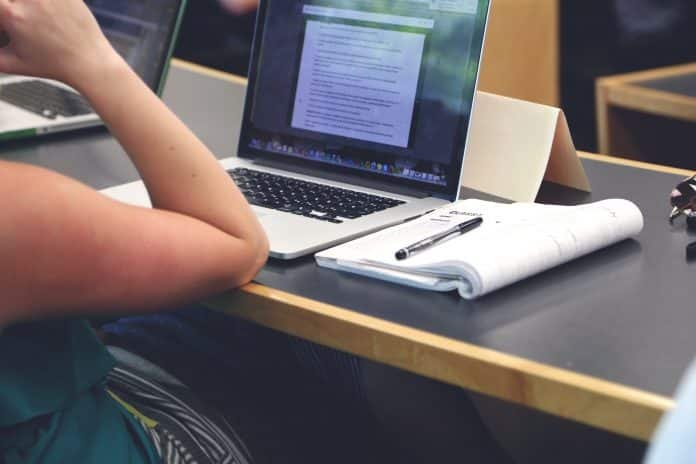 Technology has really helped humanity in a lot of ways. Whether it is related to energy, connectivity, communication or anything else, we are finding newer and newer ways of doing what we do in less time and with more efficiency. One of the fields that have really benefited from technology is education. Now everyone has an equal opportunity to get the same kind of education if they want. Geography and financial position play a little part in our education now. There was a time when you couldn't get the degree that you wanted because you didn't live close enough to the university campus or you didn't have the kind of cash to pay a huge tuition fee. If you wanted to do marketing, you had to enroll in a university physically and go there every day to take the classes. You couldn't hold a job as the class timings clash with the job timings. Now, thanks to technology, you can enroll yourself in an online MBA program at the best university. You could be sitting halfway around the world and it wouldn't matter.
Why Online Degrees?
There are a lot of ways that online education is far better than the traditional ways. First of all, you don't have to worry about the location of the university campus as well as yours. You don't have to worry about onsite living and the cost that you will have to bear. Another thing is the tuition fee. Online programs are much more budget-friendly than traditional degree programs. You also save a lot of your time as online education gives you the convenience of studying at your own time and not be dependent on someone or something. You can easily manage your job with your studies. A lot of people who want to continue their studies and hold on to their jobs are finding it easier to enroll in an online program. You have the chance to learn from the best in the world no matter where they are or where you are. Just log in to your LMS and start your learning. All the lectures and other reference materials are available to you in e-form and you can listen to it whenever you want. You can listen to it again and again and make notes; you can ask as many questions as you want without worrying about the shortage of time or any other matter.
Online education has brought a plethora of advantages to it that nobody can deny. But the problem is that there are two sides to every coin. And with online degrees becoming more and more popular, this has led to a phenomenon known as fake degrees.
The Flipside of the Coin
People who now have a way of earning degrees in a much more comfortable way without spending a lot of time and money are going for online degrees with a zest. That is the reason why distance learning programs have become so famous so quickly. Almost every university is offering multiple courses online for people who cannot afford to update themselves in the traditional manner. Unfortunately, this has given rise to the phenomenon of fake degrees and scams. As more time passes, these scams are increasing and they have created a lot of confusion and negativity in people about online learning. Websites pose as legal and legitimate schools and then proceed to cheat you and have you pay them a huge amount of money upfront for a piece of paper that might look good but is actually worthless.
Here's how you can find out if an online degree is authentic or fake:
1. Check the accreditation of online degrees
Checking the accreditation of an online degree is one of the best ways to find out if it is actually legit or not. Accreditation means that an institution has been certified by authority and that it has met all the standards that were selected by an authentic board. Accreditation means that the school you are interested in, is a legitimate school and that the programs that it offers are of value. Your degree will be accepted as real wherever you go. If the university is accredited then the website will surely have a link or a reference on it. You can also find the website of the accreditation board or your region's Education Ministry and find out if they have that university listed in their database or not.
2. Universities with so-called famous names
Nowadays everything is about the brand. We like to wear branded clothes and shoes and like to eat branded food. We also want branded education. Scammers sitting halfway around the world know this and take advantage of this fact by making a website that seems to have a name we are all familiar with. The only difference is that there will be a few words added to it before or after the famous name. For example, if you see the website of the Oxford Technical and Business University Online, then you should probably steer clear of it.
3. Too good to be true admission criteria
If all you are required to do is to send some money and your resume, then all is not well with the university. If it is an open university then you might think it is okay, but otherwise a lax and too good to be true admission criteria should ring alarm bells in your ears.
4. Asking for the tuition upfront
If the website that you have navigated to is asking for a lot of money upfront, then you are surely in for a rough time. The tuition fee is almost always paid in installments. No university is going to ask you to pay for the entire degree program lump sum.
5. Is the degree way too easy?
Sure you want to earn your degree as soon as you can without any complications, but there is a thing like being too easy. Online degrees require the same amount of coursework that an on-campus degree requires.
Conclusion
Online degrees are all the rage nowadays and they have made upgrading your skills very easy. Just keep the above 5 points in mind when you are searching for a good online university and you will be good to go.
ATTENTION READERS
Due to the nature of independent content, VT cannot guarantee content validity.
We ask you to
Read Our Content Policy
so a clear comprehension of VT's independent non-censored media is understood and given its proper place in the world of news, opinion and media.
All content is owned by author exclusively. Expressed opinions are NOT necessarily the views of VT, other authors, affiliates, advertisers, sponsors, partners or technicians. Some content may be satirical in nature. All images within are full responsibility of author and NOT VT.
About VT
-
Read Full Policy Notice
-
Comment Policy