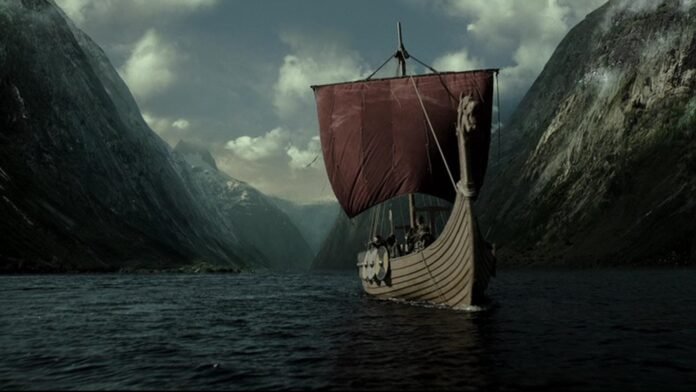 As you might often have heard said during the past few fraught weeks and months, nothing is sacred anymore when it comes to the established narrative of history. Things that were taught to our parents and grandparents when they were at school are no longer being accepted as established facts. A lot of us feel uneasy about that. When American history is challenged, it can feel a little like an attack on the concept of America itself. While that reaction is justified in some cases, we shouldn't rule out the possibility of challenging the established narrative when the evidence tells us that we should. That's why it's vital that we talk about Christopher Columbus and the Vikings.
Of all the great historical civilizations and races, the Vikings fire up the imaginations of the public more than most. That's why the HBO series "Vikings" – which is about to conclude its final season – has been such a ratings winner. That's why the Viking theme is so popular as shaman at so many online slots websites like MoneyReels.com, with slots like "Vikings Go Wild" and "Viking Gods" proving to be excellent money-spinners (literally) for the people who operate such websites. The aforementioned television show "Vikings" even has an officially-approved online slots game of its own, thus underlining the popularity of both online slots and the Norse warriors who star in them. For all their popularity, though, there's a lot that we get wrong about them.
We suspect that most of you will already be aware that Vikings didn't really wear pointy helmets. They would have been impractical in battle. While very few Viking battle helmets have ever been discovered by archaeologists, those that we have been able to find are invariably made of iron and leather and look much like the helmets worn by many other European races of the 9th and 10th centuries. The idea that Vikings wore horned helmets appears to have originated with the Swedish artists of the 19th century and then made its way into opera thanks to Wagner's "Der Ring des Nibelungen." The helmets we think they wore make them look like figures of fun, but they were anything but.
We also sometimes underestimate the sophistication and abilities of the Viking race. They're frequently portrayed as being little more than barbarian raiders conducting smash-and-grab raids of the countries they invaded, with little interest in culture. There's some justification for that portrayal – the 'smash and grab' approach is undoubtedly the one they applied to their legendary invasion of the British Isles during the 7th and 8th centuries. It's not fair to say that conquest was all that interested them, though. Many Viking burial sites and former settlements have been found to contain goods from as far away as China – a place that (as far as we know) they never visited. It's possible that they stole some – perhaps even most – of the goods that they owned, but it's just as evident that they were competent when it came to trade and diplomacy. They were a mighty seafaring race, and you don't become a mighty seafaring race without some smarts to back up your brute strength. After all, it was the Vikings who truly 'discovered' America.
We realize that the statement we just made might have taken a few of you by surprise, so allow us to justify it. As we've been told ever since we were children, Columbus 'sailed the ocean blue' in 1492 and became the first European to find the Americas. The arrival of Columbus started us down the path that led to the establishment of the United States of America that we know and love today. That part is correct – Columbus (accidental) discovery did indeed prompt further travel from Europe and eventually led to the colonization of both the north and south continents. The notion that he was an intrepid traveler on a journey to prove the world was round, though, is a lie. He was simply looking for a faster way to reach the East Indies and open up a new trade route. If anything, the unexpected continent he landed on got in his way. In any event, the Vikings had him beat in terms of being the first European visitor by around five hundred years. We know this because of the existence of the historical site of L'Anse Aux Meadows in Newfoundland, Canada.
L'Anse aux Meadows, which you'll find in the vicinity of Saint Lunaire-Griquiet, is not a large settlement. It consists of little more than a few basic buildings constructed of sod pulled over wooden frames. This was the place that the Vikings referred to as 'Vinland' and was the most remote of all their settlements. It's highly likely that the twenty-or-so Vikings who founded the settlement got lost and, like Columbus, found the continent by accident. The difference is that they did it during the late 9th or early 10th century. The buildings appear to have been used for boat repair and iron working, raising the possibility that this was a 'stopping off point' for Viking ships traveling to destinations even further from their home nations. Historians have concluded that the Vikings stayed here for around fifteen years before moving on – probably to return back home. What's indisputable, though, is that it's a real Viking settlement and that it pre-dates Columbus by several centuries.
Earlier this month, the Trump administration released a statement attacking the 'radical activists' who they said were seeking to undermine the legacy of Christopher Columbus. We think that's a little unfair. There isn't necessarily anything wrong with continuing to celebrate Columbus Day because none of us would be here if it weren't for the chain of events that was kick-started by his arrival on the 'New World.' That doesn't mean we can't change the story to fit the facts, though. We can still look to and name Columbus as the man who brought significant change to these lands – but we should stop telling people that he was the first. We do no favors to our children or to our collective wisdom when we continue to deny the facts that are right in front of our eyes.
ATTENTION READERS
We See The World From All Sides and Want YOU To Be Fully Informed
In fact, intentional disinformation is a disgraceful scourge in media today. So to assuage any possible errant incorrect information posted herein, we strongly encourage you to seek corroboration from other non-VT sources before forming educated opinion. In addition, to get a clear comprehension of VT's independent non-censored media, please read our
Policies and Disclosures
.
Due to the nature of uncensored content posted by VT's fully independent international writers, VT cannot guarantee absolute validity. All content is owned by the author exclusively. Expressed opinions are NOT necessarily the views of VT, other authors, affiliates, advertisers, sponsors, partners, or technicians. Some content may be satirical in nature. All images are the full responsibility of the article author and NOT VT.
About VT
-
Comment Policy