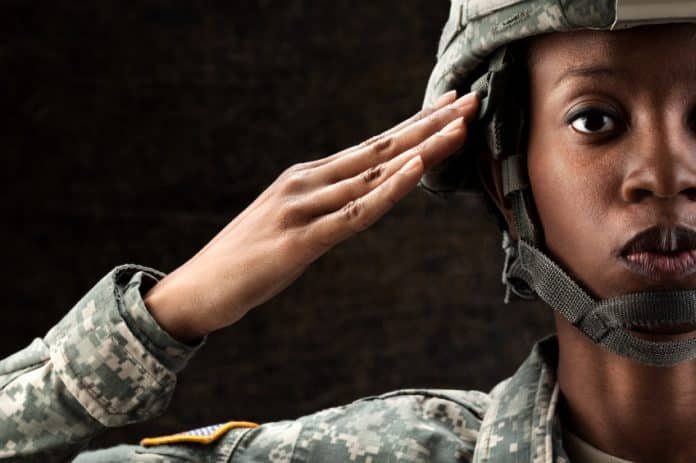 For many active-duty military members, it makes sense for them or their military spouses to become a real estate agent that focuses on serving around the military base they live near. This can mean having real estate licenses in multiple states as you move from base to base. Being a real estate agent who focuses on active duty and non-active military members as a retired military member also offers a great opportunity for them as well.
Many active-duty military members have to move across the state, country, and even the world on a very regular basis. This means they are constantly looking for a real estate agent to help them either buy, sell, or rent. Besides active duty, our armed forces who have retired and the veterans and their families love getting high-quality service with military orientated real estate agents.
Advertising in Military Publications For Leads
A lot of publications will want an annual contract to advertise in them. Real estate lead generation from publications offer an amazing channel to get in front of military members and their family. Prior to running an advertisement in a publication, you will want to know your clear value proposition you are offering the community who reads it. Why should they choose you? What is your value besides having a real estate license? What makes you more special than the other 1000's of real estate agents? Then you will need a strong call to action. What do you want them to do and why? You only typically want a single call to action like, "visit my website to get your home value", or "avoid the 7 most common mistakes military members make when selling their home", etc.
This is where having an understanding of what works and does not work in advertising for real estate seller leads comes into play. If you do not know what you are doing, then hiring an advertising agency could be an option that is skilled in word selection, graphics, and colors that help build trust and a need for your services. The other option would be to go to school to study advertising. The final way is looking at others and doing trial and error hoping to get it right.
Then once you have your ad copy done correctly, you will need a real estate seller lead generation website like Dorrmat to provide your audience one of the best possible home selling experiences out there. Then you will need to master all of their options, so you can come from a place of consulting vs selling.
Running Facebook Ads for Military Seller Leads
Lead generation through Facebook ads offers one of the most affordable lead sources out there. Facebook ads off very limited targeting capabilities in real estate. They have pre-set housing industry built-in limitations so that the real estate agents do not violate fair housing laws. Taking a slimmed-down version of your print publication ad and using it for your Facebook ad will help build your local brand with the active military members, inactive military members, and their family members.
Just like your print publications, you will want to have a high-quality real estate seller website with multiple squeeze pages offering all of your home selling solutions for your target audience.
Networking and Events
Regardless if you are an active member of the armed forces or if you are retired and a military spouse, lead generation from networking and events is a must. Purchase some amazing tactical gifts to bring with you and to handout. People love fun value-adding gifts–just ask kids who get stickers from professional skateboarders or kids or adults at a Phoenix Suns game who catches a generic t-shirt thrown toward them. Then have some fun branded things to give away with them too that have your brand and contact info on them. Always have your custom home seller website on anything you customize to give away.
Asking for Referrals From Past Clients in the Military
Build a platform that positions you to always be asking for referrals from past clients directly and indirectly through educating them and rewarding them. Properly doing lead generation and brand awareness with your past clients, which we call forever clients, is a great way to generate local and national referrals, and even sometimes international. Become their trusted advisor.
If there is a pattern where your home sellers go to, and perhaps come from, build relationships with other real estate agents and over there. Start by asking your buyers that are coming from there if they owned and sold there, and if they did, then ask how their experience was. Over time, you might find a certain agent is working with a lot of your clients before they become yours. Then build that relationship with that agent for buyer business coming from and going there.
Sphere of Influence
Regardless if you are active duty in the military service, or inactive duty from the military, or a military spouse, you and your possible spouse have a rolodex of relationships known as a gold mine that you need to tap into called Sphere of Influence.
With both your past clients (forever clients) and your sphere, send them postcards at least every 28 days. Have fun and make custom ones that are military-focused. Even build great relationships with other military-owned businesses so you can provide a code for either buy one get one free, or just a free item to introduce them to their products or services, and add that to your postcards.
Then, add your sphere and forever clients to your custom Facebook list to retarget them. This can showcase you and your services as your postcards should do too. Finally, make sure you are calling them and doing group meetups with them.
Here is another great article to learn more about real estate lead generation for seller leads.
Joining a Real Estate Team That Offers Elite Services
The cost of creating a great overall experience for our service members that are active duty and retired members from the armed forces can be pretty high. Above, we only talked about advertising, networking, and marketing. We did not talk about full admin support and all of the departments it takes to deliver world-class experiences for each real estate transaction.
As active and inactive military personnel, you are very much aware of each layer of the military and the importance of specialization. This holds true in real estate. Besides lead generation, there is training, coaching, mentorship, websites, platforms, systems, tools, and full-service admin support.
Many service members leaving the military are conditioned to the way the military does everything. As many of you know, there are even classes for entering the civilian market. By joining a successful ran real estate team you have heard of, reminds our service members of being in the military where they get to specialize in their one thing on a daily basis. Most real estate agents enjoy getting listings and then allowing the full-service admin team to manage them and the lead listing agent negotiating them.
This will give you a basic idea of home much it will cost to go solo with none of the experience backing you as a real estate agent:
Quality Websites: $350 to $1,500 per month
Lead Generation: at least $1,000 a month
Ongoing training, coaching, and mentorship: $1000-$2000 a month
Tools, Systems, and Platforms: $1,000 a month
Full-Time Admin: $3,000+ per month
Office space: $500 to $1,500 per month
This equals $6,900 to $10,000 a month to run a quality business as a solo agent who is not on a real estate team. Many people who get into real estate do not even think about what the costs and expenses are to run a real estate agent business prior to getting their license. Besides this, there are bookkeeper and CPA costs too, and additional items not mentioned. It is not cheap nor expensive to run a business, and as a real estate agent, you are either the business owner entrepreneur or team member functioning and as an intrepreneur. An intrepreneur is a business owner within a business like a real estate team where you schedule your own work hours, etc, but avoid the high costs and expenses of being an entrepreneur.
ATTENTION READERS
Due to the nature of independent content, VT cannot guarantee content validity.
We ask you to
Read Our Content Policy
so a clear comprehension of VT's independent non-censored media is understood and given its proper place in the world of news, opinion and media.
All content is owned by author exclusively. Expressed opinions are NOT necessarily the views of VT, other authors, affiliates, advertisers, sponsors, partners or technicians. Some content may be satirical in nature. All images within are full responsibility of author and NOT VT.
About VT
-
Read Full Policy Notice
-
Comment Policy