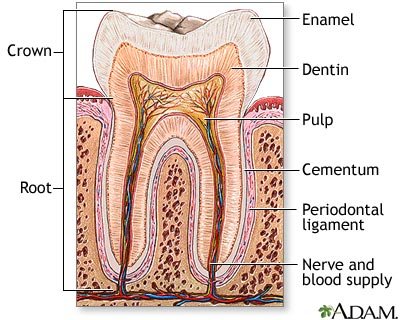 MOUTH MALADIES:
INFORMATION FOR THE NEWLY DIAGNOSED DIABETIC
BY CAROL DUFF RN
Periodontal disease is only one malady of the mouth that can plague the diabetic.  Oral infections should be tended to immediately, even with the use of antibiotics, to halt the march of bacterial destruction of the tissues in the mouth. Elevated blood sugar levels increase the diabetic's risk of cavities, gum disease, tooth loss, dry mouth, and several oral infections.  Poor oral health can make diabetes harder to control and additional infections may cause an increase in blood sugar.
Burning mouth syndrome is another medical problem that can affect the mouth of the diabetic.    Type 2 diabetes is one disease that can be associated with this syndrome along with chronic depression, nutritional deficiencies, changes of salivary function, and chronic anxiety…
Burning mouth syndrome begins with an unexplained burning sensation in the tongue and other parts of the mouth without obvious findings. The burning sensation can occur at more than one site including the tongue, lower lip, and the front portion of the roof of the mouth.  The pain may progress during the day and reach an intensity by early evening that may make it difficult to fall asleep.  The pain can be as severe as to approach tooth ache pain.  There may be a spontaneous recovery from this syndrome after several years, but seek treatment as any chronic pain situation may cause depression.
Little is really known about the cause of this disturbance, but studies are on going. One suggestion as to the cause of the burning pain may lie with disturbances of the cranial nerves that control taste. There may be an association between this malady and other health and chronic pain conditions.  High levels of blood sugar are often associated with this syndrome.   Be sure to see your health care provider as there may be new treatments that will benefit you.   Since this disorder seems to have no obvious cause there may be an issue of finding someone who will aggressively try to help you.  You may need referrals. Ask questions about drugs that might be prescribed. It is your mouth and you know how you are feeling.  This is another time to take charge of your health care.
Another disorder of the mouth that may cause problems for the diabetic is Xerostomia or dry mouth that accompanies a reduction in the production of saliva.  Xerostomia is common in those who have had neck or head radiation, systemic diseases, and as the side effect of some medications.
Symptoms of Xerostomia are difficulty eating, swallowing, and speaking. Other symptoms are an increased need to drink water, taste disorders, and a painful tongue. Those who wear dentures may develop denture sores and have problems with the tongue sticking to the roof of the mouth.   Often there will be aggressively developing dental caries (cavities) which result from the ability of bacteria, namely Streptoccoci mutans, to adhere to the teeth and begin decay.  Lack of saliva will encourage the growth of the bacteria. Xerostomia may lead to fissuring of the lips, inflammations and ulcers in the mouth, enlarged parotid gland (the salivary gland that enlarges with the mumps disease), salivary gland infection,  bad breath, and cracks in the  mucosa ( tissue lining of the mouth.)   Symptoms of dry mouth will be increased by smoking, mouth breathing, ingestion of alcohol, and hyperventilation (breathing very fast.)
Treatments are over the counter and prescription drugs that will stimulate saliva production and offer saliva substitution.   Speak with your health care provider and find a medication that works to either replace or stimulate your saliva production.
Oral Candida, a yeast infection, can affect the diabetic.  This yeast infection can occur as a side effect of antibiotic therapy, antihistamines, or chemotherapy drugs. There is a higher prevalence of Candida (commonly called thrush) in the mouths of diabetics. It appears as white raised areas which are above an infected red base.  The white portion is not attached to the underlying tissue and can be wiped off. This can spread to the back of the throat and esophagus where it causes ulcerations of the tissues.
Symptoms of oral Candida are a burning pain in the mouth or throat, difficulty in swallowing, and altered taste especially when eating sweet or spicy foods.  The corners of the mouth may become cracked and sore.  Smoking can increase the risk of thrush as can wearing dentures. Your health care provider will prescribe an antifungal medication.
When you visit your dentist remind him or her that you have diabetes.  Instability of your blood sugar levels will predispose you to have problems with infections.  The best time for dental work is when your blood sugar is within normal range so eat before your dental visit.  Do not have dental surgery when your blood sugar levels are out of control.  Take your usual medications unless instructed otherwise by your dentist and or health care provider.   Your dentist may need to consult with your health care provider to see if you need to take an antibiotic before dental surgery or procedures.  Remember you need to plan for your eating needs after dental surgery.
The diabetic needs to visit his or her dentist regularly and take special care of his or her mouth and teeth.  Good oral care will aid you in controlling your blood sugar levels and help you to stay healthy.
ATTENTION READERS
Due to the nature of independent content, VT cannot guarantee content validity.
We ask you to
Read Our Content Policy
so a clear comprehension of VT's independent non-censored media is understood and given its proper place in the world of news, opinion and media.
All content is owned by author exclusively. Expressed opinions are NOT necessarily the views of VT, other authors, affiliates, advertisers, sponsors, partners or technicians. Some content may be satirical in nature. All images within are full responsibility of author and NOT VT.
About VT
-
Read Full Policy Notice
-
Comment Policy