PROSECUTOR TELLS COURT: "VETERANS TORE AND STOMPED FLAG IN WILD PROTEST"
THE FACTS TELL A VERY DIFFERENT STORY
By Gordon Duff STAFF WRITER/Senior Editor
Assistant US Attorney, Sharon McCaslin screamed at the aging disabled veterans across the Federal Courtroom in Los Angeles. Representing the American Legion and Military Order of Purple Heart, these vets have been protesting in support of the Legion resolution opposing veterans land seizure by friends of powerful Democratic Congressman Henry Waxman. The words McCaslin said were not only utterly untrue but an assault on the American Legion, Gathering of Eagles, MOPH and a dozen or more other groups standing against greedy developers and their powerful political machine.
Fighting our brave veterans, alongside the bizarre accusations made in court, are VA security guards driving around Los Angeles, armed, out of control and, according to LAPD, Homeland Security and legal experts, "off the reservation."
There was flag desecration. We can prove it, but not by veterans. The VA, themselves, are the only ones to display tattered flags. No veterans group burned, tore or stomped a flag. No evidence exists and charges themselves don't reflect this.
This attack on our veterans was personal, was vicious and was dishonorable. What is this all about? Its simple, its about money, hundreds of millions of dollars with some estimates at up to 2 billion. What else is it about?
Its about keeping veterans, homeless vets away from rich people who find those who fought for their country "offensive" to "their" community standards, standards enforced by mercenaries and a Federal prosecutor under orders from above to stop legal protests threatening the massive fraud going on.
How does the game work? The politicians and millionaires set up a "public park" to honor vets, a park meant to break the powerful deed giving this land to homeless vets. If a small part could be a public park, then the same "authority" could give the rest of it away, piece at a time, to anyone they wanted.
Theft wasn't enough. We now have a mysterious mercenary group in VA guard uniforms driving around Los Angeles in unauthorized police cars, following veterans, stopping them on sidewalks, doing surveillance and acting like "storm troopers."
How is this paid for, the Hemi cruisers, the spy vans and the game playing? Veterans claims are being backlogged, services are being cut back and dollars meant for medical care is being poured into operating a bizarre police group that Secretary Shensiki and Congress never authorized.
It is one thing, going after Greenpeace or anti-war demonstrators, but abusing the law to attack heros is the last straw. When you think you have seen everything, when you think you have seen the bottom of the barrel, then something like this comes up.
To quote Chuck Norris, "I am flabbergasted."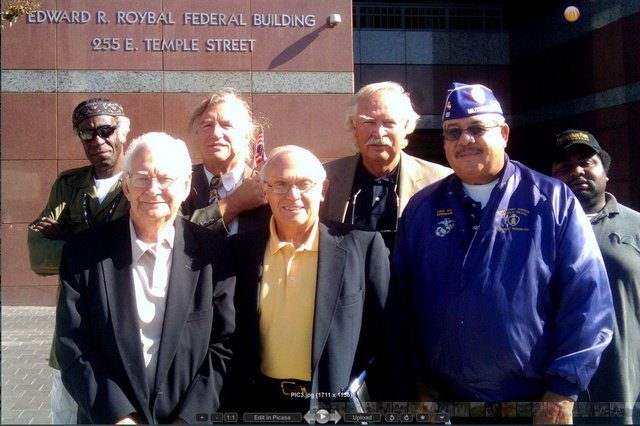 VETERANS ABUSED IN COURT BY "RENEGADE" PROSECUTOR
---
Veterans Today Senior Editor Gordon Duff is a Marine combat veteran and regular contributor on political and social issues.
ATTENTION READERS
Due to the nature of independent content, VT cannot guarantee content validity.
We ask you to
Read Our Content Policy
so a clear comprehension of VT's independent non-censored media is understood and given its proper place in the world of news, opinion and media.
All content is owned by author exclusively. Expressed opinions are NOT necessarily the views of VT, other authors, affiliates, advertisers, sponsors, partners or technicians. Some content may be satirical in nature. All images within are full responsibility of author and NOT VT.
About VT
-
Read Full Policy Notice
-
Comment Policy