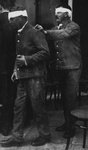 MEDIA REPORTING IN AMERICA:  FANTASY MEETS SUBVERSION
By Gordon Duff STAFF WRITER/Senior Editor
Everyone in America agrees that getting honest and accurate news is impossible.  This is the understatement of all time.  We have no way of knowing what we get or don't get, no benchmark for truth.  We all thought the last election in the US was as bad as it could get.  We were wrong.  Let's look at some of our current stories.  We can start with Pulitzer Prize winner Seymour Hersh and his latest Pakistan fantasy.
According to his article in the New Yorker, US Special Forces from Dubai were planning on an invasion of Pakistan to steal the triggers from Pakistan's nukes.  Seymour's scenario, related in pages of rambling fabrications would be funny if it didn't threaten our relationship with a key ally.
What imaginable reason would someone have to invent a clearly outlandish story that could only spread mistrust between Pakistan and the United States?  Greg Miller, in today's Los Angeles Times wrote, regarding the relationship between the CIA and Pakistan's equivalent, the ISI:
Given the size of overt military and civilian aid to Pakistan, CIA officials argue that their own disbursements — particularly the bounties for suspected terrorists — should be considered a bargain.

"They gave us 600 to 700 people captured or dead," said one former senior CIA official who worked with the Pakistanis. "Getting these guys off the street was a good thing, and it was a big savings to [U.S.] taxpayers."

A U.S. intelligence official said Pakistan had made "decisive contributions to counter-terrorism."
Pakistan, whose intelligence agency is our primary source of information in the region and whose military is the largest shared contributor in our current conflicts with the greatest commitment of forces and largest losses is vital to any possible strategy in Afghanistan.  There is only one reason a prominent journalist would write a totally false 7,000 word story that would do so much harm to the United States and that is if loyalties were elsewhere.
Since Hirsh is obviously not a "terrorist sympathizer," does this mean another friend and "ally"  is willing to manipulate our press in a way harmful to America?  What kind of publication would allow a story like this with nothing but unverified sources and, frankly, a plot so stupid that it would be implausible even in a video game?
Another area this week where the press, hundreds of blogs and reality went over the edge is the Ft. Hood tragedy.  George Washington University, through very strong ties to conservative groups and the Bush administration had a conference on Homeland Security.  The purpose of the conference was to see to it that the Department of Homeland Security, even after President Obama took office, would follow as many Bush guidelines as possible.
What we are really saying is that Homeland Security spends money like a drunken sailor and that contractors with strong GOP relationships that have grown fat on the massive overspending at DHS wanted to sit down with Bush DHS staff and work out how to keep the money flowing as long as possible.  There was NO other reason for the conference.
Lo and behold, who shows up but Major Nidal Hasan.  His name is in the middle of a list of DHS officials and big shot DHS contractors.  This gets reported.  He is the ONLY person of his type.  Nobody knows why he is there.  They still don't.
So, how does George Washington University deal with it?  Well, I am contacted and told that he 'walked in off the street" and that "anyone" could attend.  This is simply and outlandishly false.  This was a spy convention, not a sewing circle.  When we pointed this out to them in an answer to their email, they didn't respond.  Then we decided to call their press officer, supposedly the source of their original denial, a denial that was, well, poorly conceived.
The next thing we hear is that Major Hasan was actually working for President Obama while attending.  This is found from one end of the internet to the other and in an endless series of emails.  This seemed, not only curious, but bizarre.
With an entire staff of major GOP big shots and Bush DHS officials, sneaking in someone with a questionable or terrorist background is one thing, but getting an Obama spy in would have been impossible.  The GOP is famous for having potential "demonstrators" jailed whenever Bush would enter a city, they would hardly allow an "Obama terrorist" as their bloggers call him, into one of their contractor and fat cat insider groups.
Let's face it, the only terrorists the GOP cares about are Move On, Vote for Vets or ACLU members.
The phony Hasan/Obama story seems to have been distributed thru "mainstream" veterans groups, the NRA and dozens of sites all using the same phrases, the same quotes and the same utterly false statements.  Was Hasan a GOP terrorist when he showed up at the Homeland Security "transition" conference?  No evidence exists to that.  Did Hasan have any relationship to Obama as he did with the GOP?  Of course not.  Why the story?
The answer is simple.  It is better to characterize the Commander in Chief of our armed forces, while our troops are at war, as a terrorist sympathizer through absolute lies than to admit a minor relationship with an Army officer who committed an insane terrorist act.
Think of a definition of patriotism that this would fall under?  Having trouble?
Omission has its own dangers.  Omission, simply taking a major story and choosing not to report it at all, perhaps "choosing" is not the right word.  Why would the very well documented story related to Sibel Edmonds be suppressed?  When she came out accusing dozens of Bush administration officials and members of Congress of spying against the US and offered solid proof, no paper said anything.
Wait, you are unaware of the Sibel Edmonds you say?  An FBI translator had been silenced by Attorney General Ashcroft for reporting vital American secrets were being sold to terrorists by top US government officials and newspapers don't even report this on the comic page?  Are you really surprised?
Why would the Attorney General of the United States use highly controversial authority under the Patriot Act to cover up serious crimes threatening national security, crimes involving people he knew well and worked with?
However, when one of the names, Congressman Tom Lantos, turned out to be a Democrat and is dead, thus unable to defend himself, the GOP blogs take this one name, one out of many, and try to paint the entire massive spy scandal, one which is 90% GOP, as all evil Democrats.
Thus, a massive Bush/GOP scandal becomes a "one dead democrat" scandal, featured in GOP blogs only and nothing published inside the US.  Americans will have to wait for the BBC to make a documentary about this.  We will have to watch it on Youtube as we have with so many other scandals that are seen as "unprofitable" to air domestically.
The only reason the 2nd Amendment to the Constitution is of value, the right to bear arms, is in defending the 1st Amendment.  With the 1st Amendment gone and nobody left to say anything, who cares if there are guns out there.  It is obvious, the people who have them are all either cowards or criminals anyway.
Covering up the Sibel Edmonds spy scandal proves we are multitasking.  We are now doing two things at once.  We are covering up one of the biggest spy scandals in our history and still blaming someone else, poor dead Tom Lantos, who may have well been as guilty as all his GOP friends.
This takes imagination.  It takes audacity.  It takes two other things, a total lack of morals and an audience made up of people who are no longer able to discern fact from outlandish fiction.
Thus, when reading David Duke's website describing the "Tom Lantos" spy scandal with no mention of the wealth of Republicans who were working with him, how can I blame Duke?  In any normal world, readers would rise up and call for his public stoning much as they should when group after group of GOP supporters began sending out the childishly false stories on Obama/Hasan ties.
Then I remember.  Seymour Hirsh and his "video game" invasion of Pakistan, breaking into their nuclear arsenal and stealing their "triggering devices," then flying them out of the country on mysterious stealth C-17 aircraft.
Any idiot, and we certainly have idiots to spare, knows Pakistan and India are in a "cold war" against each other, facing each other down with their nuclear arsenals.  These arsenals are the best protected military assets on the entire planet.  Hirsh talks about a handful of US troops sent to secure something being protected, not just against terrorists, but from one of the world's most powerful military forces, India.  It is one thing printing conjecture.  It is one thing getting some facts wrong.  It is something else inventing something vicious and harmful, something false, something fantastic, something insane.
---
Veterans Today Senior Editor Gordon Duff is a Marine combat veteran and regular contributor on political and social issues.
ATTENTION READERS
Due to the nature of independent content, VT cannot guarantee content validity.
We ask you to
Read Our Content Policy
so a clear comprehension of VT's independent non-censored media is understood and given its proper place in the world of news, opinion and media.
All content is owned by author exclusively. Expressed opinions are NOT necessarily the views of VT, other authors, affiliates, advertisers, sponsors, partners or technicians. Some content may be satirical in nature. All images within are full responsibility of author and NOT VT.
About VT
-
Read Full Policy Notice
-
Comment Policy