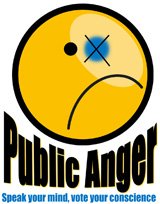 ABC News defines voter anger as: Anti-incumbent, anti-establishment sentiment. Voters are down on Washington. They are deeply divided over the health care plan in Congress and a majority thinks the country is on the wrong track. However ABC fails to explain what it means by voters think the country is on the wrong track. For example, ABC along with most of mainstream media and even the Democratic Party don't want to talk about the costs of the war in Afghanistan, and continued occupation of Iraq or Democrat support for defense budgets competitive with the Bush administration. Could it be that our country going in the wrong direction means– the  Republican direction –  in the same direction as got Democrats elected in the first place
Nearly all voters remain anxious about the prolonged recession, and yet the Democrats spend just as much on defense as the last administration adding more to the National debt and further prolonging the recession. Only about half the U.S. electorate approves of Obama's job performance, while excessive spending (once again the Pentagon comes to mind, George Bush's Pentagon at that) and big government irk them.
ABC News conveniently fails to explain what it means by excessive spending, though we all know what big government means. Voters have lost faith in institutions. What institutions?
Voters have little trust in the institutions of government, (well the Pentagon an institution of government), major corporations, and financial entities.
Yep, many voters say the country is heading the wrong way, approval rating for Congress and President Obama similar to those during the George W. Bush years. Could it be that it is because the Democrats and Obama administration have taken the country not only in the same direction as Bush and the Republicans but beyond.
Howard Dean defines voter anger as: "Our base is demoralized."  Obama and the Democrats haven't turned out to be the "change agent" the electorate thought it elected, and voters who supported Democrats in back-to-back elections now are turned off. "Washington is just not in touch," Dean said. And now, he said, the tables have turned: "Republicans are unified against Democrats the way we were against them when Bush was president."

What Dean fails to note is exactly why Democrats and Independents were unified against Bush and the Republican Party and now are not? Dean further fails to recognize that a significant part of the Democratic base was the Pro-Peace (anti-war if you will) and independent voters fed up for the money wasted on war that could have gone to promoting jobs in the United States. Yes, independents are leaving Obama. Democrats are subdued. None of it bodes well for the party in power, but that doesn't mean independents are leaving for the Republican Party that is nothing but a show put on by Republican candidate Brown in Massachusetts. When Republicans talk about independents leaving the Democrats to join the right, they are really talking Tea Baggers, Gun nuts, and home grown militias.
There is of course a liberal and independent voter belief that the Obama administration's and Democratic party  response to the recession has favored the wealthy and powerful over the middle class and average families and that FACT is only one factor leading to DISUNITY.
Just like Brown, a little-known Republican state senator from Massachusetts with a limited record who had never before run statewide, shed his conservative Republican Party markings and downplayed his neocons credentials Democratic candidates must genuinely shed their establishment Democratic Party markings of being almost Republicans and exenterate their liberal and independent credentials such as boldly standing up on health care reform even in the face of angry, gun toting, tea parties, boldly taking a stand on the economy and the national debt that the Republicans are stealing a stand on, and most of all bolding taking a stand on how much the war in Afghanistan, and occupation of Iraq is costing voters and contributing to the national debt something that Republicans and mainstream media do not want Democrats talking about for fear Democrats just might stay in power.

Democrats need to not only cast themselves as candidates of the people, fighting for voters, but actually be able and confident to deliver change come hell or high water. Brown in Massachusetts put on a great act and show of being independent, but can he deliver to his neo-conservative base and buck the Republican Party establishment?
Coakley lost in Massachusetts because she comes right out of the Democratic establishment and arrogantly embraced her stature within the party. When it finally dawned on Coakley's campaign strategists that arrogantly running as an establishment Democrat could lose the election they tried selling her to an anti-Washington, pro-populism electorate by seizing the fight-for-the-little-guy mantle in hopes of thwarting a Republican victory, but the voters did not buy it and stayed home. That is why the Democrats lost in Massachusetts and will lose the Congress in 2010. Unless the Democrats mend their ways and recapture their base of support, the nation will continue down the same wrong course set by George W. Bush and embraced by Barrack Obama.
The voter's mood could scare off establishment Democrats considering entering races, such as Beau Biden for Delaware's open Senate seat, or cause vulnerable Democratic incumbents, including Sen. Blanche Lincoln of Arkansas, to retire. This would frankly be great for the party, because what it does not need now is establishment Democrats running for dog catcher.  Seriously independent candidates willing to challenge the Democratic as well as the Republican establishment is the only thing that will save the Democratic Party come November 2010.
We at Veterans Today have found only one Democrat candidate running for national office that has the political guts and genuine independence to take on not only the Democratic establishment but the Republican one also.
Bob Krause who is running for U.S. Senate from the state of Iowa had this to say about Democrats and what the Massachusetts Election Results Mean. Frankly, Bob is the only Democratic Party candidate we know who's GOT IT RIGHT!
Democrats Need to Listen, Act for the Grassroots
Bob Krause said that the meaning of the Republican victory in the Massachusetts Senate election is that the Democratic Party needs to listen and act in favor of the grassroots. Bob knows that voters            are angry and are looking for someone to blame. Simply put, Bob Krause said, "They [voters] want to take their country back."
"We cannot select candidates because they are anointed by the party establishment and campaign on an agenda that is too narrow. It is even worse if everyone assumes that the anointed candidate is the best candidate, without consulting with grassroots voters." Krause said.  Unfortunately, Martha Coakley's candidacy personified all of this and it was the kiss of death for the Democratic candidate in her loss on Tuesday noted Krause.
What is voter anger to Democratic candidate Bob Krause? "Today, people are concerned about jobs.  They are also concerned about the cost of the war in Afghanistan and cannot quite figure out how it connects to the war on terror. It is apparent that they want candidates who are not afraid to speak out because special interests or party protocols may be in the background." Krause said.
At least in this Iowa Democratic primary race for the U. S. Senate, we at Veterans Today found Bob Krause to be the only candidate who has outlined a comprehensive jobs and recovery package.   He was and remains the first Democrat to a bold stand and speak out on Afghanistan, and Bob Krause has not been afraid to speak out on monopolies that may affect the Iowa farmers.
And Bob Krause IS and anti-establishment Democrat who is not putting on a show at being independent, the Democratic Party in Iowa and across the nation needs to heed the winds of voter dissatisfaction and focus on those matters that are important to the people whose vote they want.  When Democrats do this, they will win a great victory in November noted Bob Krause, and we agree with him.
Posted and Written by: Robert L. Hanafin, Major, U.S. Air Force-Retired Veterans Today Military Veterans and Foreign Affairs Journal
References:
Krause Afghanistan Stance
http://www.krauseforiowa.com/positions/Krause-KrauseMakesCaseAgainstEscalationOfWarInAfghanistan-20091129.asp
Krause Jobs Program
http://www.krauseforiowa.com/positions/Krause-KrauseAnnouncesProgramToPreserveAmericanJobsAndBuild%20IowasEconomy-20091221.asp
ABC News: Analysis: Voter Ire Evident in Mass. Senate Race – Analysis: Sour voters in tight Mass. Senate race show challenges for Obama, in-power Democrats http://abcnews.go.com/Politics/wirestory?id=9578863&page=1
Readers are more than welcome to use the articles I've posted on Veterans Today, I've had to take a break from VT as Veterans Issues and Peace Activism Editor and staff writer due to personal medical reasons in our military family that take away too much time needed to properly express future stories or respond to readers in a timely manner.
My association with VT since its founding in 2004 has been a very rewarding experience for me.
Retired from both the Air Force and Civil Service. Went in the regular Army at 17 during Vietnam (1968), stayed in the Army Reserve to complete my eight year commitment in 1976. Served in Air Defense Artillery, and a Mechanized Infantry Division (4MID) at Fort Carson, Co. Used the GI Bill to go to college, worked full time at the VA, and non-scholarship Air Force 2-Year ROTC program for prior service military. Commissioned in the Air Force in 1977. Served as a Military Intelligence Officer from 1977 to 1994. Upon retirement I entered retail drugstore management training with Safeway Drugs Stores in California. Retail Sales Management was not my cup of tea, so I applied my former U.S. Civil Service status with the VA to get my foot in the door at the Justice Department, and later Department of the Navy retiring with disability from the Civil Service in 2000.
I've been with Veterans Today since the site originated. I'm now on the Editorial Board. I was also on the Editorial Board of Our Troops News Ladder another progressive leaning Veterans and Military Family news clearing house.
I remain married for over 45 years. I am both a Vietnam Era and Gulf War Veteran. I served on Okinawa and Fort Carson, Colorado during Vietnam and in the Office of the Air Force Inspector General at Norton AFB, CA during Desert Storm. I retired from the Air Force in 1994 having worked on the Air Staff and Defense Intelligence Agency at the Pentagon.
ATTENTION READERS
Due to the nature of independent content, VT cannot guarantee content validity.
We ask you to
Read Our Content Policy
so a clear comprehension of VT's independent non-censored media is understood and given its proper place in the world of news, opinion and media.
All content is owned by author exclusively. Expressed opinions are NOT necessarily the views of VT, other authors, affiliates, advertisers, sponsors, partners or technicians. Some content may be satirical in nature. All images within are full responsibility of author and NOT VT.
About VT
-
Read Full Policy Notice
-
Comment Policy