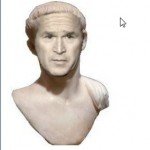 GOP AND CORPORATE PRESS HAVE ONE GOAL:  KEEP BUSH AND HIS CABAL OUT OF PRISON
By Gordon Duff STAFF WRITER/Senior Editor
Ask any American, or, in fact prettymuch anyone around the world what President Obama's biggest failing is and they will always say the same thing.  Bush is out of prison, proof Obama is a coward or part of the same gang.  All any of us wanted was our country back.  It isn't like there weren't crimes any prosecutor could prove.  We spend billions trying to convict children and mental defectives we kidnap off the street of terrorism and we have a gang here, still running their mouths, running free that is responsible for the deaths of 10,000 Americans, destroying the lives of 400,000 more, killing between 1 and 2 million around the world, 98% innocent civilians, and robbing America blind.
Britain is in the middle of an investigation, begun as a half hearted attempt to look at Tony Blair and how they managed to elect a charming and urbane but sociopathic tool as Prime Minister, a man of wit who would follow George "W" Bush blindly into disaster when he should have known better.
We have now learned through informed sources that Blair met with Israeli officials prior to making his decision and had openly suggested, after that meeting, of invading Iran also.   Blair's military experience as a former failed rock guitarist was unable to provide substantive and authoritative support for this "two-fer" attack plan.
As much as our British cousins have tried to bury the truth, every day something leaks out.  Blair will never go to prison but it is now known to all there, the Iraq War was a criminal act begun for profit, based on known lies, planned by men of low moral character and executed with incompetence beyond human measure against an enemy that was virtually helpless.
We turned a two week war into a 6 year civil war, decades of civil unrest and the utter destruction of a nation.  Was it all an accident?  Will anyone be checking the "net worth" of Tony Blair, before the war and after?  How can America be jobless, broke yet filled with new billionaires?  America still has their military, the best planes (for awhile) and the biggest fleet.  What they don't have is money to pay for it.  Who has the money, our money and the real power to rule the world?  Who is really in charge, really pulling the strings?
Simply put, there isn't a single terrorist act, failure of proper management or oversight, political stumble or strategic blunder done during the Bush years that didn't generate billions in no bid contracts, oil rights, arms deals or in the backroom restructuring of the American financial system that led to the biggest world financial collapse in history.   Never in history has so much "stupid" been so very good for so very few at the cost of so many.
If you want to know who the real criminal terrorist "masterminds" are, check who is making more money now than they were in 2000.  Since most money made by the upper 3% of Americans is held in offshore banks, looking will be hard.  If you wonder why you can't buy a home or car or businesses are closing everywhere, think of the hundreds of billions held offshore.  Senator Carl Levin has spent years documenting this and years trying to stop it.  If you think that the new "corporate controlled" Congress is going to repatriate American wealth and American jobs any better than the current group, good luck to you.
There isn't just one path that would lead to prosecution, there are hundreds, maybe thousands.  With trillions stolen, and nothing being done to look at anything, no real 9/11 investigation, no investigation of the invasion of Iraq, no investigation of torture, no investigation of oil price fixing, no investigation of the real network of financial crimes that brought down our government, no investiation of rigged elections, no investigation of complicity by Americans in spying for foreign governments, no investigation in drug trafficking, no investigations in massive bribery in every part of our government, every aspect of oversight from economy to environment to military spending, it has become clear to anyone with ears to hear and eyes to see that we aren't dealing with political extremists, we are dealing with organized crime disguised as government.
How many hundreds of millions in bribe money flowed into Washington just to block national health insurance, a basic human right?  How many hundreds of millions, even billions of emails were sent out to Americans, all filled with lies written by insurance lobbyists?  Do you think they were free?  Who do you think pays?  We pay for this, we pay with our money, we pay with our health.
We pay for everything.  We pay with the lives of our children for the gasoline we pay for with the money that used to buy our food.  It is all about paying, simple extortion, price fixing and monopolies.
Our new definition of socialism:  A socialist is someone who complains when being robbed.
Our new definition of extremist:  An extremist is someone who complains when being robbed.
Our new definition of traitor:  A traitor is someone who complains when being robbed.
Our new definition of terrorist:  Is it someone who does more than complain?  Perhaps complaining is enough.  John Ashcroft and Roberto Gonazles thought so.
Our new definition of patriot:  Someone who can drive to a flag waving ceremony past streets filled with homeless veterans and see nothing.
and so it goes….
Gordon Duff posted articles on VT from 2008 to 2022. He is a Marine combat veteran of the Vietnam War. A disabled veteran, he worked on veterans and POW issues for decades.
Gordon is an accredited diplomat and is generally accepted as one of the top global intelligence specialists. He manages the world's largest private intelligence organization and regularly consults with governments challenged by security issues.
Duff has traveled extensively, is published around the world, and is a regular guest on TV and radio in more than "several" countries. He is also a trained chef, wine enthusiast, avid motorcyclist, and gunsmith specializing in historical weapons and restoration. Business experience and interests are in energy and defense technology.
ATTENTION READERS
Due to the nature of independent content, VT cannot guarantee content validity.
We ask you to
Read Our Content Policy
so a clear comprehension of VT's independent non-censored media is understood and given its proper place in the world of news, opinion and media.
All content is owned by author exclusively. Expressed opinions are NOT necessarily the views of VT, other authors, affiliates, advertisers, sponsors, partners or technicians. Some content may be satirical in nature. All images within are full responsibility of author and NOT VT.
About VT
-
Read Full Policy Notice
-
Comment Policy