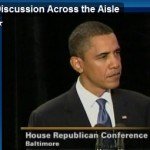 TIME WE TOOK STOCK IN WHAT IS REAL AND ISN'T
TIME TO GET MAD AT THE RIGHT PEOPLE
By Gordon Duff STAFF WRITER/Senior Editor
I belong to all the political blogs. I pay too little time poking with them, some, like FamilySecurityMatters.com are unclean and corrupt, outlets for Jerome Corsi bilge. Today, the Obama folks offered up a 1 hour Q&A between Republicans in Congress and the President. I have watched General Shensiki begin the fight to clean decades of decay out of the VA, decay that got much worse during our previous administration. I have watched Defense Secretary Gates, "born again hard" take on cleaning up our military, taking care of our soldiers and putting America before Israel and right before corruption and petty politics. I decided to watch. This is the link: OBAMA AND REPUBLICANS IN CONGRESS
If you want to understand if you have a real president or not, watch for the hour. If you want to see good and bad in the Republican party, watch the video. What you will learn is more about being an American, voting intelligently and who is who. Many, not all but many Republican leaders are clearly exposed as utter tools of financial thieves and hapless idiots. There are some intelligent and competent people in the room also. Please, if you are going to be a "Republican," find one of these people and if the party refuses to run him (all male, mind you) for public office, you have someone to support. If they run one of the "tools" like John McCain, forinstance, start screaming bloody murder.
If you love your country, watch the video. It gives you a look at what is real and what isn't. One politician, some total fools, after another get up and spout off for the crowd, hoping that it will be cut down for a sound bite, leaving out President Obama's detailed and factual explanation of why the inflamatory part of what they said was simply not true. One after another, politicians stand up, lie like dogs for the camera, some come back to reality, some have no idea what reality is, and the President honestly addresses the problems and kindly points out the misrepresentations and outright falsehoods of their "sound bite" moment. It was humiliating to watch.
I am figuring that, if the Democrats have similar people, we need a big broom. The only person worth keeping for certain is Barack Obama and I agree with him about half the time.
What really came out of this:
Nobody will cut spending or allow a spending cut of any kind if it involves their own district…we call this PORK

When Republicans say "tax cut" it means for banks, corporations and the very rich only….this was clear as a bell…wake up!

Obama is much smarter than Republicans in Congress, with a few exceptions. However, he is continually talking about "advice from economists." I am a "them" and it ain't hard to see that we are being held together by spit and tape.

The majority of our GOP friends would rather see America collapse than do what is right. They lay it right out there. You can't miss it. If even some of the Democrats are as bad, we are totally screwed.
What doesn't come out of this, of course, is that our "news" the MSM/Corporate news, lives on the soundbites, the insults, the childish and outlandish claims and edits out the rebukes, "you and I know that what you said is untrue and you are only saying it because you are putting winning elections over working to help your country."

Every "issue" carried on the internet, the lying emails, Fox/CNN/WSJ and the corporate lie machines is only meant to do one thing: Keep real Americans at each other's throats so they can be killed, gutted and bled out as meat.
Every teabagger, militia type, every "conservative," every AIPAC supporter, everyone hiding under their bed worried about the next terrorist attack is simply somone lacking what is required to live in a free society. If you don't think there are people in the US, people of great wealth and power who believe that blowing up the WTC on 9/11 was, in the end, the best thing that ever happened to America, you must have slept thru the entire Bush administration.
If you don't believe that the Pentagon, CIA, FBI and our inner circle of oligarchs is made up entirely of people who say, "3000 or 20,0000, we need the oil, we need to stay strong, what is a few deaths compared to the BIG PICTURE."
This is the real world, your real government, your real leaders, the ones some of us have been giving our lives to fight.
We hear alot of talk of late about Federalism and the Constitution. The Constitution was nothing but an empty corporate document, written to keep America under the control of Britain and a few rich bankers until an anti-Federalist, George Mason, of Virginia pushed thru the Bill of Rights.
These were the first 10 amendments. Without them, everything we know to be the Constitution would never have existed. Even then, women couldn't vote, we had slavery, the Senate was "chosen," not elected and many of our freedoms were unimagined. Without the Bill of Rights, we would have had NO freedoms at all. This was the plan then and it is the plan now.
We gave full power to our central government and, without the anti-Federalists, would never have considered the Bill of Rights, our real Constitution. We would have built our country based on a toilet paper document.
When you think of your Constitutional rights, think Bill of Rights, the amendments, not the Constitution. The folks with money and power didn't want freedom of press, the right to bear arms, freedom from unlawful search and seizure, etc. They had a dictatorship planned for our new nation. Today we call our new Federalists our "conservatives." If you think giving corporations, yes, corporations owned by other corporations owned in absolute secrecy by anyone on earth unlimited power to play in politics freedom, you are insane.
The money of our oligarchs, foreign and domestic, is meant for one thing, to buy censorship, not freedom. Our "conservatives" on our Supreme Court voted to nullify our First Amendment. The Patriot Acts had gutted several others. Their goal, real Federalism, not a strong central government but a dictatorship.
You now have a president who understand this and is fighting it. Watch the video. See our new Federalists play their games. Freedom is only for serious people.
Gordon Duff is a Marine combat veteran of the Vietnam War. He is a disabled veteran and has worked on veterans and POW issues for decades. Gordon is an accredited diplomat and is generally accepted as one of the top global intelligence specialists. He manages the world's largest private intelligence organization and regularly consults with governments challenged by security issues.
Duff has traveled extensively, is published around the world and is a regular guest on TV and radio in more than "several" countries. He is also a trained chef, wine enthusiast, avid motorcyclist and gunsmith specializing in historical weapons and restoration. Business experience and interests are in energy and defense technology.
ATTENTION READERS
Due to the nature of independent content, VT cannot guarantee content validity.
We ask you to
Read Our Content Policy
so a clear comprehension of VT's independent non-censored media is understood and given its proper place in the world of news, opinion and media.
All content is owned by author exclusively. Expressed opinions are NOT necessarily the views of VT, other authors, affiliates, advertisers, sponsors, partners or technicians. Some content may be satirical in nature. All images within are full responsibility of author and NOT VT.
About VT
-
Read Full Policy Notice
-
Comment Policy