This is a follow-up to an article on Obama's Secretary of Defense Robert Gates titled Robert Gates – the MANIPULATOR. Though these posts are what one would consider Old News, I believe that although not the only reason, President Obama's wrong decision to keep on hold overs from the Bush administration at the Defense Department to run his foreign policy in the Middle East and SW Asia is not only why the Democratic Party is losing support of its liberal base, but also among the reasons Democrats will lose big time come November 2010.
As you read yet another expose of why I think Obama made a big mistake in continuing the Bush administration's war and occupation policies ask yourselves how could any President labeled a 'liberal' keep on men such as this?
The excuse may be in the spirit of bipartisanship.
Well neither Republicans or Democrats do bipartisanship very well, and the Republican idea of getting along and compromise goes something like this.
I should know I've been a Republican longer than I've been a Democrat or Independent.
Robert L. Hanafin, Major, U.S. Air Force-Retired, Veterans Today News
Pentagon's Gates Plays Ugly American By Melvin A. Goodman
About four months ago Obama's Defense Secretary Robert M. Gates played the "ugly American" not in Baghdad, Iraq; not in Kabul, Afghanistan, not in Israel, but of all places in Tokyo.
Gates was  cast in a quasi-diplomatic role he should never be given. His performance in Japan, supposedly and ally of the United States on equal footing (chuckle) speaks to the need for a demilitarized national security policy.
Habits of Bush administration holdovers in Obama's administration die hard. It is the role of the Secretary of State to conduct delicate overseas diplomatic missions NOT the Secretary of Defense – a military establishment BTW that most nations around the world fear and distrust.
Japan is experiencing extreme economic pressures, no different from the economic meltdown of the U.S. Economy. Simply put with the U.S. economy fails, Japan and South Korea catch colds.
As a result of economic insecurity in Japan, the incoming Japanese government prepared to withdraw from its costly commitment to refuel Western warships in the Indian Ocean and to become less active in positioning military forces against China . Given Japan's history of militarism that led them into WWII, Nagasaki, and Hiroshima, plus the Peace Constitution that WE shoved down their throats, a resurgence in Japanese militarism even on a limited scale would be as destabilizing in the Far East as our destabilization of the Middle East and S.W. Asia. China, North Korea, heck even South Korea and Taiwan would not appreciate Japan filling any military power gap in the Region with China reaction most aggressively. Add to this the controversy of Soviet occupation of the Japanese northern territories off the coast of Hokkaido, and Russia would enter into any resistance to the expansion of Japanese militarism.
While in Japan , Bob Gates in a diplomatic role he is not fit for,  demonstrated his anger and impatience with the Japanese, declining invitations to dine with Japanese Defense Ministry officials and to attend a welcome ceremony at the Defense Ministry – the equivalent of the Pentagon.
Gate's petty behavior highlights three issues facing the Obama administration that are old, disgraceful, habits of cabinet members of the Bush administration that Gates continues to really represent.
First, the new Japanese government of the Democratic Party of Japan (DPJ), made up of mainly liberals to left of center voters, which ended the 50-year run of the Liberal Democratic Party (LDP), ironically the most conservative Japanese voters, will be more protective of Japanese interests NOT U.S. interests.
Second, and this is a lesson that will not be lost on voters come November 2010, for the past two decades, the U.S. Defense Department has been taking over key diplomatic functions in bilateral relations and foreign economic and military assistance, traditionally managed by the State Department. Secretary of State Hilary Clinton has done little to reverse this trend for she is almost as conservative as Gates.
Third, and this is the main reason I will not vote Democrat this coming fall, the Obama administration erred dramatically in retaining a Cold Warrior like Gates as Defense Secretary in the wake of a political campaign that was devoted to seeking genuine CHANGE in U.S. foreign policy.
[However, I have to depart ways with Mr. Goodman on this. Most promises made by the Obama administration and not kept were directed at domestic policy and changing the 'business as usual' arrogance and incompetence in Washington NOT at foreign policy. Obama only promised to pull troops out of Iraq NOT Afghanistan, and his administration has even turned its back on the Democratic Party base on that. Obama only promised to close Gitmo, and it remains open. He promised an escalation of the war in Afghanistan that would make G.W. Bush proud. VT Editor's comment]
We in the United States must understand that our military and economic weakness, brought about by poor decisions regarding use of force in the Middle East and Southwest Asia, has opened the door for America 's traditional allies in Asia and Europe to assert their will in foreign policy matters. As we pull troops and resources out of the Far East, someone is going to have to fill that vacuum, and it IS NOT going to be the Japanese. They will of course do what ever it takes to ensure their own National Security depending on our Nuclear umbrella, but the military power to watch in the region will be China with the capability to continue modernizing its military forces on profits from Wal-Mart, and I'm not picking on WalMart here only our economic dependence on China. Hell, China even holds the deed on the mortgage our government took out to fund the war(s) in Iraq and Afghanistan.
Japan will no longer automatically perform as America 's "aircraft carrier" in the Pacific. The United States currently occupies 134 military bases and facilities on land in Japan that is greater in size than Tokyo , representing an "occupation" footprint. The Japanese government and people are demanding a shrinking of that footprint with closing of bases on Okinawa as a starter.
The liberals of the DPJ won a landslide victory last August, pledging that it would not automatically conform to U.S. wishes and that it would seek savings in defense policy.
The United States , now the greatest debtor nation in world history, will have to adapt to a global currency system less centered on the dollar and countries such as China and Japan will be more assertive in their dealings with the United States . Of course being assertive does not mean they will act in coordination or cooperation to fill the power gap left as U.S. Forces get bogged down in the Middle East and S.W. Asia.
Huge U.S. deficits, especially loans owed to China, could lead the Chinese and the Japanese to be less willing to hold U.S. dollars and to finance U.S. military adventures abroad.
One more time, less likely to want to fund U.S. military adventures abroad and that would be the greatest thing to happen to our government. Congress would be forced to tell the American people that WE must no shit pay for the war(s) in the Middle East with higher taxes as we did in other wars on behalf of or collective National Security. The Obama administration will have to pursue a diplomatic strategy that does not rely on bullying – a trend that continues with the hold overs from the Bush administration, Bob Gates being the epitome of Neoons acceptable to the very few neoconservatives in the Democratic Party like Joe Liebermann who well is almost in the Democratic Party and almost in the Republican Party.
For the past two decades, both Democratic and Republican administrations have weakened the balance between the key instruments of foreign policy, permitting the Defense Department to dominate the field of international security, even in areas that are not purely military.
The Goldwater-Nichols Act of 1986 weakened the role of the civilian secretaries of the Army, Navy and Air Force, and made the chairman of the Joint Chiefs of Staff the "principal military adviser to the president, the National Security Council and the secretary of defense."
Goldwater-Nichols also enhanced the authority of regional commanders of forces in major areas, thus weakening the stature of assistant secretaries of state and key ambassadors in the field. Regional commanders such as Generals Anthony Zinni and David Petraeus became "proconsuls to the empire."
In May 2003, several weeks after MISSION ACCOMPLISHED was declared, the U.S. military conducted a raid on the Palestinian diplomatic mission in Baghdad without consulting any U.S. civilian official in Iraq . A series of weak secretaries of state since 1993 have contributed to the imbalance, and yes Hilary Clinton remains a WEAL Secretary of State in this respect forfeiting diplomacy to the Bush administration's Secretary of Defense.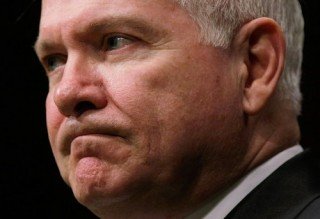 Gates, throughout his 30-year government career, has never been known for tact or diplomacy unless it benefited Gates. He is certainly no diplomat. In the mid-1980's and early 1990's, he earned the ire of secretaries of state George Shultz and James Baker for trying to undercut efforts of the State Department to improve relations with the Soviet Union .
Baker even went to President George H.W. Bush to make sure that Gates's boss at the National Security Council, Gen. Brent Scowcroft, kept Gates out of the way of policy.
In 2008, Gates angered, and continues to anger, the European members of NATO by haranguing them publicly, demanding greater military participation in Afghanistan. The people of most NATO nations still feel they are being bullied by American militarism and are also tiring of it. We WILL eventually go it alone in the Middle East and S.W. Asia or Israel will be our ONLY ally in the region when they are not spying on us.
In the wake of Gate's disgraceful harangue, several NATO members (including Canada and the Netherlands ) announced troop withdrawals from Afghanistan in 2010 and 2011. I expect more to follow the lead, especially with the people of Great Britain and Australia get fed up with our bullying.
Gates's incompetent behavior in Japan on this latest mission will only create problems for the United States as it seeks to negotiate delicate political and military issues with the government of Yukio Hatoyama, who is committed to a more "equal" partnership with the United States and to improved relations with other Asian nations, particularly China .
It is way past time for President Obama to give some thought to placing his own man at the helm of the Pentagon. It was Obama's original intention to keep Gates in place for one year in order to manage the withdrawal of military forces from Iraq and hopefully placate congressional Republicans who favor U.S. troop deployments at current levels.
THIS IS NEVER GOING TO HAPPEN –  CLOSER WE GET TO NOVEMBER 2010, AND IT IS NOT THE REPUBLICANS WHO WILL PAY THE PRICE FOR THIS OBAMA MISTAKE!

There are any number of Democrats — such as Richard Danzig, Larry Korb and Sen. Jack Reed of Rhode Island — who have military experience and have written creatively about the need for CHANGE in U.S. militarism. Obama could have had his pick of qualified Democrats to run Defense, and that would have made it a little easier if not perfect to rid the Pentagon of Bush hold overs. Obama now has precious little time remaining in nine months to admit his mistakes, replace Gates and purge the remaining hold overs from the Bush administration in both civilian and military positions. If not, the result will surely be major Democratic Party defeats come November 2010 and permanent entrenchment of Bush hold overs at the Pentagon beyond Obama's first and only term.
The President needs a "new thinker" at Defense, not a Bush hold over, who can develop strategies for reducing the U.S. military presence in Germany , Japan and South Korea , which we cannot afford and don't require at current levels, and for more diplomatic and non-military solutions for outstanding problems in an era of significant resource constraints.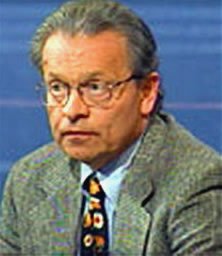 Credit for the bulk of this article goes to Melvin A. Goodman, senior fellow at the Center for International Policy and adjunct professor of government at Johns Hopkins University. Goodman spent 42 years with the CIA, the National War College, and the U.S. Army. His latest book is Failure of Intelligence: The Decline and Fall of the CIA.
[This story originally appeared at Truthout.org. emphasis and additional analysis added by Major Bobby Hanafin, U.S. Air Force-Retired, Veterans Today News AND may not necessarily reflect the views of Mr. Goodman]
SOURCE:
http://www.consortiumnews.com/2009/110209b.html
Truthout Editor's Note: Given the Bush administration's imperial overreach and the massive U.S. budget deficits, a new realism would suggest that President Barack Obama get serious about pulling back American troops stationed around the world and pushing harder for diplomatic openings. In the above essay, former CIA analyst Melvin A. Goodman notes how Obama's decision to retain Bush's Defense Secretary, Robert Gates continues to hurt his administration's ability to achieve CHANGE.
Frankly, I believe the Obama administration and Democrats in Congress do not have the time remaining to save the party from disaster in November 2010 based on this ill fated and WRONG decision. However, President Obama has more than enough time (three years) to put Democrats and Independents at top positions at the Pentagon. I agree with Mr. Goodman that Obama needs his OWN Man or Woman at the helm of Defense – a Democrat or anyone not carrying the baggage of the Bush administration.
I also believe that if Independent and Swing voters not to mention the Democratic base has known Obama was going to keep Bush hold overs in any significant cabinet positions that John McCain would now be President.
Robert L. Hanafin, Major, U.S. Air Force-Retired, Veterans Today News
Readers are more than welcome to use the articles I've posted on Veterans Today, I've had to take a break from VT as Veterans Issues and Peace Activism Editor and staff writer due to personal medical reasons in our military family that take away too much time needed to properly express future stories or respond to readers in a timely manner.
My association with VT since its founding in 2004 has been a very rewarding experience for me.
Retired from both the Air Force and Civil Service. Went in the regular Army at 17 during Vietnam (1968), stayed in the Army Reserve to complete my eight year commitment in 1976. Served in Air Defense Artillery, and a Mechanized Infantry Division (4MID) at Fort Carson, Co. Used the GI Bill to go to college, worked full time at the VA, and non-scholarship Air Force 2-Year ROTC program for prior service military. Commissioned in the Air Force in 1977. Served as a Military Intelligence Officer from 1977 to 1994. Upon retirement I entered retail drugstore management training with Safeway Drugs Stores in California. Retail Sales Management was not my cup of tea, so I applied my former U.S. Civil Service status with the VA to get my foot in the door at the Justice Department, and later Department of the Navy retiring with disability from the Civil Service in 2000.
I've been with Veterans Today since the site originated. I'm now on the Editorial Board. I was also on the Editorial Board of Our Troops News Ladder another progressive leaning Veterans and Military Family news clearing house.
I remain married for over 45 years. I am both a Vietnam Era and Gulf War Veteran. I served on Okinawa and Fort Carson, Colorado during Vietnam and in the Office of the Air Force Inspector General at Norton AFB, CA during Desert Storm. I retired from the Air Force in 1994 having worked on the Air Staff and Defense Intelligence Agency at the Pentagon.
ATTENTION READERS
Due to the nature of independent content, VT cannot guarantee content validity.
We ask you to
Read Our Content Policy
so a clear comprehension of VT's independent non-censored media is understood and given its proper place in the world of news, opinion and media.
All content is owned by author exclusively. Expressed opinions are NOT necessarily the views of VT, other authors, affiliates, advertisers, sponsors, partners or technicians. Some content may be satirical in nature. All images within are full responsibility of author and NOT VT.
About VT
-
Read Full Policy Notice
-
Comment Policy