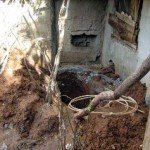 I cannot stop thinking about sixteen year old Medine Memi, the Turkish girl who was buried alive by her family for casting aspersions on the family " honor".  Her "crime" was to talk to males who were not part of her family.   Her father and grandfather are accused of committing this heinous act.  This horrific and unforgetable  incident occurred in Kahta town in the Adiyaman province.  She had been missing for forty days and was found in a sitting position with her hands tied, buried in a hole under a chicken pen near her house. Cement has been placed over the hole.
When her body was finally found, she had amounts of dirt in her lungs and stomach which proves that she was buried alive. She had no drugs in her system which offers further proof that she was not drugged or poisoned, but fully conscious and very aware of the feeling of suffocation. Not only was she ultimately killed, but she was tortured before she died by suffocation.  Try holding your breath and see how long it takes before you have to breath.  She was trying to breath with dirt obstructing her nose and mouth.   Medine had reported to the police at least three times that she had been beaten by her father and grandfather and tied to seek asylum at the police station.  She was sent home every time.
She has never been allowed to go to school and perhaps did not even know how to read and write.  To not know how to read and write in this millennium is tantamount to gross neglect.  But why would you take the effort or time to teach someone to read and write when her life was worth nothing more than what you decided it was?  The males that she was "friendly with" surely knew the cultural mores and what the consequences of her actions would bring.  Are they not just as culpable for her death as the ones who buried her alive?  Where was her mother and female members of her family while this travesty was happening?  Her mother was arrested but released.  She knew of the crime against her daughter and did nothing to stop this vicious act.
Reportedly there are as many as 200 of these murders a year in Turkey.  According to the United Kingdom's Telegraph, this makes up half of the murders in the entire nation. What if the males involved in these "dishonorable" acts such as becoming a friend of or talking to  a female outside the family were also punished in such a manner?  Would this bring an end to the so called "honor killings"?  I think it would make a good starting point.
It is reported that her father and grandfather face charges of "premeditated homicide with aggravating circumstances, perpetuated by cruelty which if convicted would mete out a penalty of life in prison.  Honor-killings, wherever they are recognized or practiced, must cease.  There is no "honor" in such an act.
This sixteen year old girl was "missing" for forty days.  It is apparent that the family thought they could kill her with impunity.  She was considered disposable.  Here is a concept to chew on.  Approximately one half of the world's population is female.  Without these females, there would be no further increase in the population.  Can women not be considered worthy of equal status due to this blatantly obvious scientific and biological fact of life?  If there were no women, the population of the world would cease to exist.  Please, does it all need to go further than this concept?
ATTENTION READERS
Due to the nature of independent content, VT cannot guarantee content validity.
We ask you to
Read Our Content Policy
so a clear comprehension of VT's independent non-censored media is understood and given its proper place in the world of news, opinion and media.
All content is owned by author exclusively. Expressed opinions are NOT necessarily the views of VT, other authors, affiliates, advertisers, sponsors, partners or technicians. Some content may be satirical in nature. All images within are full responsibility of author and NOT VT.
About VT
-
Read Full Policy Notice
-
Comment Policy