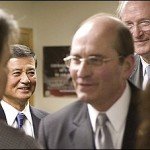 Specifically singling out Vietnam War veterans, Veterans Affairs Secretary Eric Shinseki said today that the VA is broken, the backlog of claims and the lack of trust by veterans must change. In rhetoric this is a departure from the boilerplate about respecting the troops, meeting obligations … . This is admitting a problem. "In time, I'm hopeful this relationship will create a culture of advocacy between VA and veterans so that there is that sense, that trust between veterans that VA is working to their benefit," Shinseki said.
In the past, Vietnam-era veterans became a target of right-wing think tanks such as the American Enterprise Institute (AEI), journals such as the Weekly Standard, and the Bush administration which actively targeted this group of veterans who often were loudly disparaging the Vietnam War as a lie and a betrayal, to the chagrin of many civilian war planners.
Too soon to even feel hopeful, but at least Shinseki is hitting the right notes. Said AEI scholar Dr. Sally Satel of Vietnam War-era veterans in 2006 during the height of the Bush administration's targeting of Vietnam-era veterans, "(I)t's … very likely that some of the veteran baby boomers who have filed claims in recent years did so not out of medical need but out of a desire for financial security in their retirement years. … Only in rare instances should veterans be eligible for lifetime disability; and perhaps there should be a deadline of years after service by which claims must be submitted. … The inspector general's office found that for one-quarter of Vietnam veterans claiming post-traumatic stress, the department could not confirm any incidents of traumatic stress. A study in a leading psychiatric journal last year could not verify such history in 59 percent." (New York Times op ed (March 1, 2006))
Is this a reversal by Shinseki? We'll see:
Shinseki: US will fix broken VA disability system

By KIMBERLY HEFLING
The Associated Press
Monday, February 22, 2010; 10:43 AM
CHILLICOTHE, Ohio — Veterans Affairs Secretary Eric Shinseki said he's making it a top priority this year to tackle the backlog of disability claims that has veterans waiting months – even years – to get financial compensation for their injuries.Among those waiting for relief are sick Vietnam and Gulf War veterans to whom the former Army commander feels an allegiance and who have long felt ignored.

"I'm a kid out of the Vietnam era, I just have enough firsthand knowledge of folks walking around with lots of issues. If there's a generation of veterans that have had a tough row to hoe, it's the Vietnam generation," said Shinseki, 67, in an interview with The Associated Press as he traveled through snowcapped mountains in Ohio and West Virginia between meetings with veterans.

Shinseki, a former Army chief of staff who had part of a foot blown off when he was a young officer in Vietnam, was unapologetic about a decision he made in October to make it easier for potentially 200,000 sick Vietnam veterans who were exposed to the Agent Orange herbicide to receive service-connected compensation.

He said it was the right thing to do, even though the claims volume will grow and it will likely take about two years to get the average claim-processing wait time back to where it is today, about five months.

There's a chance Shinseki could also extend similar benefits to veterans from the 1991 Gulf War. A task force he appointed to look at their health is expected to release a report this week, which could eventually lead to thousands of additional sick Gulf war veterans receiving health care and compensation. 

Shinseki said he's often asked why, 40 years after the Vietnam war and nearly two decades after the Gulf War, his agency is still trying to resolve issues related to those veterans' illnesses.

Because of his decision, Vietnam veterans with B-cell leukemias, Parkinson's diseases and ischemic heart disease no longer have to prove their illness is the result of their military service. Shinseki determined after reviewing a study by the Institute of Medicine that the illnesses should be presumed to have come from veterans' war service, making it easier for them to receive financial compensation. The illnesses were added to 12 others the VA had previously presumed came from Agent Orange exposure during Vietnam.

Shinseki said he's looking ahead to make sure Iraq and Afghanistan veterans with post-traumatic stress disorder and traumatic brain injuries don't have similar problems getting financial compensation.

"I'm also asking the question, how do we ensure that 20 years from now, that future secretary isn't answering questions about PTSD or TBI, sort of the signature injuries of this war, in the same way that I'm having to look back and try to address these issues," he said.

In recent years, resources have been poured into clearing the backlog, but problems persist. Besides the time it takes to process a claim, there are frequent complaints about lost paperwork and inconsistency in how claims are processed.

To start looking for solutions, Shinseki's agency instigated pilot projects in Pittsburgh; Little Rock, Ark.; Providence, R.I.; and Baltimore that he says he's watching closely. His plan is to reduce the backlog by 2015, which means a veteran wouldn't wait more than four months for a claim to be processed.

The VA and Pentagon are also working together to create a universal electronic system with the goal of solving many of the claims challenges. Some of the collaboration is expected to be rolled out in 2012, although it could take years before the system is fully in place.

Shinseki, who became the Army's chief of staff in 1999, is no stranger to change. In that role he sought to modernize and better prepare the Army for urban combat. In his current position, he's highlighted the challenges veterans face, such as unemployment, suicide and homelessness.

In small gatherings in Chillicothe and Charleston, W.Va., he listened to complaints about the red tape veterans face and explained the work he's doing to fix the claims backlog.

"We're going to fine-tune each of the pieces and then put that engine back together again and look for better processing by the end of the year," Shinseki said during a morning meeting with employees at the VA hospital in Chillicothe.

The employees listened quietly, not touching the pastries and juice put out for them, as he told them matter-of-factly that he knew the Agent Orange decision was going to add new claims.

"This backlog I just told you I'm going to knock down, I added to it, I know that," he said.

Later in the morning, he told veteran advocates he wants vets to see the VA as an ally.

"In time, I'm hopeful this relationship will create a culture of advocacy between VA and veterans so that there is that sense, that trust between veterans that VA is working to their benefit," he said.
ATTENTION READERS
Due to the nature of independent content, VT cannot guarantee content validity.
We ask you to
Read Our Content Policy
so a clear comprehension of VT's independent non-censored media is understood and given its proper place in the world of news, opinion and media.
All content is owned by author exclusively. Expressed opinions are NOT necessarily the views of VT, other authors, affiliates, advertisers, sponsors, partners or technicians. Some content may be satirical in nature. All images within are full responsibility of author and NOT VT.
About VT
-
Read Full Policy Notice
-
Comment Policy