* By Donna Teresa Monterey Herald *
Another Oscar night has come and gone, and those of us who watched patiently waited for the envelope to open and hear the words, "And the Oscar goes to …" Those honored are part of Oscar history forever.
Naturally, I think of movies during Oscar season. With our ongoing military involvement in Afghanistan and Iraq, it is inevitable to think about some of the war movies that have been made over the years.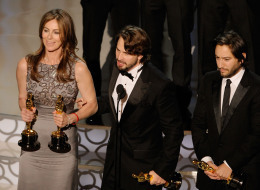 It's common to hear people say, "You have to go see that movie, it was so good." I suppose if it were a comedy, romance or adventure, that would be appropriate.
But I have difficulty praising a movie when the subject matter is war. Don't get me wrong, I have seen many war movies. But after seeing movies such as "Saving Private Ryan" or "Flags of Our Fathers," I find it strange to say, "That was such a great movie."
I know such comments are praising the acting talents and movie quality, and rightfully so. Both of those movies were very well done. I just hope, for the sake and integrity of the history and the veterans they are portraying, that all war movies get the story right — that they serve as a historical lesson and, especially, to world leaders that war is not kind, people do suffer and die.
I haven't met a war veteran yet who has told me he or she has seen a war movie numerous times. Instead, the common response is: "I don't need a war movie to tell me war is hell. I was lucky to have lived through it and come home."
I asked some veterans what they thought about war movies. Many welcome them because they serve as a vehicle to remember their history before they pass on. Many, particularly Vietnam veterans, dislike what they see as mockery and exaggerated depictions such as "First Blood, Rambo" movies and "Tropic Thunder."
"Tropic Thunder" was meant to be a comedy, but with all due respect, I don't find the humor in making fun of the Vietnam War and its veterans.
If you think war is funny, take a trip to a veteran's hospital and witness the struggles and injuries of the wounded, or take a walk through Arlington or any cemetery and see families crying by a loved one's headstone.
Humor is great. I enjoy comedy, but humor shouldn't be at the expense of our war veterans and their service. One movie that did not receive as much attention as it should have was 2007's "Grace Is Gone" starring John Cusack. It is about a father who delays telling his two daughters that their mother has died while serving in Iraq. The movie won an Audience Award for Drama at the 2007 Sundance Music Festival.
Movies, television and computer games with war themes make a lot of money for game companies and studios. I commend those who have chosen to share some of the profits to help benefit veteran organizations and memorials.
If I could make one change at Oscar night, I think the last envelope should have read: "And the Oscar goes to … the troops."
For every war, there have been troops who have made it possible for us to have the many freedoms we have.
Movies will continue to be made about war. I just hope there are fewer because that would be a sign that, hopefully, one day war will be no more.
More from Donna Teresa Monterey Herald
ATTENTION READERS
Due to the nature of independent content, VT cannot guarantee content validity.
We ask you to
Read Our Content Policy
so a clear comprehension of VT's independent non-censored media is understood and given its proper place in the world of news, opinion and media.
All content is owned by author exclusively. Expressed opinions are NOT necessarily the views of VT, other authors, affiliates, advertisers, sponsors, partners or technicians. Some content may be satirical in nature. All images within are full responsibility of author and NOT VT.
About VT
-
Read Full Policy Notice
-
Comment Policy