CHRISTIAN ZIONIST "FANATIC" GROUP ARRESTED IN MICHIGAN PART OF MAINSTREAM MILITIA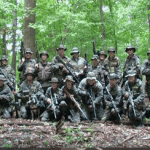 "STAR OF DAVID" REMOVED FROM SITE AFTER ARREST
By Gordon Duff STAFF WRITER/Senior Editor
 "In the name of God and the devil, one to reward and the other to punish, and by the powers of light and darkness, goodness and evil, here under the black arch of heaven's avenging symbol, I pledge and consecrate my heart, my brain, my body, and limbs; and swear by all the powers of heaven and hell, to devote my life to the obedience of my superiors that I will exert every possible means in my power for the extermination of the antichrist, Communist, the Roman hierarchy, and their abettors." (Michigan's Black Legion Oath)
This week, a massive federal raid in our area netted what we are told was a Christian terrorist organization planning to murder dozens of police in our region.  Almost immediately, the other militia and pro-gun organizations distanced themselves.  Who are the "Hutaree's" and how are they different from the other militias?  Well, the group are all republicans, 100%.  No surprise there, in fact, the Michigan Militias have always been activist GOP, back into the 1990s.  There is a much older history, though, one not taught in our schools.
The militias in Michigan and Ohio all have their roots in the KKK from back in the resurgent years of the 1920s.  However, their primary activities were financial, they were "strike breakers" and "scabs," turncoat shills for factory owners who looked for criminals and thugs to keep from paying fair wages.  The Black Legion was not only the most violent arm of the KKK but also worked like their Nazi Germany counterparts, the SA and SS, to suppress organized labor.  (Check out this history of the Black Legion)
Richard Bak writes of the Black Legion:
"… individuals targeted by the Legion, notably civil-rights attorney Maurice Sugar, were convinced it was an immense threat. Sugar and Homer Martin, president of the fledgling United Automobile Workers, believed the Legion's reach extended into the factories of local automakers like Hudson and Packard, where members were given jobs and special privileges in exchange for sabotaging the efforts of union organizers. They insisted Legion members had infiltrated union ranks as management spies, while others worked for the Dawn Patrol Detective Agency, a private security force that guarded factories. Eventually, three unsolved murders of labor activists, one of whom was hanged, turned out to be Legion handiwork. There almost assuredly were more, but Dean could attest only to those crimes he had firsthand knowledge of. Other implicated Legionnaires kept their mouths zipped.
Sugar had a deeply personal interest in bringing down the Legion: They had marked him for assassination. Dean confirmed a couple of botched attempts to kill Sugar the previous year when the liberal lawyer was running for city council and Recorder's Court judge. Sugar spent months investigating the Legion for a book he never wrote. One of the most chilling plots he uncovered was the plan to release cyanide gas in local synagogues during Hanukkah. Another unrealized scheme involved "Major General" Arthur Lupp of Highland Park, an investigator for the Detroit Board of Health and the Legion's buffoonish state commander. Lupp, who was not charged in the Poole murder, allegedly experimented with methods of injecting typhoid germs into dairy products sold in Jewish neighborhoods.
Psychologists studied Legion members in custody. Most were Southern transplants with few industrial skills, nagged by a feeling of alienation in an urban environment that seemed to increasingly favor foreigners, minorities, and Catholics at the expense of the old-stock Protestants that had settled the nation. Detroit, one of the largest ethnic and racial melting pots in the country, was particularly threatening.
In the 30s, the Black Legion was broken up and the leaders imprisoned for being involved in lynchings.  Investigations showed strong political ties to the Michigan Republican Party through an organization known as the Wolverine Republican Club.  There is a long history in Michigan, a state with a significant German American population, of strong politics and violence.  During the 1930s, Germany's political problems reemerged in Michigan as "out state" groups aligned with the Nazi party and its numerous front groups, the Liberty League (aligned with the American Legion), the German American Bund, the Committee of One Million and many others.  In opposition was the AFL-CIO and United Auto Workers under Walter Reuther.
The "Black Legion" is the precursor of the current militia movements in Michigan and Ohio and, to a large extent, the Republican parties of those two states.
Several Hollywood movies depict that period including The Black Legion (1935) with Humphrey Bogart and The Betsy (1978).  The militia groups of that time were hired by the Mafia or through groups like Ford Motor Company's "Service Bureau" to silence labor leaders through employment of terrorist tactics.   
In 1927, a "tax protester" in the small town of Bath, Michigan, just outside Lansing, dynamited the local elementary school killing 42 children.  The Oklahoma City bombing of the 1990s, tied to the Michigan Militia, would mirror this act with considerable precision.
ALWAYS "BIG BUSINESS" OVER UNIONS, ALWAYS "GOP," THE MILITIAS NEVER STOPPED CHASING A BUCK
Original militias were anti-Catholic, racist but always working for big business, armed and financed through local police departments and even the Michigan National Guard.  Their orders usually came from the factory owners to the Republican Party and then down to the backwoods thugs who worked as the enforcers for Wall Street.  Even into the 1990s, the militia organizations that Timothy McVeigh "may" have belonged to, as few people on this earth have been "denied" as often as McVeigh, Christ included, tied themselves to the almighty dollar.  At one point, the only money coming into the militias was from the tobacco lobby who paid certain militia leaders for pushing the membership into opposition to anti-smoking legislation.
Today, were one to be a bit suspicious, one might look at the insurance lobby.  Were one to look at real militia members, it is more than likely that one would note very high unemployment, many on SSI (Social Security Disability Insurance) and histories of unpleasant involvement with law enforcement tied to custody/divorce or drug charges.  In some ways, I find myself sympathetic as our current legal system is fraught with inequities in these areas, fostering strong anti-government feeling.  However, taking such things out on police officers is more than a bit insane.
FOX, ZIONISM, PALIN AND ANTI-GOVERNMENT VIOLENCE
If any two individuals speak for the anti-government militias, they are Glen Beck and Sarah Palin.  I would credit strong anti-government bias with patriotism were I not familiar with the record of the militia movement.  In Michigan, the militia movement disbanded when "W" was "elected" stating "there is no longer any need to protect America with a man like Bush in the White House."
Months later we had 9/11 followed by the Patriot Acts, the new Homeland Security bureaucracy, the attack on Iraq, the Katrina meltdown and then the economic collapse.  It wasn't until the insurance industry was threatened with regulation that the militia movements reemerged as "End of Days" and "Rapture/Apocalypse" groups.  Anyone who doesn't smell the under the table payoffs involved in the new militias isn't paying much attention.
Having thousands of uneducated Christian Zionist mercenaries, unknowing as to their own status, mind you, running loose in America is like having our own Mossad 5th column ready to act on orders from above.  Picture them, camo outfits, assault rifles, in front of the TV, crying along with Glen Beck waiting for the "secret signal" that will announce the "End of Days."  How we end up with strong ties between generations of Christian Zionists and Jew hating fanatics who planned the first "gas chambers" is an oddity of history.  Call it "strange bedfellows."
VIDEO CLAIMS "HUTAREE" ARE NOT CHRISTIAN ZIONISTS BUT SECRET JEWISH MILITIA
Video producers discover hidden Star of David on group's website.  Other assumptions made beyond this are not adequately supported but the video itself adds a new dimension to the deception around the "Hutaree/Terrorism" issue.  The video below contains material that may be deemed not only politically incorrect but offensive.  Our question, of course, is why is it saying what is says?
[youtube qU6ba_mK4bU]
Gordon Duff is a Marine combat veteran of the Vietnam War. He is a disabled veteran and has worked on veterans and POW issues for decades. Gordon is an accredited diplomat and is generally accepted as one of the top global intelligence specialists. He manages the world's largest private intelligence organization and regularly consults with governments challenged by security issues.
Duff has traveled extensively, is published around the world and is a regular guest on TV and radio in more than "several" countries. He is also a trained chef, wine enthusiast, avid motorcyclist and gunsmith specializing in historical weapons and restoration. Business experience and interests are in energy and defense technology.
ATTENTION READERS
Due to the nature of independent content, VT cannot guarantee content validity.
We ask you to
Read Our Content Policy
so a clear comprehension of VT's independent non-censored media is understood and given its proper place in the world of news, opinion and media.
All content is owned by author exclusively. Expressed opinions are NOT necessarily the views of VT, other authors, affiliates, advertisers, sponsors, partners or technicians. Some content may be satirical in nature. All images within are full responsibility of author and NOT VT.
About VT
-
Read Full Policy Notice
-
Comment Policy