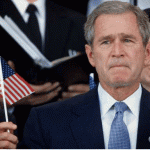 HIGHLY CLASSIFIED MISSILE TECHNOLOGY TRANSFERRED TO CHINA "BY PRESIDENTIAL SIGNATURE"
SOLD THROUGH FAMILY OWNED BUSINESS…IRAQ REDUX
By Gordon Duff STAFF WRITER/Senior Editor
"I actually believe he was a Blackwater contractor, I was not afraid of this contractor, he just made me mad.  I realized at this point, something's wrong, terribly wrong here…… this was because of a meeting in Washington DC regarding an arms deal with China (summer 2007).  I believe this is the problem, after incidents did link XXXXXXX and Carlyle Group, to United Defense…..missile stability technology…..Chinese Nuclear Scientist"
This is just a story, none of it is real, it is too incredible to be real.  Were it real, the FBI would have arrested dozens, maybe even an American president and members of his family.  As many as 60 companies doing business with the secret Chinese military company named "502" would have been investigated.  The story is about an American president signing off on the transfer of highly classified missile guidance technology to China.  First, maybe we should talk about what this technology can do.
America spends billions each year maintaining a navy.  Our navy is based on the carrier battle group.  Our nuclear carriers are fast moving platforms that can project American power around the world, giving us domination from the air, a vital component of our defense strategy.  Part of these battle groups are defense systems designed to protect our carriers from attack by missiles.  Missiles like the Silkworm or Exocet, essentially "Cruise/Tomahawk" type missiles can be destroyed easily.  Ballistic missiles cannot be destroyed by our existing systems.  Our protection, of course, is that technology to hit a ship at sea with a long range ballistic missile with a conventional warhead has not existed, or did not, not with any foreign power anyway.
WHAT ARE WE BEING TOLD
We are told that the FBI had been informed of illegal transfers of missile technology by companies working with China on, of all things, rail systems.  The technologies are guidance systems.  You wouldn't think a train would need a guidance system, would you?  You know, they are on rails and all, they don't fly, they just stop at stations, pick people up and ramble on down the tracks to the next station.
The story has all the components of a typical Hollywood thriller.  It involves a a conspiracy, spying, high ranking government officials, major threats to US security and even an assassination attempt made against a whistle blower.  What is lacking is an investigation, arrests, new stories and someone, anyone, looking out for the security and well being of the people of the United States of America.
PROOF
This isn't fact, it is a total fiction.  If it were fact, you would have seen a president doing a "perp walk."  Lots of documents exist, lots of names have been named, lots of dates, time, facts and testimony but it is all still fiction, it must be.  None of this could be true, not in the United States.
HOW BAD?
If the United States went to war with Iran, the Straits of Hormuz would be closed by bases in Iran using Silkworm missiles and by high speed patrol boats operating from Iranian ports.  Until the US secured the region with a land invasion, very little oil would move in the world and the economy of most nations would collapse in a month.
Missile systems with advanced guidance systems could attack our support ships, our carriers, from well inland, making any invasion impossible.  In fact, our carriers could be hit from thousands of miles away.  With the data on the F-35 Joint Strike Fighter already in the hands of America's enemies and our navy "sitting ducks" because we voluntarily and illegally transferred our most vital missile technologies to a country that would market it to our enemies in a flat second, one might wonder what the plan was?
THANK GOODNESS I AM ONLY MAKING THIS UP
With the best law enforcement agencies in the world, the best "mainstream press" and American so patriotic that no amount of foreign money could ever buy them, get them to betray their country, such things are obviously impossible.  We spent trillions on defending America.  Imagine an enemy trying to attack an American city by crashing airliners into buildings, for instance.  Something like this is impossible, we have defense systems that would spot this and other threats in seconds, systems long in place to stop attacks on the Pentagon or nuclear power plants, much less our ships at sea.
No American would betray his country for money.  Look at how we kept weapons from being transferred to Iran during the Reagan administration?  Look at how we didn't send 8  strains of anthrax to Saddam.
"A British expert of biological weapons and former UN inspector of chemical weapons to Iraq, David Kelly, confirmed that "Iraq purchased 8 strains of anthrax from the United States in 1985".
This quote from Khourosh Ziabari is imaginary and the documents backing it up don't exist either.  If they did, there would be an extensive history of wrongdoing that America has covered up, a history showing massive treason by some of our highest government officials.  I am only thankful that our law enforcement agencies are protecting us and our free press is telling the story.
MORE RUMORED NON-EXISTENT TESTIMONY
The FBI, when it learned that Bush family members had been hired to handle the imaginary transactions, immediately stopped all investigations and informed the whistle blower to  stay quiet.  Death threats after that continued.
The kind of imaginary testimony looks something like this:
I am not certain who in this (BUSH) family was working for XXXXXXXXX Inc…. I do know that after they hired this person, the FBI investigation was stopped.  Thereafter, they started making more threats.  President Bush did sign a release for more components for this company, the problem was they starting making allot of threats after the agent came to my home and said the investigation was stopped.  This agent already knew these people were going to come after me, because he knew the investigation shouldn't have been stopped.  One reason I agreed to work with them is so someone would watch my back.
I know this came from a high level person, because several threats were made to me when I was working on other projects.  I reported them to the SC FBI and they would not speak with me.  In late 2008, I also sent information to XXXX SC FBI about intrusions in my email with proof attached.  He would not respond.
I attended a meeting in Europe where the sales director was promoting the device as similar to missile stability system (That was the sales pitch).  They were also trying to work a deal in Syria to provide this technology….    In fact, it was clear that some of these companies where pitching the inertial system as similar to missile stability technology.  The components used were US and British made.
 The person assigned to the XXXXXXXX projects with this company, was the son of a Chinese Nuclear Scientist, weapons.  They worked on projects in XXXXXXXX, he would brag about this to me.  He was very arrogant.
During this time, I received multiple threats.  One person from XXXXXXXXX "XXXXXXXXXX" came to a meeting in South China and told all the people attending I was a US spy and spied for many countries (Someone in FBI leaked information).,,,,they were going to have the Chinese government arrest me.  That weekend I packed a small case and fled the country without telling anyone.
But in this country the communist party has no problem arresting and executing people very quickly.  Why would a contractor (US person) in China, tell me they were going to have the Chinese government come after me.  I actually believe he was a Blackwater contractor, I was not afraid of this contractor, he just made me mad.  I realized at this point, something's wrong, terribly wrong here…… this was because of a meeting in Washington DC regarding an arms deal with China (summer 2007).  I believe this is the problem, after incidents did link XXXXXXX and Carlyle Group, to United Defense.
ATTENTION READERS
Due to the nature of independent content, VT cannot guarantee content validity.
We ask you to
Read Our Content Policy
so a clear comprehension of VT's independent non-censored media is understood and given its proper place in the world of news, opinion and media.
All content is owned by author exclusively. Expressed opinions are NOT necessarily the views of VT, other authors, affiliates, advertisers, sponsors, partners or technicians. Some content may be satirical in nature. All images within are full responsibility of author and NOT VT.
About VT
-
Read Full Policy Notice
-
Comment Policy