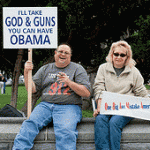 MORE A "BOWEL" MOVEMENT THAN A PATRIOTIC ONE
By Gordon Duff STAFF WRITER/Senior Editor
What kind of group protests when their taxes are cut, their freedoms returned and their government starts taking care of its veterans, the environment and begins punishing the thieves that bankrupted America?  What kind of group sat blind for 8 years of wiretapping, high taxes, repressive laws, rigged elections and the most massive economic scandal in American history?  Who would have been silent through America's own "Third Reich?"  Why are some Americans in the streets protesting gun seizures when there are no proposed laws to control guns, in fact there are more and more states loosening weapons restrictions?  Who would protest that?  Who?  What kind of so-called Americans waits for Israel and Murdoch to tell Beck, Limbaugh, Palin, McCain and Lieberman where to send their army of violent, angry and exceedingly ignorant proto-fascists?
WHO IS REALLY RUNNING THE TEA AND WHINING CIRCUS?
The sub-prime mortgage collapse was engineered, primarily at Goldman Sachs, one of several investment banks that perpetrated massive frauds, costing Americans their jobs, their homes and their retirement accounts.  Now that the current government wants to punish the real guilty, those responsible for everything our "tea bag" protesters are complaining about, guess who is silent?  Our "tea bag" protesters.  In fact most of the groups are heading to the streets to defend Goldman Sachs, a criminal organization that now has the support of the entire Republican Party, every single Republican member of congress.
Why wouldn't the signs be there, "HANG THE CROOKS" or "CLEAN OUT THE NEST OF WALL STREET THIEVES" or "BRING OUR TROOPS BACK FROM IRAQ AND AFGHANISTAN/BRING OUR MONEY BACK FROM SWITZERLAND AND THE CAYMAN ISLANDS."
That's were our money is, most of it anyway, hidden away in numbered accounts.  Not a cent of taxes has ever been paid on it.  In fact, so much of our money is being stashed overseas that the "bail out" has created few jobs and tax cheating by these huge organizations, the real controllers of our "tea bag" protesters, is considered the single largest threat against the survival of the United States.  In total, 24 trillion dollars has been held "off the books, " untaxed, uncounted but also no longer available to America.  Most people never believed so much money existed.  What do you think the Federal Reserve System has been doing since 1913?
IF YOU READ ABOUT IT AND SEE IT, IT HAS THE SUPPORT OF WALL STREET AND ISRAEL, BET ON THAT
Is America being plotted against?  Hey, look around you, what do you think?  Try selling your house.  Get a newspaper, look for a job.  We have registered nurses in the unemployment lines for the first time in our history.  For years, it was one member of congress after another, usually "conservatives" caught in scandals, Conservatives usually gay, Liberals usually doing the "Tiger Woods."  Look at a worst case scenario.  What if we left Saddam alone?  After all, it was Reagan and Bush I that sent him the anthrax, botulism and uranium enrichment equipment in the first place.  He was their good friend.
Would a million and a half Iraqis be alive again? The country would have electricity, schools, food, oil prices would be half what they are now and Iran wouldn't be a problem.  America would have 3 trillion dollars less debt and there never would have been a single terrorist in Iraq.  Saddam would never have allowed it.  5000 American soldiers would be alive, 400,000 disability applications wouldn't be "stuck in processing" for years at the VA.
The oil companies, Haliburton/KBR, Blackwater and a few others wouldn't have stuffed foreign banks with hundreds of billions in ill gotten gains from "no bid" contracts for goods and services not delivered, for gasoline sold at rigged prices and for spending our own money to corrupt our own government.
Why isn't someone protesting that?  Why isn't someone asking for our money back?  Can't "tea bag" people figure out that 80 dollar oil, sold in a "soft market" discounted to 65 dollars makes gas cost $1.75 per gallon, not $2.90?
This is tax in its purest form, the rigged gasoline prices are costing ten times as much as our two wars.
CLOSING THE BARN DOOR A BIT LATE
America is a land of choices, it always has been.  Now those choices have changed.  You can buy gas or eat.  You can pay your huge property taxes on a house worth half what it is assessed for or you can send your kids to the dentist.  You can't do both.  Choices, we used to love choices but not so much anymore.
Children now have a great choice of jobs.  They can be infantry or move into management which may include kidnapping, drug running, wiretapping or teaching women how to blow up subway trains.
When your issues all come from "hand fed" talking points picked out by oil companies, Israeli intelligence, "banksters" and their GOP allies, your protests will take on the ring of proto-fascism.
WHAT IS PROTO-FASCISM, DO I HAVE IT?  HOW CAN I BE CURED?
Education is always a cure for proto-fascism, a disease of the cerebral cortex that blocks rational thought and filters all sensory inputs.  It is usually fatal, if not treated quickly.  As with addictive disorders, alcoholism, sex addiction, Mormonism and  Christian Zionism, proto-fascism is perpetuated by denial.  Proto-fascists are only fascists on weekends or "binge" fascists.  Some can still hold jobs, maintain primitive social relationships, usually "toxic" but, in general, are dependent, continually fearful, constantly blame others and fail to take responsibility for their own actions.
When "banksters" and "neo-cons" gut Constitutional freedoms, crash the economy, flood the country with drugs and illegal aliens and start killing off an American generation with continual wars, "proto-fascists" blame homosexuals, "liberals and elitists" or go into delusional rants about having the guns they can no longer afford to own taken away.  Walk up and down the aisle's at any gun show, guns may be important but when the choice is keep the guns or let the truck be repossessed, the guns are history.
HOW DO I KNOW I AM GETTING BETTER?
Getting better is like waking up from a nightmare and finding you have been sleeping in your own excrement.
When you have washed yourself off and tossed the sheets into the trash, step one is to head to the cable box, go to "favorite channels" and remove;  Fox News, CNN, MSNBC and any of the "Christian" stations.  Then head to the computer, find your favorite places and delete everything that doesn't help contain pornography or advice on fixing your truck.
Then get a new email account.  Remember how you got sick in the first place and that you had read, literally hundreds of emails making claims proven to be utterly false.  Remember what happened in Nazi Germany, a culture was built on propaganda and pretty-soon you find yourself standing in the snow in Russia.  "Yesterday I couldn't spell gulag and now I live in one."
NOW THAT I HAVE TIME ON MY HANDS BUT AM STILL ANGRY, WHAT DO I DO?
Look at the Bush, yes and now the Obama years as a "frat party" where you got drunk, passed out and woke up with no wallet/purse and your underwear missing.  I do so love analogies.  You can't call the police or the administration because they are all "on the take."
If you wonder why 76 US Senators signed a letter pledging "undying support" for Israel, a country who got us into 2 wars on false pretenses and is now asking us to believe them again, you may have your first suspects.
It doesn't take a "liberal elitist" genius to figure out that Goldman Sachs has your underwear and you know how they got it.  Every Republican member of congress is backing them up.  Now you know a couple more to add to your list.
If you are a veteran, especially one thrown out of the military short of retirement with multiple combat tours because of a "personality disorder" and are considering living under a bridge, killing yourself or joining the American Legion or VFW, America may still need you to fight their real enemies.  You have a million brothers and sisters waiting to have their VA paperwork mysteriously reappear and another 250,000 sick or dying because the government was intent paying off fatcat contractors to have any money left to take care of what they see as "human garbage."
Back when you were a "proto-fascist" they told you that illegal aliens and "evil Negroes" were the sucking the life blood out of America.  They were really sticking it to our soldiers and veterans and you were helping them.  Now that you are better, whether a veteran or not, part of your 12 step program is to make amends to those you hurt.  The Disabled American Veterans rates politicians on how they support veterans.  Go here and look up your members of congress.  If they got less than 80%, send them packing.  Senator John McCain was rated 25%.
Ask yourself, "Why was I  threatening the President for wanting to put crooked insurance companies and the corrupt drug industry in their place?  What was I thinking?"
Ask yourself, "If we could put a man on the moon 40 years ago, why do a million people a year run across our border?  American workers aren't making a profit off cheap foreign labor, just the US Chamber of Commerce and the National Association of Manufacturers.  Has someone been doing some lying?"
Ask yourself, "Since any idiot knows oil prices are rigged, and this is what destroyed our automobile companies and cost us over a million jobs, why isn't a single member of congress doing anything about it?  Is all this baloney about Iran a ploy to give us $6 gas this summer?  Soon as Israel sends one plane after Iran, the Straits of Hormuz will be closed and no more oil leaves Saudi Arabia, Kuwait, Iraq, the UAE or Bahrain.  Is this another one of those plans like 9/11?"
Ask yourself, "If money from opium is arming the Taliban, why do our commanders in Afghanistan tell our troops not to do anything to threaten the opium crops?  Anyone smelling a payoff here?"
WAS BEING DUMB AS A SNAKE ALL THAT MUCH FUN ANYWAY?
Just because you aren't crazy anymore doesn't mean you have to start going to opera and reading The Economist.  Smart people aren't that rich anyway, crooks are.  You don't have to be honest, intelligent or have any worthwhile qualities to do well.  Look at Glen Beck or Dick Cheney?  Think of how much money Karl Rove has and he has never been right about anything in his life, hell, he wasn't even born rich, he simply got rich by telling idiots what they wanted to hear.
For years, lying was the only growth industry in America, that and stealing.  Now, since nothing is left and nobody believes anyone anymore, even those industries are in collapse.
What if you were always right, at least in one way?  We really do need to get rid of the people in charge.  You just didn't know who they were.
Gordon Duff is a Marine combat veteran of the Vietnam War. He is a disabled veteran and has worked on veterans and POW issues for decades. Gordon is an accredited diplomat and is generally accepted as one of the top global intelligence specialists. He manages the world's largest private intelligence organization and regularly consults with governments challenged by security issues.
Duff has traveled extensively, is published around the world and is a regular guest on TV and radio in more than "several" countries. He is also a trained chef, wine enthusiast, avid motorcyclist and gunsmith specializing in historical weapons and restoration. Business experience and interests are in energy and defense technology.
ATTENTION READERS
Due to the nature of independent content, VT cannot guarantee content validity.
We ask you to
Read Our Content Policy
so a clear comprehension of VT's independent non-censored media is understood and given its proper place in the world of news, opinion and media.
All content is owned by author exclusively. Expressed opinions are NOT necessarily the views of VT, other authors, affiliates, advertisers, sponsors, partners or technicians. Some content may be satirical in nature. All images within are full responsibility of author and NOT VT.
About VT
-
Read Full Policy Notice
-
Comment Policy