By Khalil Nouri Staff Writer / Editor Op-Ed
Mr. Khalilzad! I don't get it! Why should anyone on earth page you?
Except for Kathleen Parker, a writer for Washington Post, who says, "Paging Mr. Khalilzad! That is, Zalmay Khalilzad, former U.S. ambassador to Afghanistan and now a wandering consultant on all things Afghan and Middle Eastern. Might we impose on him one more time?" She goes on, "Khalilzad is not a physician, but to the extent that he has apparent healing powers, he is a doctor of diplomacy. He came to mind unavoidably in recent days, as Afghan President Hamid Karzai seemed to be sporting a lighted fuse from the top of his jaunty Persian lamb cap." And finally with another quote she concludes, "Shouldn't the White House be paging Khalilzad?"
Mr. Ambassador, unfortunately your diplomatic "healing power" is best defined by another quote, by Will Rogers, "The only real diplomacy ever performed by a diplomat is in deceiving their own people after their dumbness has got them into a war."
This Afghan war is undeniably escalating like a runaway train, and increasingly propagating cripples, mourners, thieves, kidnappers, warlords and drug barons in your place of birth. It is an unimaginable quagmire, the product of hardcore neocon faction policy makers like you; who wholeheartedly had the ears of the Bush-Cheney administration in post 9/11. They totally relied on you for their perception of realities that guided their decisions, based on their faith in your understanding of Afghanistan. And yet, paradoxically you are now being lobbied for a rendezvous with the Obama administration by some ill-informed journalist who has illusions of you taming the Afghan President, Mr. Karzai, with your magical "healing power" and saving us from his "tantrums."
Needless to say, the true evidence of your failed policies in Afghanistan is likely to exhort a deeper impression on current U.S. policy, whereby their negative results have exacerbated conditions to a level almost beyond repair.
A level that initially began with you as an "envoy" of the Bush-Cheney administration; and as always, your charming and skillfully understated powers of persuasion allowed you to intriguingly and deliberately engineer a path to become the backroom powerbroker who's scheming implanted your Unocal pal, Mr. Hamid Karzai, as the head of Afghanistan's transitional government; at the emergency "Loya Jirgah" on June 10, 2002.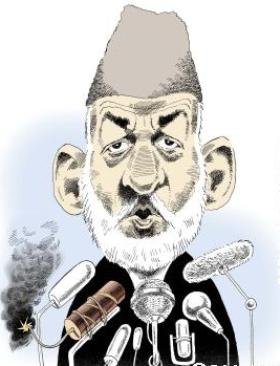 In a statement made by a diplomat with Eurasia-Net, "Khalilzad (played) the most important role in (the) agreement between King Zahir Shah and Karzai… (But) he has (also) forced everyone into accepting this deal."
Of course, that manipulative deal that you endorsed, inflicted upon Afghanistan the incompetent Hamed Karzai, instead of the dignified and popular ex-King Zahir Shah; who was viewed by all as a real "healing power" for the Afghans. In fact, your only interest in the late Zahir Shah was to use his popularity to legitimize Karzai. And still today Zahir Shah's portraits are in high demand at Karzai's tribal powwows.
Back in 1996, in an Op-Ed section of the Washington Post, you said, "I (foresee) the former king as a symbol of national unity because of the support that he enjoys along (all) the ethnic lines."
Was that the reason he was used, then shunned and degraded, by you?
Mr. Khalilzad, do you still see any of the unity you described existing along Afghan ethnic lines, now? Do you see any forthcoming hope for Afghanistan based on what you did in the past? Why has your wise Afghan doctrine failed, so miserably? Sir!
Undoubtedly, your failed doctrine has consequently spanned into its ninth year, creating an atmosphere that—Washington now admits—the entire international community is in deep bewilderment about how to solve Afghanistan's problems with Mr. Karzai and his gang of thieves, warlords, cronies and drug-King brothers, whom you incubated. They are now major powerbrokers of their own, only trying to follow your example in this war-torn country.
Was that your "healing power" in action? Zalmay Jan!
Moreover, General Stanley McChrystal now acknowledges that U.S. and NATO ties with warlords have been the cause of popular Afghan alienation away from foreign military forces. But that policy is not likely to be reversed any time soon, because U.S. and NATO officials have no alternative to the security services that warlords provide. It started with you advising the Bush administration that we need the "foxes watching the hen house" scenario—a dire recipe' for warlord-ism in Afghanistan.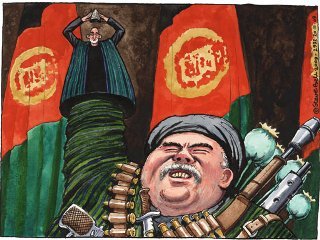 In hindsight, the extraordinary and skillful way you played with those Afghan "major players," (mostly fundamentalists and warlords) by feigning compromise with them and convincing them that their interests were shared by the United States. How brilliantly you crafted this doctrine; and I bet you would not refute the damage it is causing today Mr. Ambassador!
The damage that systematically deprived the average Afghan population of the prosperity that was supposed to have come from U.S. taxpayer's money, is only surpassed by the cost of priceless lives— both coalition and Afghans.
You ensured that the Northern Alliance and other warlords were legitimized as cabinet ministers, court officials, and regional governors, and that their wish for a religious-based government was enshrined into the Afghan Constitution. But, by giving them positions of power, you ignored the wishes of the majority of Afghans, who would rather see those criminals on trial. Additionally, it was your idea for the Karzai government to offer amnesty to the Taliban—a doctrine that you called, "co-optation in exchange for cooperation." Is it working sir?
Mr. Ambassador, where is your loyalty? Is it to America? Is there even an ounce of loyalty to your forefathers' country? As they say in Laghman, Afghanistan, "Are you fooling the devil?"
Never mind about your wheeling and dealing for the failed Unocal "pipeline-istan" deal, or lobbying for the Taliban to accept the pipeline through Afghanistan during their reign (and asking the Clinton Administration to recognize the Taliban regime); of course it was your willingness to sell your skills to a corporation that was working with the Taliban that revealed your lack of serious concern for the people of Afghanistan.
Never mind whatever failed attempts that you incurred by "holding your Muslim card" during the war in Iraq . And never mind overseeing the mobilization, leadership, funding and coordination of, the media support for, the Islamic fundamentalists who eventually devastated Afghanistan and Bosnia.
This all emerged from your school of thought in conjunction with Dr. Zbigniew Brzezinski's doctrine where you carried out ingenuous and eloquent attempts to enhance Islamic fundamentalism by taking political and organizational leadership of opposition movements so they could be used as a tool for your own use. Now we see the evidence of what happens when you clumsily encourage that very deep Islamic fundamentalism through men like Gulbuddin Hekmatyar, whom you nurtured, and who is now America's most wanted Afghan terrorist; and the thriving Taliban with their nonstop insurgency momentum.
Mr. Ambassador, you are known to be a genius for advancing yourself by way of influential connections; and a penchant for policies that will sooner or later reveal their author's gift for causing a major blowback—rest assured that within time, all will come to the surface. Sir!
A callous man would say, "What said is just history", but it has caused tremendous damage to America's interest, loss of lives on both sides, and years of waste.
So what about now Zal?
We are now at a juncture where too much head scratching is seen regarding how we solve Afghanistan's tangled predicament. Gen. McChrystal made a recent comment about his Power-Point slide, "to understand this slide… means we have won the war."
We are obviously at a juncture where warlords like Ahamad Wali Karzai can declare himself the "King of Kandahar" and unbalance the entire tribal structure; a juncture where Afghanistan's Taliban control is at 80 percent; a juncture where only 25 percent of Afghans support the current Karzai government; a juncture where policy makers are also in charge of drug trafficking; the list goes on…
Mr. Ambassador! Really, should you be paged by this Whitehouse? How would you make your way into the door; would you use your magic "healing power" as bait? If so, then "what else is up your sleeves this time?"
Would you be seeking another "vice-royalty" position?
How about maneuvering, via your pal Mr. Karzai (who tried to get President Barack Obama on board) to become the un-elected CEO of Afghanistan, or the "un-official" prime minister, or maybe even another energy advisor? The "prize" (starting from President Bill Clinton to Bush and now Obama) is still the Turkmenistan-Afghanistan-Pakistan pipeline TAP; now TAPI with the inclusion of India.
Would it be business as usual? Zal!
By the way Ms. Kathleen, Please finish your homework before you lobby for Zal to meet Mr. Obama in the Whitehouse.
Khalil Nouri is the cofounder of New World Strategies Coalition Inc., a native think tank for nonmilitary solution studies for Afghanistan. www.nwscinc.org
Khalil Nouri was born in an Afghan political family. His father, uncles, and cousins were all career diplomats in the Afghan government. His father was also amongst the very first in 1944 to open and work in the Afghan Embassy in Washington D.C., and subsequently his diplomatic career was in Moscow, Pakistan, London and Indonesia. Throughout all this time, since 1960's, Khalil grew to be exposed in Afghan politics and foreign policy. During the past 35 years he has been closely following the dreadful situation in Afghanistan. His years of self- contemplation of complex Afghan political strife and also his recognized tribal roots gave him the upper edge to understand the exact symptoms of the grim situation in Afghanistan. In that regards, he sees himself being part of the solution for a stable and a prosperous Afghanistan, similar to the one he once knew. One of his major duties at the beginning of Operation Enduring Freedom in Afghanistan in 2002 was advisory role to LTG Franklin Hegenbeck. He has worked closely with the Afghan tribes and his tribal exposure is well tailored for unobstructed cross-cultural boundaries within all Afghan ethnicities. He takes pride in his family lineage specifically with the last name "Nouri" surnamed from his great-grandfather "Nour Mohammad Khan" uncle to King Nader-Shah and governor of Kandahar in 1830, who signed the British defeat and exit conformity leaving the last Afghan territory in second Anglo-Afghan war. Khalil is a guest columnist for Seattle Times, McClatchy News Tribune, Laguna Journal, Canada Free Press, Salem News, Opinion Maker and a staff writer for Veterans Today. He is the cofounder of NWSC Inc. (New World Strategies Coalition Inc.) a center for Integrative-Studies and a center for Integrative-Action that consists of 24- nonmilitary solution for Afghanistan. The function of the Integrative-Studies division (a native Afghan think tank) is to create ideas and then evolve them into concepts that can be turned over to the Integrative-Action division for implementation. Khalil has been a Boeing Engineer in Commercial Airplane Group since 1990, he moved to the United States in 1974. He has a Bachelor of Science degree in Mechanical Engineering, and currently enrolled in Masters of Science program in Diplomacy / Foreign Policy.
ATTENTION READERS
We See The World From All Sides and Want YOU To Be Fully Informed
In fact, intentional disinformation is a disgraceful scourge in media today. So to assuage any possible errant incorrect information posted herein, we strongly encourage you to seek corroboration from other non-VT sources before forming educated opinion. In addition, to get a clear comprehension of VT's independent non-censored media, please read our
Policies and Disclosures
.
Due to the nature of uncensored content posted by VT's fully independent international writers, VT cannot guarantee absolute validity. All content is owned by the author exclusively. Expressed opinions are NOT necessarily the views of VT, other authors, affiliates, advertisers, sponsors, partners, or technicians. Some content may be satirical in nature. All images are the full responsibility of the article author and NOT VT.
About VT
-
Comment Policy