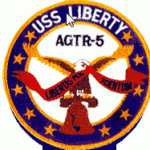 AMERICA'S HIDDEN HOLIDAY, JUNE 8TH
By Gordon Duff STAFF WRITER/Senior Editor
"The ultimate lesson of the Liberty attack had far more effect on policy in Israel than America.  Israel's leaders concluded that nothing they might do  would offend the Americans to the point of reprisal.  If America's leaders did not have the courage to punish Israel for the blatant murder of American citizens it seemed clear that their American friends would let them get away with almost anything." (Undersecretary of State George Ball)
This year, Americans, for the first time, celebrated USS Liberty Remembrance Day, June 8th, the 43rd anniversary.  It wasn't everyone, the heroism of the USS Liberty, one of the greatest stories of American naval history, has been suppressed.  Captain William McGonagle, Medal of Honor winner for his actions that day, has been invisible, shoved in a closet and silenced for most of his life, a life now over.  The survivors clamor for recognition, not out of vengeance or for personal gain but because USS Liberty Remembrance Day is important, as important as 9/11 or Memorial Day or even Veterans Day.  We, the 27 million families of American veterans remember for a purpose, it tells of of where we have been, the mistakes we made and reminds us of the cost of protecting democracy, the sacrifices made to keep us free.  USS Liberty Remembrance Day is a suppressed holiday, in some ways more than any other time of reflection and appreciation of our fighting men, forgetting has cost us dearly.
Did Americans really forget the USS Liberty?  Blame me first.  Until I got to know Phil Tourney, one of the USS Liberty survivors, I had a piece of a memory of an "accident" in the Mediterranean years ago.  I had neither seen nor heard anything of it in decades.  Then, as is so often the case when the facts are put before you, in this case overwhelmingly by statements from a Medal of Honor winning captain to crew members to Secretary of State Dean Rusk to George Ball, all saying the same thing, I felt embarrassed.  I then called VT Editor, Jim Hanke, former Defense Attache to Israel.  "Gordie, this has been a sore spot with our military for years."
Back in 1967, an American ship was brutally attacked by Israel, a flagged US Navy ship.  According to the captain, Medal of Honor winner George McGonagle:
"When the planes struck it was without provocation and certainly unexpected and they seemed to descend on us from all directions at the same time.  Rockets and machine guns tore the ship, killed men on deck and we were defenseless.  It appeared from the ferocity of the attack that the intent of the attackers was to sink, maybe they hoped to have no survivors so they would not be held accountable for the attack after it occurred."
Israel said they though the USS Navy ship carried no flag and looked, to them, as though it was a 40 year old "tramp steamer" 1/3rd its size.  The USS Liberty, a new $40 million ship, state of the art, was turned into $110,000 in scrap in hours, scrap covered with American blood, brains and guts strewn from one end of her decks to the other.
Israeli surveillance planes had been flying over the USS Liberty for hours and their radio traffic was intercepted.  They knew it was an American ship, they knew its name and the flag they claimed wasn't flying was clear as day.  Crew member Stan White, Master Chief Petty Officer on the USS Liberty that day states as the attack began:
"I came out on deck.  A plane came by, I looked right in the cockpit, I waved, he waved, we were that close they were…they knew who we were"
Secretary of State Dean Rusk gives his view of what happened that day:
"I never, myself, accepted the Israeli explanation.  Accidents don't occur through repeated attacks by surface vessels and aircraft.  It was obviously a decision that was taken on pretty high up in the Israeli side because it involved combined forces.  The ship was flying an American flag.  Even if it had been unidentified it still would have been a reckless thing to do, suppose it had been a Soviet ship?  That could have produced very large problems indeed."
However, Undersecretary of State, George Ball, makes the most telling statement of all.  His assessment is why Americans need to be told, despite the total news blackout on this incident, despite the cover-up by the US Navy, one that no longer is credible.  The old lie died years ago but the old threat exists now more than ever before as has been shown time and time again in recent years and recent weeks.  The words of George Ball:
"The ultimate lesson of the Liberty attack had far more effect on policy in Israel than America.  Israel's leaders concluded that nothing they might do  would offend the Americans to the point of reprisal.  If America's leaders did not have the courage to punish Israel for the blatant murder of American citizens it seemed clear that their American friends would let them get away with almost anything."
Official charges were filed, not only against the State of Israel but against the United States Navy as well.  These were the charges filed in 2005, charges yet unanswered for the following crimes:
The jamming of our radios on both US Navy tactical and international maritime distress frequencies;
The use of unmarked aircraft by the forces attacking the USS Liberty;
The deliberate machine gunning of life rafts we had dropped over the side in anticipation of abandoning ship; and
The recall of two flights of rescue aircraft that had been launched from Sixth Fleet aircraft carriers.  After those flights were recalled, Sixth Fleet personnel listened to our calls for help as the attack continued knowing they were forbidden to come to our assistance.
Since the 1790s, the primary role of the United States Navy has been to maintain freedom of the seas and rights of navigation, especially in the Mediterranean.  This is why the Navy was established.  The USS Liberty incident was a failure of the United States in so many ways.  It told, not only Israel but the world that political corruption, international plots and money is more important than the lives of our men and women in uniform or our national honor. 
Then, a foreign government wanted 300 Americans dead because they were "in the way."  Sometimes we prosecute our own troops out of political pressure, we have seen Marines defending themselves in Iraq jailed, Navy Seals prosecuted for doing their jobs, all the while our "congress critters" and the 'Perfumed Princes of the Pentagon" forget why we pay their salaries, forget who they work for.
We remember our sacrifices, Pearl Harbor, Vietnam, Omaha Beach, Chosen Reservoir, Bataan, Gettysburg, Belleau Wood and so many others for a reason.  We don't just erase one because it is inconvenient to a TV network or bunch of big political contributors.  We either honor all or none.  We either have honor or none.
Gordon Duff posted articles on VT from 2008 to 2022. He is a Marine combat veteran of the Vietnam War. A disabled veteran, he worked on veterans and POW issues for decades.
Gordon is an accredited diplomat and is generally accepted as one of the top global intelligence specialists. He manages the world's largest private intelligence organization and regularly consults with governments challenged by security issues.
Duff has traveled extensively, is published around the world, and is a regular guest on TV and radio in more than "several" countries. He is also a trained chef, wine enthusiast, avid motorcyclist, and gunsmith specializing in historical weapons and restoration. Business experience and interests are in energy and defense technology.
ATTENTION READERS
Due to the nature of independent content, VT cannot guarantee content validity.
We ask you to
Read Our Content Policy
so a clear comprehension of VT's independent non-censored media is understood and given its proper place in the world of news, opinion and media.
All content is owned by author exclusively. Expressed opinions are NOT necessarily the views of VT, other authors, affiliates, advertisers, sponsors, partners or technicians. Some content may be satirical in nature. All images within are full responsibility of author and NOT VT.
About VT
-
Read Full Policy Notice
-
Comment Policy