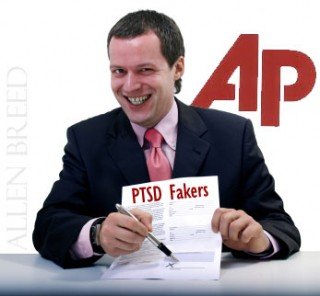 Here is whopper of a knockdown of Allen Breed's AP piece last month arguing the Veterans Benefits Administration (VBA) is so incredibly veteran-friendly that the VBA  is "open invitation to fraud."
Tristan Hallman in Gannett Newspapers  uses a VBA source in a piece, and has Joe Violante, national legislative director of Disabled American Veterans, saying simply and accurately: "(VBA) is a mess."
Either Breed or Violante is way-off; I'm going with Violante's take.
By Tristan Hallman
Gannett Washington Bureau

WASHINGTON – Retired Marine Sgt. Michael Madden of Prescott knows what it means to battle. In Vietnam, he was shot in the head, forcing him to undergo spinal-cord surgery that has left him in a wheelchair.

But the fight was not over for Madden. After being told by a Veterans Affairs doctor to file for funding to make his home and car wheelchair-adaptable, Madden has spent the past decade in a jungle of bureaucracy, legalese and claim denials.

Over $6,000 of out-of-pocket expenses and a suspended Arizona driver's license later, Madden is still searching for answers.

"I find it kind of ironic that the VA tells me that I can't drive without the equipment, and then tells me that I can't have the equipment for a service-connected disability," Madden said.

Madden is not alone in struggling with the bureaucracy of the Veterans Benefits Administration, the VA sub-agency that handles veterans' disability claims. Seeing the challenges VBA faces, Veterans Affairs Secretary Eric Shinseki has made fighting inefficiency a top priority.

Shinseki's main target is a backlog of claims. As of June 8, a total of 186,777 claims – 35.8 percent of total pending claims – were still unprocessed after VBA's new 125-day processing goal, according to Veterans Affairs.

Not so fast, say some veterans' groups. Joe Violante, national legislative director of Disabled American Veterans, said the backlog is not the problem, but merely a symptom of a bad system – one that produced a 17 percent error rate in the accuracy of claims processing, according to the VBA's internal review. Audits from independent groups have estimated that the error rate is more likely 20 to 30 percent.

Violante said that a single-minded focus on the backlog would only exacerbate that error problem because the culture at VBA emphasizes churning out claims rather than getting them right.

"There is no incentive to do the case right the first time," Violante said. "Right now, it is basically an assembly-line process."

To better serve veterans, Shinseki has set the ambitious goal of an accuracy rate of 98 percent by 2015, but American Legion spokesman Ian C. De Planque said that the bar is still set too low.

"When (the VA is) processing 1 million claims, 1 percent error is 10,000 veterans," De Planque said at a recent House subcommittee hearing. "That is completely unacceptable."

That is not to say there has not been progress at the VBA since Shinseki – himself a veteran who was wounded in Vietnam – took office, Violante and De Planque said. The VBA is trying out pilot projects in an effort to find the best and most efficient ways to handle claims. The agency as a whole is also moving toward electronic filing, and also recently reduced the size of claim forms from 23 pages to 10.

Shinseki has also drafted a bill, the Veteran Benefit Programs Improvement Act of 2010, that is intended to improve efficiency of benefit programs, and has asked for congressional support. The bill also aims to make the appeals process simpler and quicker for veterans whose claims were denied.

But former Army attorney Jason Perry of Connecticut, who has represented some veterans in appeals, said he believes the bill will actually make a veteran's appeal more challenging.

"It doesn't fix what it is trying to fix," Perry said. "It makes it much easier for the VA to deny the claim by basically stripping out the reasons for the decision."

Madden, though, is hoping that his claims will become easier thanks to recently introduced legislation by Rep. Ann Kirkpatrick, D-Ariz., that adds "loss of use" of a limb, rather than just loss of a limb, into the VA's disability code. The legal technicality that Madden still had use of his legs, albeit very limited, was used to deny his claims for years.

But for other disabled veterans, including those returning from Iraq and Afghanistan, the road ahead is still rough.

"(VBA) is a mess," Violante said.

Shinseki, however, will at least be equipped with deeper pockets in the battle. In 2009, VA secured a 16.7 percent budget increase, the department's largest in 30 years, and is seeking another increase in 2011. VA has also moved to provide more access to health care facilities for veterans in rural areas and to more efficiently distribute GI Bill payments to veterans enrolling to college.

Read more: http://www.azcentral.com/arizonarepublic/news/articles/2010/06/20/20100620va-claims0620.html#ixzz0rOwhFFeA
ATTENTION READERS
Due to the nature of independent content, VT cannot guarantee content validity.
We ask you to
Read Our Content Policy
so a clear comprehension of VT's independent non-censored media is understood and given its proper place in the world of news, opinion and media.
All content is owned by author exclusively. Expressed opinions are NOT necessarily the views of VT, other authors, affiliates, advertisers, sponsors, partners or technicians. Some content may be satirical in nature. All images within are full responsibility of author and NOT VT.
About VT
-
Read Full Policy Notice
-
Comment Policy