Military Families Speak Out (MFSO) sent this media release at 3:30 PM today.
Posted by Robert L. Hanafin, Major, U.S. Air Force-Retired, Veterans Today News
Member Military Families Speak Out (MFSO)
MFSO says "Seize the Moment"
The reverberations from General McChrystal's interview in Rolling Stone are just beginning. It will likely gain more attention as the 24-hour news outlets dig in to cover it from every conceivable angle. The circumstances that have been revealed by General McChrystal's lapse in judgment reflects more than an out-of-control general in Afghanistan. It's about a failed strategy that puts young men and women – our family members – at risk.
This is an opportunity to get our voices included in the discussion. As military family members who have loved ones who have served in Iraq and Afghanistan, our perspective has impact!
Three comments made by senior military officials in the Rolling Stone article contradict what the White House has presented to Congress and the American people about the war in Afghanistan and are very telling:
"Instead of beginning to withdraw troops next year, as Obama promised, the military hopes to ramp up its counterinsurgency campaign even further." A senior military official stationed in Afghanistan told the article's author, Michael Hastings: "There's a possibility we could ask for another surge of US forces next summer if we see success here."
General McChrystal's Chief of Operations Major General Bill Mayville described the war in Afghanistan as un-winnable: "It's not going to look like a win, smell like a win or taste like a win. This is going to end in an argument." The Pentagon, White House, and mainstream media sold the war(s) to the American people, just like during the Nixon years the unholy trinity can sell Peace With Honor as it once did for Vietnam.
"If Americans pulled back and started paying attention to this war, it would become even less popular." This was how a Senior Advisor to General Stanley McChrystal characterizes the war in Afghanistan."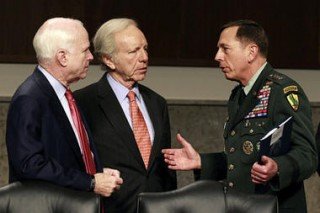 VETERANS TODAY EDITORIAL COMMENT: Note that General McChrystal was not the only senior military officer making disparaging remarks about their Commander-In-Chief but members of McChrystal's staff who also should be forced to resign or be fired. In addition, the replacement of McChrystal by General David Petraeus, the mastermind of the hyped up successful surge in Iraq, makes the likelihood of another surge in Afghanistan highly probably with the Bush Pentagon continuing to place pressure on a Commander-In-Chief it views as easily intimidated by military brass. If readers seriously think Petraeus is going to be any more accommodating with America's first black President think again, General Petraeus is known for the company he keeps Republican and Independent War Hawks like Senator John McCain, and Israeli lobby representative Joe Lieberman. This trio will ensure the Afghanistan War continues beyond Obama's first and only term.
American's need to pay attention, they have no skin in the game
Your personal stories make these wars real for those who have no skin in the game! Demand the attention! Please take time in the next week to write a letter to the editor of your local paper, call in to the radio talk shows, and call your Congressman.
No more money for war!
Tell your Congress person to VOTE NO on $33 billion in new war funding for a war that is losing ground, has senior military leaders challenging civilian control over the military, and more bucks go to defense contracts and the nations we break than to our troops and military families.
Congress needs to send a clear and strong message to the White House – Remember they work for you!
As the House schedules a vote on the Administration's $33 billion supplemental war funding request before the Fourth of July recess, they need to hear from you!
It only takes minutes and can change the course of events. It is time for Congress and the mainstream media to acknowledge the deteriorating war strategy in Afghanistan with just as much passion as they sold the war to the American people.
Please Call! We have one week left before Congress goes into recess – it takes 5 minutes and your voice counts!
Call the U.S. Capitol Switchboard at (202) 224-3121 and ask to be connected to your Representative, and your Senators' offices. To identify your Congressmen and Senator go to Contacting Congress
Thank you for your work and commitment to Bring Our Troops Home Now!
Deb Forter, National Director, MFSO
*************************************************************************************************
The Issue is not Who is Conducting the War, but the War!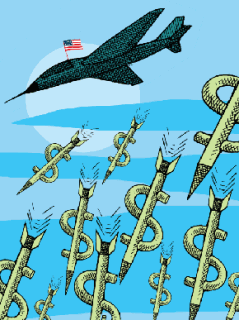 The Ladies of Codepink have this to say about Obama's wars with no end in sight.
"Yes, General Petraeus is taking over the Afghanistan war operations from General McChrystal after his disrespectful, frat-boyish comments made to Rolling Stone magazine. But the issue is not who is conducting the war, but the war itself. Unfortunately, Congress is poised to throw another $33 billion of our tax dollars at this old, worn militaristic disaster.
Veterans Today Editorial Comment: "Throw another $33 billion of our tax dollars at…." Codepink has this notion partly right and partially wrong. Unlike previous wars, these have a stealth war tax. From the American Civil War, through the Spanish-American War, to WWI, through WWII, Korea, and Vietnam taxes were raised to pay for the wars. We believe that from the Gulf War until now not only has there been no war tax placed on American citizens who cannot relate to the wars, but tax breaks for the wealthiest Americans in the minori
ty have risen dramatically. The fiscal cost of our current wars are on loan primarily from China, and guess who will eventually pay the bills. Your children and grand-children re gardless if they join the All Volunteer Military Force or not. However, if you believe right-wing Chicken Hawk think tanks like the Heritage Foundation, the fiscal cost is a small price to pay even less than the human cost that such intellectuals inhumanely do not factor in period. The Heritage Foundation misses the point of being fiscally conservative, even if the Afghanistan War were not a budget buster, who is going to end up paying the $95 billion, and how will that fraction of the federal budget increase or decrease our national deficit?

The Out of Afghanistan Congressional Caucus

This is a critical moment to push your representative TODAY and demand they take action–ask tough questions, stop funding endless war! Tell them you want a new policy based on development and conflict resolution, not war (and tell them to join the Out of  Afghanistan Caucus.)

Joining hands for a green, peaceful planet,
Dana, Farida, Gael, Gayle, Joan, Jodie, Medea, Nancy, Rae, and Victoria
Readers are more than welcome to use the articles I've posted on Veterans Today, I've had to take a break from VT as Veterans Issues and Peace Activism Editor and staff writer due to personal medical reasons in our military family that take away too much time needed to properly express future stories or respond to readers in a timely manner.
My association with VT since its founding in 2004 has been a very rewarding experience for me.
Retired from both the Air Force and Civil Service. Went in the regular Army at 17 during Vietnam (1968), stayed in the Army Reserve to complete my eight year commitment in 1976. Served in Air Defense Artillery, and a Mechanized Infantry Division (4MID) at Fort Carson, Co. Used the GI Bill to go to college, worked full time at the VA, and non-scholarship Air Force 2-Year ROTC program for prior service military. Commissioned in the Air Force in 1977. Served as a Military Intelligence Officer from 1977 to 1994. Upon retirement I entered retail drugstore management training with Safeway Drugs Stores in California. Retail Sales Management was not my cup of tea, so I applied my former U.S. Civil Service status with the VA to get my foot in the door at the Justice Department, and later Department of the Navy retiring with disability from the Civil Service in 2000.
I've been with Veterans Today since the site originated. I'm now on the Editorial Board. I was also on the Editorial Board of Our Troops News Ladder another progressive leaning Veterans and Military Family news clearing house.
I remain married for over 45 years. I am both a Vietnam Era and Gulf War Veteran. I served on Okinawa and Fort Carson, Colorado during Vietnam and in the Office of the Air Force Inspector General at Norton AFB, CA during Desert Storm. I retired from the Air Force in 1994 having worked on the Air Staff and Defense Intelligence Agency at the Pentagon.
ATTENTION READERS
Due to the nature of independent content, VT cannot guarantee content validity.
We ask you to
Read Our Content Policy
so a clear comprehension of VT's independent non-censored media is understood and given its proper place in the world of news, opinion and media.
All content is owned by author exclusively. Expressed opinions are NOT necessarily the views of VT, other authors, affiliates, advertisers, sponsors, partners or technicians. Some content may be satirical in nature. All images within are full responsibility of author and NOT VT.
About VT
-
Read Full Policy Notice
-
Comment Policy