BENEATH THE SPIN • ERIC L. WATTREE
She is still so beautiful and strong .Her hair is gray, the color of a life filled with dignity and character. Her neckline is graceful and her demeanor is rich with pride, yet there is a softness in her eyes which surrounds her entire being. She is humble, even though she has been called one of the most beautiful women on earth.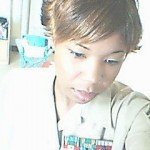 I love her. she is my mother, and I am proud to be called her child. She needs help getting around from time to time so I stay close by, waiting to answer her call when she needs me. I wait on her hand and foot, as a child does out of respect for its' elder. She doesn't ask much from me but I still try to go out of my way for her.
I think about all of the people she has cared for in her lifetime, as she now sits alone in this nursing home, seemingly either waiting to die, be rescued, or maybe just to be needed again. She was once so vibrant and full of life. Every man wanted her, and every woman emulated her.
Now, she sits in her room, a caged eagle whose wings have been clipped. The freedoms that she once possessed have been limited by bones weakened by time. She is now on the endangered list. Once she's gone, there will be no woman able to replace her, at least, not in our lifetime.
She can't do much anymore, so she hum's a song that a woman once wrote for her when she was younger. I think it brings her back to a better place, where men adorned her with gifts from far away lands. Children would come to her doorsteps in hope that she would invite them in for dinner. She always went that extra step. She gave them blankets, a warm place to stay, fed them hope, nurtured their dreams, made them believe that they could be anything they wanted to. And they did.
They grew to be some of the brightest men and women that have ever lived. They left her house to build houses of their own, and they forgot about mother. One by one, I watched them leave. I saw her face and how sad she looked, but still proud of what they had become. I heard her as she told them to come back soon. I heard their lies as they said they would, but days, weeks, years past and they forgot her.
Then tragedy struck and grief and sadness was everywhere. Comfort could only be found in her arms. One by one, they returned home and asked for her to hold them and tell them stories of their past. Remind them of good times, mend their hearts as she had done time and time again, and she did.
As they begin to feel better, they left. It tore her apart. But she never let them know. She smiled, hugged them tight, told them to come back soon, and I heard their lies as they said they would. But days, weeks, years past and they forgot about her.
Once she was alone again, she went back to humming her song.I sat there and watched her, waiting for her to ask something from me, anything…and still nothing, so I voluntarily went back to doing things for her from time to time. She would smile and continuing humming her song.
She never leaves her room. She says she doesn't like it outside. When I ask why, she says, "People look at me differently now and they say bad things about me." I told her that her other children would defend her. She said that they talk about her too, and their words hurt worse than her enemies'. I didn't believe her. I wanted to find out for myself. So I left her room during one of her naps. When I returned, she noticed I had been crying. She knew instantly what I had done. She said, "You went outside didn't you?"
I said, "Mother tell me, tell me why do they curse you? They laugh at you and call you foolish and careless. Why do they hate me? Why are there fences around our house?" Mother, do you know that they took our welcome sign down and replaced it with caution tape that read
"ENTER AT YOUR OWN RISK?" Mother where is our welcome sign? The one that invited the tired, the poor, the huddled masses yearning to breathe free? Mother where is our sign?
They took it down, They took it down, when they forgot about me and they hate you for defending me.
Well I will hate them too mother just like they hate us. I will turn my back on them. My mother looked at me and said, "Then you are not my child and everything you have done for me will be in vain."
It has been your strength and your love that keeps me alive and able to love everyone else even though they have forgotten me. While I have helped everyone accomplish their hopes and dreams, it is you who continues to inspire me to accomplish mine. Your unselfishness continues to be my greatest pride and joy.
My mother in all of her glory and splendor laid her head on my bossom and told me that I gave her comfort. She then held her head up and told me that she loved me in a voice so deep that it echoed off every wall, building, mountain top, valley, hillside, and river bank, from sea to shining sea.
She hugged me and she said, I want to sing to you the song that you hear me hum constantly. Can I sing for you my child? You will find healing and strength in the words that have comforted me all of these years.
Yes mother, please sing me your song…
Nation Anthem begins to play:
Dedicated to mother America and her American military children!
RIP SSgt Gonzalez, Capt Mitchell, Capt Jones and everyone that has paid the ultimate sacrifice. We will never forget.
SSgt E. Michele Paul
USMC (Ret)
4 June 1990-30 June 2010
Semper Fidelis (Always Faithful) 
Eric L. Wattree is a writer, poet, and musician, born in Los Angeles. He's a columnist for The Los Angeles Sentinel, The Black Star News in New York, and a Staff writer for Veterans Today. He's also the author of A Message From the Hood.
ATTENTION READERS
Due to the nature of independent content, VT cannot guarantee content validity.
We ask you to
Read Our Content Policy
so a clear comprehension of VT's independent non-censored media is understood and given its proper place in the world of news, opinion and media.
All content is owned by author exclusively. Expressed opinions are NOT necessarily the views of VT, other authors, affiliates, advertisers, sponsors, partners or technicians. Some content may be satirical in nature. All images within are full responsibility of author and NOT VT.
About VT
-
Read Full Policy Notice
-
Comment Policy