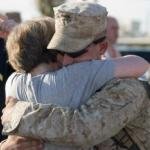 By Steven Van Yoder
The Grant Humanitarian Foundation announces new programs to care for America's military men and women returning from Iraq and Afghanistan
The cost of war to American men, women, and children is hard to measure. Troops not only put their own lives at risk, but face further challenges after long military deployments that can tear apart the fabric of their families. After coming home from Iraq and Afghanistan, unemployment, homelessness, post-traumatic stress disorder, drug and alcohol addiction are issues that too many of our troops face. Returning troops, including the broader communities they inhabit, all suffer the effects of war-related stress, which requires support to assist returning veterans in readjusting to civilian life.
Elena Grant, President of the Grant Humanitarian Foundation, states that America doesn't have sufficient resources to help troops reintegrate into society and recover from their psychological wounds, especially those experiencing stress disorders. "American troops in Afghanistan and Iraq have made a immeasurable contribution, and undergone a tremendous sacrifice, on behalf of our country," says Ms. Grant. "I'm honored to have the opportunity to help these brave men and women."
The Grant Humanitarian Foundation offers several Combat Relief programs that support America's military men and women returning from Iraq and Afghanistan.
On May 30, 2010, Combat Relief joined The Pease Greeters at New Hampshire's Portsmouth International Airport in welcoming troops returning and departing from war-torn countries. Combat Relief donated cell phones with prepaid airtime, which the troops used to immediately contact their loved ones.
Troops can obtain additional free prepaid airtime via the Combat Relief website, http://www.combatrelief.org.
The Grant Humanitarian Foundation, including its founder, Elena Grant, and Director Ursula Kauth, also received awards from The Veterans of Foreign
Wars of the United States for work in supporting U.S. Military troops and praise for patriotic service.
Veterans Helping Veterans: Peer- to-Peer Counseling Combat Relief is conducting a pilot study of its first peer-to-peer counseling call center staffed by paid Veterans. The center aims to provide support for helping troops deal with the challenges of integrating back into civilian life. The training curriculum was designed by the International Critical Incident Stress Foundation and all staff members will receive training related to military service and combat related disorders.
Online Community Support:
Combat Relief has established interactive online forums, including a Facebook fan page, to help military troops and their families connect with caring communities. Additionally, Combat Relief is using Twitter to educate and inspire followers to support the Combat Relief mission and participate in caring for our troops.
Combat Relief Online Radio Show:
Combat Relief has launched an online radio show discussing topics on how returning soldiers can reconnect with society. The program will interview medical professionals, counselors, veterans, military troops and spouses discussing topics related to deployment stress disorders. Dr. Edward Tick, author of War and the Soul, a psychotherapist specializing in veterans with PTSD, will be a monthly guest.
About The Grant Humanitarian Foundation
The Grant Humanitarian Foundation's mission is to care for America's military men and women returning from Iraq and Afghanistan, helping combat troops reintegrate into society through peer counseling, distance-learning programs, an online radio show and community support groups that help our brave military men and women reconnect with society.
Having been raised in a family with a deep tradition of giving, and troubled at the news reports of how war damages families and society as a whole, the Foundation's founder and president, Elena Grant, realized that we in the United States have been uniquely sheltered from the consequences of war on our own territory. Elena created the Grant Humanitarian Foundation to find a creative, practical way to assist returning troops to get the help, resource and compassion they need.
If you are interested in donating money or time to ensure that our military troops and their families have successful futures, please visit http://www.combatrelief.org.
For more information, please visit:
Website: http://www.combatrelief.org
Twitter: http://www.Twitter.com/CombatRelief
Radio Show: http://www.blogtalkradio.com/combat-relief
Facebook Page: http://bit.ly/CombatRelief
ATTENTION READERS
Due to the nature of independent content, VT cannot guarantee content validity.
We ask you to
Read Our Content Policy
so a clear comprehension of VT's independent non-censored media is understood and given its proper place in the world of news, opinion and media.
All content is owned by author exclusively. Expressed opinions are NOT necessarily the views of VT, other authors, affiliates, advertisers, sponsors, partners or technicians. Some content may be satirical in nature. All images within are full responsibility of author and NOT VT.
About VT
-
Read Full Policy Notice
-
Comment Policy