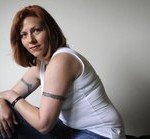 From The Spokesman-Review:
Some female veterans coming home from Iraq and Afghanistan are having trouble adjusting to civilian life because of the trauma they experienced in the military. Not all war wounds, they say, are inflicted by the enemy.
"For me and my family, the war didn't stop for us," said Melissa Kilgore, a former Army specialist who arrived in Iraq with the 501st Forward Support Battalion on Mother's Day 2003, leaving her husband and three children in Germany, where her unit was based.
During the year Kilgore spent in a combat zone, she said, she endured severe and constant sexual harassment.
Her story is not uncommon. One in four female Iraq and Afghanistan veterans receiving health care at Spokane Veterans Affairs Medical Center report experiencing some type of sexual trauma while serving in the military.
The numbers may be higher because military sexual trauma, the term used by the VA to describe abuse ranging from severe harassment to rape, is believed to be underreported.
A survey of former reservists interviewed in 2002 and 2003 found that 60 percent of women and 27 percent of men had experienced repeated or severe sexual harassment during their military careers, with sexual assault reported by 23 percent of women.
The Spokane VA hospital is currently seeing 2,460 Iraq and Afghanistan veterans. Of those, 317 are women. A little more than half have been diagnosed with behavioral health problems, including post-traumatic stress disorder.
Women and men who said they were sexually assaulted or repeatedly harassed in the military were much more likely to be diagnosed with depression, post-traumatic stress, anxiety and substance abuse, according to the VA, which screens every veteran it sees for military sexual trauma.
In May, President Barack Obama signed legislation sponsored by U.S. Sen. Patty Murray, D-Wash., that requires the VA to assess its care of female veterans and to train mental health workers in counseling for sexual trauma, among other provisions.
Cindy Jayne, of Spokane, protected U.S. warships from terrorists in the United Arab Emirates and Kuwait. The VA has determined that Jayne is 70 percent disabled by traumatic stress and major depressive disorder as a result of her service in the Navy Reserve from 1988 to 2008.
Jayne, 48, says her disability was caused by military sexual trauma, the result of consistent sexual harassment and exclusion by the men in her unit.
"I was raped, but not physically," Jayne said. "When it's emotional, there is no evidence to show."
She calls the perpetrators "the thin blue line good old boys network" because most of them were civilian police officers from California who served in her Reserve unit.
Jayne, an E-7 chief boatswain's mate, said the men in her unit received preferential treatment and that she was asked to stand watch for them while they went out on the town, even when she was sick with pneumonia.
But when she refused their request to falsify documents, a practice she called "gun-decking," she suffered the consequences in the form of harder duty and further isolation.
When she returned from duty in the Persian Gulf in 2006, she said, she had trouble adjusting to civilian life but didn't know how to get help.
"I was embarrassed," Jayne said. "I was a chief in the Navy; I should be able to deal with this."
She finally got help from the Veterans Outreach Center in Santa Rosa, Calif., before moving to Spokane.
Jayne said she thought she was OK before she "crashed and burned" and ended up in jail for assaulting her boyfriend.
"You just snap. The anger and rage come blowing out like a volcano," she said. "You can't control it and you end up doing something stupid."
Her now ex-boyfriend declined to press charges against her, and Jayne sought help from the Vet Center in Spokane Valley.
"Often military sexual trauma occurs in a setting where the woman lives and works," said Mary DeLateur, a military sexual trauma counselor, adding that the perpetrator may be someone in a position of authority over the victim. "You are trapped, powerless and at risk of revictimization."
The Department of Defense says that it "does not tolerate sexual assault and has implemented a comprehensive policy that reinforces a culture of prevention, response and accountability that ensures the safety, dignity and well-being of all members of the Armed Forces."
But mental health professionals say veterans often do not believe reporting is a viable option.
"Someone over you can make your life a living hell," said Brenda Thurman, a counselor at the Spokane Valley Vet Center. In many cases, she said, the woman's request for transfer to another unit is denied.
"Many (victims of military sexual trauma) are discharged on a personality disorder because they had the guts to seek justice within the military," DeLateur said.
Thurman said veterans who experienced trauma in the military often are depressed, angry or irritable. They may be hypervigilant, have trouble sleeping or difficulties with concentration or memory. Some have problems with drugs or alcohol.
"They sometimes are trying to deal with the trauma of losing a friend in combat or coming back home to divorce," Thurman said.
As soldiers, they have been working closely with others in their unit and now face readjustment to civilian life alone.
In some cases, Thurman said, female veterans have been arrested as the perpetrator in domestic violence situations; the assertiveness that women veterans have had to demonstrate in the military often is perceived as aggression in civilian life.
Kilgore, 39, served as a 92 alpha, an automated logistical specialist for the 501st motor pool in Baghdad. Her unit supplied combat units with such items as food, water, ammunition and medical supplies.
In addition to the stress of serving in a combat zone, Kilgore said, she endured the daily harassment of her sergeant, who resented her because of her sex.
He made no secret that he felt she was unqualified for her job and was able to "fast-track" because she was a woman.
In the military, Kilgore said, "If you get ahead, it's perceived that it's because you are a woman or because you are sleeping with someone. If you don't sleep with someone, it's perceived that it's because you are gay."
Kilgore now realizes that the harassment she was forced to endure was traumatizing.
"I wasn't held at knifepoint or threatened daily, but it was still trauma," Kilgore said.
John Miller, trauma recovery program coordinator at the Spokane Veterans Affairs Medical Center, said symptoms of traumatic stress may not become apparent in veterans until they return.
Many soldiers are unwilling to have their discharge held up by psychiatric screening. Others may not have realized that they were depressed or anxious until they got home.
"The anger they thought was just normal because everybody is angry over there, especially when they have somebody in the unit that's hit or somebody that's killed or they are ambushed or whatever.
"It's only when they get home and the symptoms don't subside that they begin to question themselves or somebody around them begins to question.
"They are coming back to the family they left for a year, maybe even 18 months, and reintegrating into the family culture can be a culture shock. The kids have grown, may have become more independent."
DeLateur said that as female combat veterans return from the war, society is moving into uncharted territory in dealing with the effects of readjustment to civilian life.
"When a man comes back, the wife is there and he can ease back into the family," DeLateur said. "A woman is expected to jump back in and it is often too much."
When Kilgore returned to the now-deactivated Ray Barracks in Friedberg, Germany, she said, she discovered that her three children hadn't been treated well by her husband. Today she is resentful that although she lived on base, no one in the Army recognized what was happening in her home while she was away.
Because the family-care plan she had established before being deployed to Iraq had collapsed, the Army discharged her three months before her four-year contract was up. She had to pay back her signing bonus, and Kilgore had to pay for damages to her apartment.
She divorced her husband and returned to Washington state, where she has relatives.
"I didn't know anything when I came back or where to go," Kilgore said. "I wasn't injured, so I didn't think I qualified for VA care."
She suffered symptoms of traumatic stress.
"Who was I supposed to talk to? I didn't know there was support and then I didn't want to be a whiner," Kilgore said. "You try so hard to do the job and not stand out because you are a woman and then when you come back, you have issues that every woman has."
In May 2008, Kilgore was arrested for assault in Jefferson County after a confrontation with her then-17-year-old daughter.
"You're not ready to be a mommy again," Kilgore said. "But children just want their moms and dads back."
Sometimes, she said, "we are not prepared for that."
Kilgore, who now lives in Spokane and is attending Eastern Washington University, is undergoing a "Friendship Diversion" program in lieu of prosecution on her charge of fourth-degree assault. She has put her life back together.
It may be asked, why would a woman join the military, knowing the realities of this still male-dominated culture?
Many of the answers, DeLateur said, are the same for women as they are for men. They join because they want to serve their country. They feel a duty or a calling. They seek benefits of a military experience and an education from the GI Bill. Their choices may be limited because of their socioeconomic status.
Even among those who endured severe sexual trauma, DeLateur said, "I am amazed that there is a part of these women who are still so proud that they served their country and they will not let anyone take that away from them."
Kilgore and Jayne agreed to be interviewed for the sake of other women going through what they did.
"You are not alone. There are a whole bunch of us that feel the same way," Kilgore said.
ATTENTION READERS
Due to the nature of independent content, VT cannot guarantee content validity.
We ask you to
Read Our Content Policy
so a clear comprehension of VT's independent non-censored media is understood and given its proper place in the world of news, opinion and media.
All content is owned by author exclusively. Expressed opinions are NOT necessarily the views of VT, other authors, affiliates, advertisers, sponsors, partners or technicians. Some content may be satirical in nature. All images within are full responsibility of author and NOT VT.
About VT
-
Read Full Policy Notice
-
Comment Policy