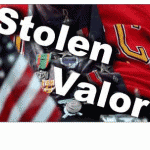 NOT ALL PHONIES ARE PHONY
By Gordon Duff STAFF WRITER/Senior Editor
One US Senator wears a Silver Star awarded to him instead of sending him to prison.  He has a secret presidential pardon and his military records are classified.  One recent US President was awarded a DFC for something he could have just as easily been sent to the brig for, an incident that killed two crew members described by those there as "panic" in combat.  One friend of a powerful politician actually awarded himself a Medal of Honor.  Senator John Kerry won three Purple Hearts for wounds a Marine would never bother to mention to a corpsman.  General Colin Powell wears a Purple Heart for a wound even John Kerry wouldn't have noticed.
After 9/11 many who had no interest in risking life and limb got military haircuts and started wearing camo.  They were everywhere, the phonies who wanted to look like they were preparing to "ship out."  Even I enjoyed the "welcome home" from our airport immigration officials.  Ah, the dangers of southern France at peak season, slow service at breakfast and the wines, so often served "before their time."
It gets worse, much worse, with not only tens, even hundreds of thousands of phony Vietnam veterans running the streets for decades, thousands using their hero status for personal gain but even more that did serve being elevated to hero status because of having attended a service academy or spending too much time close to a type writer.  When the Denver court overturned the Stolen Valor Act as a violation of free speech, it didn't harm veterans, it simply protected them from a more insidious problem, phony heroes certified by the military itself.
Look at any general.  Not a one of them will have the combat experience of a PFC with thirty days in the field but every one of them will have dozens of decorations, sometimes row after row.  The most honest of them may have several Bronze Stars, none with a "Combat V" device denoting action in the field.  The massive "giveaways" of medals in Vietnam was shameful.  It continues to this day, with medals being used for everything from "conning" troops into suicidal risks in illegal wars to puffing up careers of arm chair heroes.
It isn't just that some are awarded undeserved medals because of influence.  Every veteran not awarded a medal, especially those who regularly saw combat, many whose valor was well known, has felt the sting of injustice for a lifetime.  Real soldiers don't talk to each other about medals.  They know that wearing medals is a sign of spending too much time in the rear areas, kissing "behind."  Real soldiers in real combat do their job with others, do what is needed, what is demanded of them, do it quietly and joke about it later, if they are still alive.  Friends awarded medals in Vietnam, some because of wounds too serious to even mention, never talk about their medals with the rest of us. 
One good friend who only served a couple of weeks as a combat medic in Vietnam is one of our most highly decorated veterans.  He laughs about how his commanding officer, a "good friend," wrote him up for a medal at least once a week.  During his "two weeks" in the field, my friend was dragged out of more than one wrecked helicopter.  Only one veteran has more decorations for less time in the field and that is Senator John McCain, son of Admiral Sidney McCain, famous for the USS Liberty cover-up.  We don't talk about John McCain's military service, we can't, he is too busy talking about it himself.
Vietnam didn't end all at once, men trickled home, few at a time for nearly a decade, much as with today's endless wars.  With returning vets being called "baby killers," not by "hippies" but by middle class, if you excuse the term for what should really be called "middle trash," housewives, nothing was to be gained by displaying evidence of combat service in Vietnam.  The Hollywood crowd made millions bashing vets with every TV series having one episode after another, homeless vets, drugged out vets, violent vets, vets in prison, vets raping children.  Then came the Rambo movies, those and the Chuck Norris films,let us not forget "Arnold," the muscle bound phonies cashing in on the sacrifice of others.
For decades I met nothing but phony vets, be it a Rolling Thunder run to Washington or through others.  "Hey, you should meet my cousin, he is a Vietnam vet."  The meeting would last seconds, always the same, watching them look at their shoes while I would quietly walk away.  I can't count the number of times this has happened.  It only made me feel sad for them.  At least they weren't in the Senate or White House clamouring for war, using imaginary heroism as a tool for personal enrichment while killing off thousands of innocent women and children.
We all know who does that.
It was only after Reagan got in office and the hoopla about "evildoers" became so popular that the endless stream of phony Vietnam veterans came out of the woodwork.  With a generation of draft dodgers filling congress, the White House and corporate America, all clamouring for nuclear war, an American tradition was established, one alive and well today.  Phony vets, phony heroes, "Chickenhawk" leaders, phony Christians and even phony Americans, dual citizens to whom loyalty to the United States is given "deniability" by secret religious doctrines, has left America victim to phony news, phony wars and even phony constitutional restoration movements.
Only the dead are real.
Gordon Duff posted articles on VT from 2008 to 2022. He is a Marine combat veteran of the Vietnam War. A disabled veteran, he worked on veterans and POW issues for decades.
Gordon is an accredited diplomat and is generally accepted as one of the top global intelligence specialists. He manages the world's largest private intelligence organization and regularly consults with governments challenged by security issues.
Duff has traveled extensively, is published around the world, and is a regular guest on TV and radio in more than "several" countries. He is also a trained chef, wine enthusiast, avid motorcyclist, and gunsmith specializing in historical weapons and restoration. Business experience and interests are in energy and defense technology.
ATTENTION READERS
Due to the nature of independent content, VT cannot guarantee content validity.
We ask you to
Read Our Content Policy
so a clear comprehension of VT's independent non-censored media is understood and given its proper place in the world of news, opinion and media.
All content is owned by author exclusively. Expressed opinions are NOT necessarily the views of VT, other authors, affiliates, advertisers, sponsors, partners or technicians. Some content may be satirical in nature. All images within are full responsibility of author and NOT VT.
About VT
-
Read Full Policy Notice
-
Comment Policy