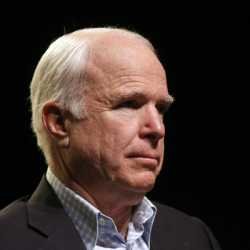 Over the span of six decades of focused funding and single-issue advocacy, the Israel lobby amassed enough political clout that it can now dominate U.S. policy-making.
Allied with organized crime, the lobby's pro-Zionist influence took us to war in the Middle East. Meanwhile, the broader syndicate took the U.S economy into a debt-induced tailspin while vastly increasing its members' personal wealth.
Emboldened and enabled by John McCain's campaign finance "reform," transnational organized crime now wields outsized influence in both our legislative and executive branch.
With Elena Kagan's appointment to the U.S. Supreme Court, the rule of law will be entrusted to a nine-member bench that includes six Zionists. Three of them are Jewish Zionists—one-third on the highest court of a nation with a 1.7% Jewish population.
With McCain's help, pro-Israeli campaign cash now plays a decisive role in the ongoing displacement of representative government. According to Jewish Achievement, 42% of the largest political donors to the 2000 election cycle were Jewish.
Of the Forbes 400 richest Americans, 25% are Jewish according to Michael Steinhardt. Others insist the figure is closer 35% though that higher number refers only to the membership of the Forbes 400 and not their portion of the overall wealth—which may be far higher.
Organized Crime & Zionism
Steinhardt was an early funder of the centrist Democratic Leadership Council founded after Walter Mondale fared so poorly opposing Ronald Reagan in the 1984 presidential race. Bill Clinton resigned as DLC chairman to run in 1992 with Al Gore his vice-president. Zionist Joe Lieberman was head of the DLC in 2000 before joining Gore on the presidential ticket.
Everywhere one looks in modern-day American politics, the hand of both organized crime and Zionism can be found—regardless of party.
Steinhardt's father was a jewel fence for Manhattan mobster Arnold Rothstein. Meyer Lansky, infamous "chairman" of the National Crime Syndicate, modeled his career after Rothstein. Steinhardt boasts of how his father sent him envelopes with $10,000 in cash while the son was studying for his Harvard MBA.
The influence of money in politics is as old as politics itself. The limit on the political influence of organized crime was never money. Money was always plentiful. The problem was the limit on how much money could lawfully be contributed to political candidates.
McCain-Feingold campaign finance reform removed a key constraint on influence peddling by Zionists and organized crime. When you see one, you find the other hovering nearby.
With John McCain's help, this illicit influence can now be wielded in plain sight, with legal impunity and under the cover of free speech, free elections, free press and even the freedom of religion. Those touting their freedom systematically undermined ours.
Repeal of Representative Government
With campaign finance reform, the Israel lobby further tightened its grip on U.S. policy-making. Though envisioned as a system of governance attuned to place—Congressional districts and states, funds for political campaigns are now routinely sourced nationwide.
America's federalist system was meant to ensure that members of the House represent the concerns of Americans who reside in a Congressional district. No one sought governance by a nationally dispersed network (a Diaspora) committed to the interests of a foreign country (Israel).
Similarly, federal elections are meant to hold Senators accountable to constituents who share the same in-state residency. The Senate was not meant to be a forum for the pursuit of policies sought by those living in other states—or by a foreign state.
As a practical matter, McCain-Feingold "reform" granted criminal syndicates and Zionist ideologues greater influence over election results in every state and Congressional district.
These electorally active networks wield political power wildly disproportionate to their numbers, indifferent to their place of residence and often contrary to America's interests.
The Israel lobby routinely organizes campaign contributors in New York, Florida and California to elect candidates in other states. By granting this Diaspora greater sway over federal elections, John McCain granted Tel Aviv greater influence over U.S. policy-making.
He championed reform only after the Senate Ethics Committee cited his poor judgment for championing the Keating Five Senators who aided a $150 billion savings and loan fraud. McCain-Feingold was meant to restore his tattered reputation.
John McCain's judgment continues to deteriorate at an accelerating pace as evidenced by him marketing as "reform" this perilous step toward the repeal of representative government while also marketing the phony intelligence that took us to war in Iraq.
In May 1999, McCain and Feingold shared the 10th annual John F. Kennedy Profile in Courage Award. In time, historians will grasp the bitter irony that a U.S. Senator was granted an honor named after a U.S. President who was murdered soon after he sought to stop the Zionist state from building a nuclear arsenal.
ATTENTION READERS
Due to the nature of independent content, VT cannot guarantee content validity.
We ask you to
Read Our Content Policy
so a clear comprehension of VT's independent non-censored media is understood and given its proper place in the world of news, opinion and media.
All content is owned by author exclusively. Expressed opinions are NOT necessarily the views of VT, other authors, affiliates, advertisers, sponsors, partners or technicians. Some content may be satirical in nature. All images within are full responsibility of author and NOT VT.
About VT
-
Read Full Policy Notice
-
Comment Policy