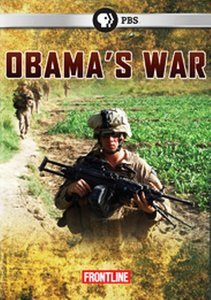 PBS FRONTLINE did a documentary that is now available on DVD accurately called Obama's War.
http://www.pbs.org/wgbh/pages/frontline/obamaswar/
FRONTLINE notes that "Tens of thousands of fresh American troops are now on the move in Afghanistan, led by a new commander and armed with a counterinsurgency plan that builds on the lessons of Iraq.
THE GRAVEYARD OF EMPIRES
Can U.S. forces succeed in a land long known as the "graveyard of empires"? And can the U.S. stop the Taliban in neighboring Pakistan, where U.S. troops are not allowed and the government is weak?
In Obama's War, veteran correspondent Martin Smith travels across Afghanistan and Pakistan to see first-hand how President Obama's new strategy is taking shape, delivering vivid, on-the-ground reporting from this eight-year-old war's many fronts. Through interviews with top generals, diplomats and government officials, Smith also reports the internal debates over President Obama's grand attempt to combat terrorism at its roots.'
NATION BUILDING IS A DIRTY WORD BUT THAT'S WHAT WE ARE DOING
"What we [PBS] found on the ground was a huge exercise in nation building," says Smith. "The concept's become a bit of a dirty word, but that's what this is. We started with the goal of eliminating Al Qaeda, and now we've wound up with the immense task of re-engineering two nations."

Impartial Analysis of Obama's Afghanistan War
http://www.pbs.org/wgbh/pages/frontline/obamaswar/themes/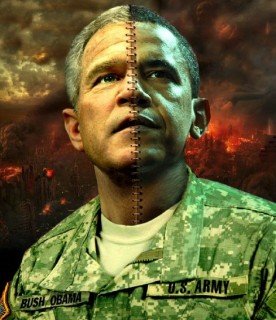 Of note PBS aired the Obama War BEFORE wikileaks began telling the real story behind Pentagon Propaganda that the Obama administration is not circling wagons to do damage control via spreading fear and intimidation of even those who do the fighting and dying for one of the most incompetent governments to continue the mess the Bush administration left behind.
We at Veterans Today now get this media alert just came in from several military veteran and military family Peace organizations.
Posted by Robert L. Hanafin, Major, U.S. Air Force-Retired, Veterans Today News FOR Veterans for Peace (VFP), Military Families Speak Out (MFSO), and Iraq Veterans Against the War (IVAW).
VETERANS AND MILITARY FAMILIES SAY PENTAGON STATEMENTS ON WIKILEAKS AIM TO CLOUD REAL ISSUES
Our organizations represent veterans and military families.  We have personally carried the burden of the war in Afghanistan, along with wars past. We are glad that the truth about the war is getting out to the public with the recent 92,000 documents on Wikileaks.  Hopefully, this will inspire a massive outcry against this war that is wreaking so much destruction to our exhausted and demoralized troops and their families while draining our national coffers.
Obama administration officials are trying to spin events in their favor.  Their words must be carefully examined. On the one hand, in an effort to downplay the significance of the release, we are told the documents contain no new information.
On the other hand, some high ranking members of the U.S. military are trying to: 1) intimidate anyone else from doing the same thing and 2) turn public opinion against whoever leaked the current documents.  Towards those goals, we are told that grievous harm will surely come to many Afghans and U.S. military personnel – if not now then certainly later.
A more damning statement could hardly be imagined than this one from Admiral Mullen, Chairman of the Joint Chiefs of Staff, "The truth is they might already have on their hands the blood of some young soldier or that of an Afghan family."
While we certainly do not wish to see one additional person put at risk in this tragic, wrongheaded war, we must state the following as clearly as we can.
As veterans and families with members in the military, we consider statements like Admiral Mullen's to be nothing more than calculated attempts to turn public attention away from the real problem – the ongoing occupation of Afghanistan that has already caused the deaths and injuries of many thousands of innocent people all the while millions of Americans are jobless and face foreclosure or eviction.
This suffering in Afghanistan and this bleeding at home will continue as long as our troops remain in that country.  Congress must stop funding this war.  We must bring our troops home now, take care of them properly when they return and pay to rebuild the damage we have caused to Afghanistan.
# # #
Founded in 1985, Veterans For Peace is a national organization of men and women veterans of all eras and duty stations spanning the Spanish Civil War (1936-39), World War II, the Korean, Vietnam, Gulf and current Iraq wars as well as other conflicts cold or hot. It has chapters in nearly every state in the union and is headquartered in St. Louis, MO. Our collective experience tells us wars are easy to start and hard to stop and that those hurt are often the innocent. Thus, other means of problem solving are necessary.  Veterans For Peace: Exposing the true costs of war and militarism since 1985. If you are a Military Veteran or supporter who wants to take part in the ACTION to stop the Bush/Obama Wars, and also help those military families with Skin in the Game join VFP or for further information contact: www.veteransforpeace.org
Military Families Speak Out is an organization of people opposed to the wars in Iraq and Afghanistan who have relatives or loved ones who are currently in the military or who have served in the military since the fall of 2002.
If you are a military family that's had enough of being only less than one percent of American patriots carrying the full burdens of war for the other 99 percent join MFSO and speak your mind, find other military families who can relate to your plight despite diverse political views or simply find out more about MFSO contact:
Iraq Veterans Against the War is a national organization comprised of active duty, guard, and reserve troops and veterans who have served since 9/11. We call for immediate withdrawal of all occupying forces from Iraq and Afghanistan, reparations to the people of those countries, and full benefits for returning service members.
To join or find out more information on IVAW contact: http://www.ivaw.org/
Readers are more than welcome to use the articles I've posted on Veterans Today, I've had to take a break from VT as Veterans Issues and Peace Activism Editor and staff writer due to personal medical reasons in our military family that take away too much time needed to properly express future stories or respond to readers in a timely manner.
My association with VT since its founding in 2004 has been a very rewarding experience for me.
Retired from both the Air Force and Civil Service. Went in the regular Army at 17 during Vietnam (1968), stayed in the Army Reserve to complete my eight year commitment in 1976. Served in Air Defense Artillery, and a Mechanized Infantry Division (4MID) at Fort Carson, Co. Used the GI Bill to go to college, worked full time at the VA, and non-scholarship Air Force 2-Year ROTC program for prior service military. Commissioned in the Air Force in 1977. Served as a Military Intelligence Officer from 1977 to 1994. Upon retirement I entered retail drugstore management training with Safeway Drugs Stores in California. Retail Sales Management was not my cup of tea, so I applied my former U.S. Civil Service status with the VA to get my foot in the door at the Justice Department, and later Department of the Navy retiring with disability from the Civil Service in 2000.
I've been with Veterans Today since the site originated. I'm now on the Editorial Board. I was also on the Editorial Board of Our Troops News Ladder another progressive leaning Veterans and Military Family news clearing house.
I remain married for over 45 years. I am both a Vietnam Era and Gulf War Veteran. I served on Okinawa and Fort Carson, Colorado during Vietnam and in the Office of the Air Force Inspector General at Norton AFB, CA during Desert Storm. I retired from the Air Force in 1994 having worked on the Air Staff and Defense Intelligence Agency at the Pentagon.
ATTENTION READERS
Due to the nature of independent content, VT cannot guarantee content validity.
We ask you to
Read Our Content Policy
so a clear comprehension of VT's independent non-censored media is understood and given its proper place in the world of news, opinion and media.
All content is owned by author exclusively. Expressed opinions are NOT necessarily the views of VT, other authors, affiliates, advertisers, sponsors, partners or technicians. Some content may be satirical in nature. All images within are full responsibility of author and NOT VT.
About VT
-
Read Full Policy Notice
-
Comment Policy