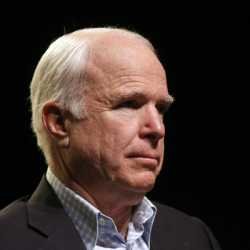 Those who produced the political career of John McCain specialize in "field-based" warfare. When waging modern-day wars—in the shared field of consciousness—the power of association is routinely deployed as a weapon to manipulate thought and emotion in order to shape decisions.
Associations can accredit or discredit. America's "special relationship" with the Zionist experiment ensures that Israeli conduct discredits us. We appear guilty by association.
Politicians often befriend pop stars. By association with their popularity, the candidate influences the decision of voters.
Association is an ancient technique of mental manipulation (aka psy-ops). Its only modern component is the technological means to influence decision-making on a broad scale.
With the global reach of media and pop culture, policy-making can be influenced from afar by deploying associative weaponry, enabling those who are few in numbers to leverage their impact.
To launch a political product here in Arizona, a former POW was branded a Vietnam-era hero. John McCain could safely be associated (aka branded) with an unpopular war because, like a Phoenix from the ashes, he could plausibly be portrayed as a man who rose from the trials and tribulations of wartime captivity to work for truth, justice and the American Way.
Association only works if it has at least a veneer of plausibility—however thin. The use of association to displace facts with false beliefs requires beliefs that are….believable.
McCain-the-hero branding met that standard. That was just part of the associative strategy. His producers also associated him with stalwarts in his political party.
When I saw him in performance at a town hall meeting in Tempe a few weeks ago, he proudly proclaimed himself as head of "the party of Lincoln and Reagan."
By association, he became a legend—at least in his own mind.
Sunbelt Mafia + the Mormon Mafia
Arizona's other Senator is Christian Zionist Jon Kyl. He and McCain have long been popular among the hardcore Christian/Mormon/Jewish/Zionist Right.
Americans are largely unaware of the political influence wielded by the Church of Latter Day Saints—also known as the Lost Tribe of Israel. Arizona politics has been under their influence since the Mormons migrated here from Utah.
Their electoral strength dates from 1857 when President Buchanan dispatched 5,000 federal troops to places like Zion, Utah to break up the polygamous cults that were then armed, uniformed, marching in formation and discussing secession.
One group of Mormons fled north and settled around Alberta, Canada, leaving Mormon communities throughout Idaho. Another group fled south and settled in Mexico, leaving Zionist communities scattered throughout Arizona.
Mormons in Mexico migrated back north when faced with marauders led by Pancho Villa. This migration explains why Michigan Governor George Romney was born in Chihuahua, Mexico. Romney's son, Mitt, former governor of Massachusetts, returned to his native Mormon roots in Michigan to announce his 2008 candidacy for the president.
The nexus between Mormons and organized crime has long been robust. Parry Thomas, best known as the "Mormon banker to Vegas," invested funds from Mormon tithing into Las Vegas casinos. Though forbidden to gamble, drink or carouse, Mormons financed the mob.
Which brings us back to the Sunbelt Mafia, the organized crime origins of John-the-Hero McCain and his otherwise inexplicable fealty to all things Israeli or, more accurately, to Zionism.
Homeland Insecurity
Arizona Attorney General Terry Goddard, an aspirant for Governor of Arizona, holds a post held by Janet Napolitano before she migrated from Governor to Secretary of Homeland Security in the Obama administration. She replaced Michael Chertoff, son of a rabbi and grandson of a Talmudic scholar who on 911 headed the criminal division of the Justice Department.
Chertoff, in turn, replaced Tom Ridge, a product of Pennsylvania's Annenberg political machine. Walter Annenberg, "Ronnie's best friend for 50 years," according to First Lady Nancy  Reagan, was the son of mobbed-up Moses "Moe" Annenberg, a mob enforcer in Chicago before fleeing to Florida to seek protection from Meyer Lanksy, legendary "chairman" of the National Crime Syndicate.
Bernie Kerik was initially nominated to replace Ridge. A former New York City Police Commissioner, Kerik's nomination was withdrawn when his ties to organized crime became too transparent. In February 2010, he was sentenced to four years in federal prison.
John McCain was "produced" with the use of associative claims of dubious validity. Meanwhile his associations with organized crime remain obscured—until now.
An informed public is fast catching on to how facts are displaced with associative branding. Given the consistently ruinous impact of McCain's conduct on U.S. national security, he has gained strong (and thus far silent) opposition from within senior ranks of the U.S. military.
Should McCain decline to resign, transnational organized crime will rejoice.
ATTENTION READERS
We See The World From All Sides and Want YOU To Be Fully Informed
In fact, intentional disinformation is a disgraceful scourge in media today. So to assuage any possible errant incorrect information posted herein, we strongly encourage you to seek corroboration from other non-VT sources before forming an educated opinion.
About VT
-
Policies & Disclosures
-
Comment Policy
Due to the nature of uncensored content posted by VT's fully independent international writers, VT cannot guarantee absolute validity. All content is owned by the author exclusively. Expressed opinions are NOT necessarily the views of VT, other authors, affiliates, advertisers, sponsors, partners, or technicians. Some content may be satirical in nature. All images are the full responsibility of the article author and NOT VT.