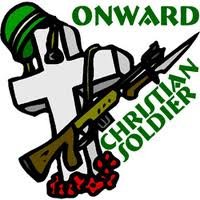 – Christian fundamentalist proselytizing persists despite Academy lies. 'The integrity and leadership for which this institution was once known, does not exist anymore. It was replaced with religious ideology and religious zeal. ' –
Partially leaked results from the 2010 Air Force Academycampus survey appear to contradict the "happy face" the academy put on its numbers at a recent news conference, according to an academy critic.
Mikey Weinstein, founder of the Military Religious Freedom Foundation, said the numbers reported on the Colorado Springs Independent website paint a troubling picture of the academy.
The results showed that 141 cadets have been subjected to unwanted proselytizing more than once; 212 had been approached once or twice; and 23 cadets "felt in fear" because of their religious beliefs.
One in three minorities among the civilian ranks reported receiving fewer leadership opportunities than whites, and respondents also complained of bias against women and gays, the Independent reported.
"This is an embarrassment, and an embarrassing way to start the year, to try to put a happy face on something that's not happy," Weinstein said. "The numbers aren't kind of bad. They're real bad."
The academy began administering the anonymous surveys in their current form in 2004, as a way of gauging cadets' attitudes in the wake of a sexual assault scandal that drew national attention. The inaugural survey was summarized in a detailed, 68-page report, and similar results were released in the years that followed.  The climate surveys were conducted once a year through 2007, when the academy switched to every other year.
The policy toward openness was nixed this year under Lt. Gen.Michael Gould, who became superintendent in the summer of 2009.
In a news conference last Thursday, Gould acknowledged that the 2010 surveys highlighted some "challenges," such as perceptions of racial bias, but he declined to release data and downplayed previous hot-button issues such as religious bullying and perceptions that athletes receive star treatment.
"Overall, I'm pleased with the progress we've made," he said.
In a phone interview Tuesday, Gould defended his decision to keep the numbers secret, saying the survey was a commander's tool to assess the health of the academy, not fodder for public scrutiny. He has already directed leaders on campus to begin investigating problems uncovered in the report, adding that a public debate over the survey results could be a "distraction" from the academy's mission to instruct and educate.
"We're not hiding anything," he said.
Weinstein contacted The Gazette on Tuesday after receiving an e-mailed letter from 50 cadets and staff members criticizing Gould's stance.
The letter — which Weinstein supplied to the Gazette — said the leaked information "directly contradicts" Gould's characterization of the campus survey.
Withholding the data, the letter said, "makes our academy look terribly guilty of trying to hide the entire truth of the matter, whatever that may be." 
Edie Disler, a retired Air Force lieutenant colonel who taught at the academy for 10 years, agreed.
"The fact that they're holding back on the data when they've got a pretty clear track record of releasing it is suspect, in and of itself," she said. "I want them to be successful, but they haven't behaved in a way that breeds confidence."
Disler, who is on the board of advisors at the Military Religious Freedom Foundation, received a letter of counseling from the Air Force in 2009 after she invited gay and lesbian Air Force veterans to speak at the academy.
She said she knew of cadets who suffered harassment and attacks because of their sexual orientation but were afraid to report it because it would mean the end their military careers.
The survey was based on a 40 percent return from the 4,595 cadets and a 53 percent return from more than 3,500 staff. 
– E-mail – From: E-mail Address Withheld
Date:

August 17, 2010 9:10:31 PM MDT

Subject: USAF Academy Refusal To Release Climate Survey Data Results
USAF Academy Refusal To Release Climate Survey Data Results

This demonstrates the total lack of leadership and the attempt to deceive by senior military leadership.  You can believe that the withholding of this information was orchestrated at the 4 star level.  This makes me sick and embarrassed both as a graduate of this institution and as a former AF officer.  This is little different from the leadership that falsified the Tilman murder and the Jessica Lynch story.  The lack of integrity and deception makes the flag officers involved appear to renounce their oath to the Constitution.  They are destroying the concept of honor in our military …. and nation.

 

The integrity and leadership for which this institution was once known, does not exist anymore.  It was replaced with religious ideology and religious zeal. 

 

The key to learning when this transition began, and who orchestrated it, is to know who altered the Academy Chaplain Staff from 6 mainline chaplains (1 Rabbi, 2 Priests, 3 Minsters) to a staff of these same 6 mainline chaplains PLUS 12 ADDITIONAL EVANGELICAL CHAPLAINS.

 

Which AF General Officer authorized this additional staff at great expense to the taxpayers, and great moral expense to the institution?  What was his name?

  

Gould and those responsible for this recent cover-up must resign. 
ATTENTION READERS
Due to the nature of independent content, VT cannot guarantee content validity.
We ask you to
Read Our Content Policy
so a clear comprehension of VT's independent non-censored media is understood and given its proper place in the world of news, opinion and media.
All content is owned by author exclusively. Expressed opinions are NOT necessarily the views of VT, other authors, affiliates, advertisers, sponsors, partners or technicians. Some content may be satirical in nature. All images within are full responsibility of author and NOT VT.
About VT
-
Read Full Policy Notice
-
Comment Policy