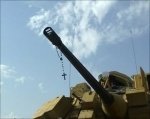 From Chris Rodda at Talk TwoAction.org
On May 13, 2010, about eighty soldiers, stationed at Fort Eustis while attending a training course, were punished for opting out of attending one of these Christian concerts. The headliner at this concert was a Christian rock band called BarlowGirl, a band that describes itself as taking "an aggressive, almost warrior-like stance when it comes to spreading the gospel and serving God."
Any doubt that this was an evangelical Christian event was cleared up by the Army post's newspaper, the Fort Eustis Wheel, which ran an article after the concert that began:
"Following the Apostle Paul's message to the Ephesians in the Bible, Christian rock music's edgy, all-girl band BarlowGirl brought the armor of God to the warriors and families of Fort Eustis during another installment of the Commanding General's Spiritual Fitness Concert Series May 13 at Jacobs Theater."
The father of the three Barlow sisters who make up the band was also quoted in the article, saying, "We really believe that to be a Christian in today's world, you have to be a warrior, and we feel very blessed and privileged that God has given us the tool to deliver His message and arm His army."
A few days later, some of the soldiers punished for choosing not to attend this concert contacted the Military Religious Freedom Foundation (MRFF). The following is from the account sent by one of those soldiers to MRFF, detailing what transpired that night.
"The week prior to the event the [unit name and NCO's name withheld] informed us of a Christian rock event that was about to take place on Thursday the 13th.

"On Thursday 13th at 1730 we were informed that instead of being dismissed for the day, the entire company (about 250 soldiers) would march as a whole to the event. Not only that, but to make sure that everyone is present we were prohibited from going back to the barracks (to eliminate the off chance that some might 'hide' in their rooms and not come back down).

"We were marched as a whole to chow and were instructed to reform outside the dining facility. A number of soldiers were disappointed and restless. Several of us were of different faith or belief. A couple were particularly offended (being of Muslim faith) and started considering to disobey the order.

"From the dining facility we were marched back to the company area. There was a rumor circulating that we may be given a choice later on to fall out or attend. Though it was only a rumor it was also a small hope enough to allow us to follow along a little longer before choosing to become disobedient. We were marched back to the company area. To our dismay there was still no sign of as having a choice.

"We started marching to the theater. At that point two Muslim soldiers fell out of formation on their own. Student leadership tried to convince them to fall back in and that a choice will be presented to us once we reach the theater.

"At the theater we were instructed to split in two groups; those that want to attend versus those that don't. At that point what crossed my mind is the fact that being given an option so late in the game implies that the leadership is attempting to make a point about its intention. The 'body language' was suggesting that 'we marched you here as a group to give you a clue that we really want you to attend (we tilt the table and expect you to roll in our direction), now we give you the choice to either satisfy us or disappoint us.' A number of soldiers seemed to notice these clues and sullenly volunteered for the concert in fear of possible consequences.

"Those of us that chose not to attend (about 80, or a little less that half) were marched back to the company area. At that point the NCO issued us a punishment. We were to be on lock-down in the company (not released from duty), could not go anywhere on post (no PX, no library, etc). We were to go to strictly to the barracks and contact maintenance. If we were caught sitting in our rooms, in our beds, or having/handling electronics (cell phones, laptops, games) and doing anything other than maintenance, we would further have our weekend passes revoked and continue barracks maintenance for the entirety of the weekend. At that point the implied message was clear in my mind 'we gave you a choice to either satisfy us or disappoint us. Since you chose to disappoint us you will now have your freedoms suspended and contact chores while the rest of your buddies are enjoying a concert.'

"At that evening, nine of us chose to pursue an EO complaint. I was surprised to find out that a couple of the most offended soldiers were actually Christian themselves (Catholic). One of them was grown as a child in Cuba and this incident enraged him particularly as it brought memories of oppression."
The account of another soldier who did not attend the concert, which relates the same sequence of events and punishment that occurred, also adds that some of the soldiers who did decide to attend only did so due to pressure from their superiors and fear of repercussions.
"At the theater is the first time our options were presented to us. And they were presented to us in a way that seemed harmless, we could either go to the show, or go to the barracks. But at that point, I felt pressured. As a person, I know that I can't be pressured into anything, I'm much stronger than that. But I also know that a lot of people aren't that strong, and that pressure was present. I could hear people saying, 'I don't know about going back to the barracks, that sounds suspicious, I'm going to go ahead and go to the show' and many things that sounded a lot like that. Now, like I said, I don't get pressured into things, but I also don't think that anybody should have to feel that kind of pressure. Making somebody feel that pressure is a violation of human rights, we are allowed to think what we want about religion and not have to feel pressured into doing things, and at that moment there was definitely pressure to go to that concert simply because people don't want to have their free time taken away."
The Commanding General's Spiritual Fitness Concert Series was the brainchild of Maj. Gen. James E. Chambers, who, according to an article on the Army.mil website, "was reborn as a Christian" at the age of sixteen. According to the article, Chambers held the first concert at Fort Lee within a month of becoming the commanding general of the Combined Arms Support Command and Fort Lee in June 2008. But he had already started the series at Fort Eustis, as the previous commanding general there. The concerts have continued at Fort Eustis under the new commanding general, as well as spreading to Fort Lee under Maj. Gen. Chambers. The concerts are also promoted to the airmen on Langley Air Force Base, which is now part of Joint Base Langley-Eustis.
In the Army.mil article, Maj. Gen. Chambers was quoted as saying, "The idea is not to be a proponent for any one religion. It's to have a mix of different performers with different religious backgrounds." But there has been no "mix of different performers with different religious backgrounds" at these concerts. Every one of them has had evangelical Christian performers, who typically not only perform their music but give their Christian testimony and read from the Bible in between songs.
Another problem with these concerts, besides the issues like soldiers being punished for choosing not to attend them, is that they are run by the commanders, and not the chaplains' offices. It is absolutely permissible for a chaplain's office to put on a Christian concert. It is not permissible for the command to put on a Christian concert, or any other religious event. Having a religious concert series that is actually called and promoted as a Commanding General's Concert Series is completely over the top.
And then there's the cost. These concerts aren't just small events with local Christian bands. We're talking about the top, nationally known, award-winning Christian artists, with headline acts costing anywhere from $30,000 to $100,000, and even many of the opening acts being in the $10,000 range.
The cost of these concerts led MRFF's research department to start looking at some of the DoD contracts for other "spiritual fitness" events and programs, and what we found was astounding. One contract, for example, awarded to an outside consulting firm to provide "spiritual fitness" services, was for $3.5 million.
MRFF was already aware that exorbitant amounts of DoD funding were going to the hiring of civilian religious employees by military installations, the expenses of religious (almost exclusively evangelical Christian) programs, and extravagant religious facilities, but the extent of this spending goes far beyond what we had initially thought it amounted to. Therefore, MRFF has decided to launch an investigation into exactly how much the military is spending on promoting religion.
Do the recently announced plans of Secretary of Defense Robert Gates to trim defense spending include any trimming of the military's outrageous spending on the promoting of religion and evangelizing of our troops? This alone could save the DoD untold millions every year, and go a long way towards upholding our Constitution at the same time.
– Talk To Action contributor Chris Rodda is Head Researcher for the Military Religious Freedom Foundation, a 501(c)(3) nonprofit that combats illegal and unconstitutional religious coercion in the United States military. Rodda is also author of Liars For Jesus: The Religious Right's Alternate Version of American History. MRFF was founded by Michael L. "Mikey" Weinstein, an Air Force Academy Honor Graduate who served in the first Reagan Administration. MRFF's work was the subject of a May 2009 Harper's Magazine story by journalist Jeff Sharlet, Jesus killed Mohammed: The crusade for a Christian military. For more reading on this subject, see Top Ten Ways to Convince the Muslims We're On a Crusade and this list of other additional Talk To Action stories concerning MRFF research.]
For the past several years, two U.S. Army posts in Virginia, Fort Eustis and Fort Lee, have been putting on a series of what are called Commanding General's Spiritual Fitness Concerts. As I've written in a number of other posts, "spiritual fitness" is just the military's new term for promoting religion, particularly evangelical Christianity. And this concert series is no different.
ATTENTION READERS
We See The World From All Sides and Want YOU To Be Fully Informed
In fact, intentional disinformation is a disgraceful scourge in media today. So to assuage any possible errant incorrect information posted herein, we strongly encourage you to seek corroboration from other non-VT sources before forming an educated opinion.
About VT
-
Policies & Disclosures
-
Comment Policy
Due to the nature of uncensored content posted by VT's fully independent international writers, VT cannot guarantee absolute validity. All content is owned by the author exclusively. Expressed opinions are NOT necessarily the views of VT, other authors, affiliates, advertisers, sponsors, partners, or technicians. Some content may be satirical in nature. All images are the full responsibility of the article author and NOT VT.