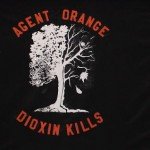 – Veterans Affairs Secy. Eric Shinseki strongly defended his controversial decision last year to add ischemic heart disease. Former VA Secy.  (2001-05) and current Pfizer lobbyist Anthony Principi hits payments to veterans –
– Sen. James Webb wants political control, maintains hostile stance towards veterans.
– Sen. Bernie Sanders (Vermont) and Sen. Jay Rockefeller (D-W. Va.) defend veterans.
By David Rogers in the Politico
With costs mounting, the Senate Veterans Affairs Committee is laying the groundwork for a second look at the landmark 1991 Agent Orange law that has governed nearly two-decades of disability claims related to the herbicide widely used in the Vietnam War.

The consistent theme of a hearing Thursday that featured testimony by Cabinet secretaries past and present about living under the law's limits and navigating through the often vague scientific standards for judging what diseases qualify as service-connected claims.

Veterans Affairs Secy. Eric Shinseki strongly defended his controversial decision last year to add ischemic heart disease but allowed too that having just 60 days to reach a conclusion –as prescribed by the Agent Orange law— was "a bit constraining….a little challenging."

Former VA secretary Anthony Principi, whose decision to add type 2 diabetes in 2001 has since led to an explosion is claims, was more blunt, saying he had desperately wanted clearer scientific evidence to help him sort through confounding like-style factors, like diet or smoking, which might contribute to an illness.

"It's a greater challenge for secretaries, when you're dealing with the diabetes, the prostate cancer, because we know if we live long enough, we're going to die of prostate cancer, as well as heart disease," Principi said. "And those confounding factors really make it very, very difficult for us"

Indeed, Agent Orange claims are a world turned-upside-down from decades ago when returning soldiers had to fight to get attention to deadly lymphomas linked to the herbicide. Now the more common frailties of men in their sixties—prostate cancer, diabetes, heart disease—lead the list, and VA estimates that one out of every four surviving Vietnam veterans could soon be collecting payments for one Agent Orange claim or another.

The hearing brought some touching moments. Shinseki, who served himself in Vietnam, repeatedly referred to the infantry soldiers then as "the youngsters."

"We are asking the secretary to play God," exclaimed Sen. Bernie Sanders, the Vermont independent, "At the end of the day, we used the poison and we poisoned our own people."

But for many who also served in the war, the sheer number of claims now defies credibility.

"If the American people lose faith in the integrity of the V.A.'s disability compensation system — and that's not just about cost — veterans and their families will most certainly suffer," said Principi, a Navy veteran of Vietnam. "And the surest way for that to happen is for the American people to believe that large numbers of veterans are being compensated for illnesses that may not be the result of their military service. And I think that's the crux of the issue we're all grappling with, how to make the right decision."

Despite the cost– tens of billions of dollars over the next decade– no one in the Senate committee showed any appetite for rolling back Shinseki's decision on heart disease.

"The Vietnam War cost $740 billion. And caring for the veterans drafted to fight that war is a fraction of that $740 billion," said Sen. Jay Rockefeller (D-W. Va.). "We didn't question then. We don't question now. "

But beyond Vietnam, the committee and VA face what could be a wave of new claims from exposure to environmental toxins on U.S. military bases or more recent wars In the Mideast and Afghanistan.

"Today much of our focus will be on Vietnam veterans and Agent Orange," said Chairman Daniel Akaka (D-Hawaii) in opening the hearing, "However this discussion also extends to presumptions from the first Gulf War, and we are just beginning to hear about exposures to potential toxins connected to the wars in Iraq and Afghanistan."

In the exchanges with individual members, Sen. Jim Webb stood out as the most assertive. As a Marine combat veteran of Vietnam, the Virginia Democrat can afford to be more independent.

In comments later, Webb told POLITICO that he would like to return more decision-making power to Congress itself, rather than leave so much discretion to a single Cabinet secretary. And Webb said he was also attracted to a proposal by Principi to take a more incremental approach in the case of common diseases –and put emphasis on medical care before disability payments.

"If 100,000 veterans in an age cohort of Vietnam veterans could be expected in the normal course of life to develop a disease, approximately how many more veterans would develop that disease as a result of their exposure to herbicides?" Principi said. "If the number is very small, then perhaps other steps can be taken, ensure that they receive proper medical care… and hold off on disability compensation until there's further evidence that takes it out of the `limited suggestive' category and puts it into the positive association category."
ATTENTION READERS
Due to the nature of independent content, VT cannot guarantee content validity.
We ask you to
Read Our Content Policy
so a clear comprehension of VT's independent non-censored media is understood and given its proper place in the world of news, opinion and media.
All content is owned by author exclusively. Expressed opinions are NOT necessarily the views of VT, other authors, affiliates, advertisers, sponsors, partners or technicians. Some content may be satirical in nature. All images within are full responsibility of author and NOT VT.
About VT
-
Read Full Policy Notice
-
Comment Policy