As a Life Member of Vietnam Veterans of America (VVA), I first noted the potential for the constitutionality of the Stolen Valor Act to eventually be challenged was while reading my latest edition of the VVA Veteran Magazine.
Vietnam Veterans of America (VVA) Government Affairs View:
A RIGHT TO LIE
The U.S. Court of Appeals for the 9th Circuit struck down a federal law making it a crime to falsely claim a military honor or decoration. VVA regrets this decision. In a 2-1 ruling, the appeals court found that the Stolen Valor Act is unconstitutional.
The majority threw out the prosecution of an elected member of a California water district board, Xavier Alvarez, who claimed at a meeting in 2007 and on previous occasions that he was a Medal of Honor recipient.
Judge Milan Smith, writing for colleague Thomas Nelson, said the law went too far, even though many legal experts view deliberately false speech as unprotected by the Constitution. Under the First Amendment, even blatantly, patently false utterances are protected.
Historically, American citizens are skeptical of permitting the government, as Josh Gerstein has written in Politico, to "police the line between truth and falsity, and between valuable speech and drivel.
"We have no doubt," Gerstein added, "that society would be better off if Alvarez would stop spreading worthless, ridiculous, and offensive untruths."We could not agree more. Still, the best medicine for liars, frauds, poseurs, and imposers is public ostracism and humiliation. In the case of Mr. Alvarez, Gerstein noted that he has become "a laughingstock and no longer sits on the water board."
Source: Government Affairs, pg 8. The VVA Veteran – September/October 2010 Edition

Posted by: Robert L. Hanafin, Major, U.S. Air Force-Retired, GS-14, U.S. Civil Service-Retired, Veterans Issues Editor, Veterans Today News Network
Law Punishing Fake Military Heroes May Go to Supreme Court
http://news.yahoo.com/s/ap/20101011/ap_on_re_us/us_military_medals_impostors#
October 11, 2010
By Associated Press Writer Dan Elliott
According to APs Daniel Elliott, "The Justice Department is battling to save a federal law that makes it illegal to lie about being a war hero, appealing two court rulings that the statute is an unconstitutional muzzle on free speech. The fight could be carried all the way to the U.S. Supreme Court, where it would face an uncertain fate, legal analysts said.
"This is a Supreme Court that is friendly to parties asserting speech rights and skeptical about restrictions on those rights," said Kannon Shanmugam, a former Justice Department official.
Supporters of the law take the opposite view.
"It could wind up being the kind of landmark decision that the Supreme Court is going to have to give very serious and very broad consideration to, and I think they'll come down on our side," said Doug Sterner, a military historian.
The case for HR 666: The Military Valor Roll of Honor Act
http://www.reportstolenvalor.org/
The Stolen Valor Act makes it a crime punishable by up to a year in jail to falsely claim to have won a military medal, whether or not an impostor seeks financial gain.
A three-judge panel of the 9th U.S. Circuit Court of Appeals in San Francisco and a federal district court in Denver have both ruled the law is unconstitutional on First Amendment grounds.
Last week, government lawyers in California asked the full 9th Circuit to reconsider the ruling, calling it a decision of "exceptional importance." Prosecutors noted that the three-judge panel was split 2-1 with sharply differing views, and that the law is also under challenge in Colorado.
The 9th Circuit hasn't said whether it will take a second look.
In Colorado, prosecutors announced last week they would ask the 10th Circuit to overturn the district court decision. That appeal is expected to be filed in early November.
The Stolen Valor Act, which breezed through Congress in 2006, revised and toughened an existing statute that forbade anyone to wear a military medal that was not earned.
The California and Colorado cases were among the early prosecutions under the newly strengthened law.
Xavier Alvarez, a local water board official from Pomona, Calif., was indicted in 2007 after saying at a public forum that he was a retired Marine who received the Medal of Honor, the nation's highest military decoration. Alvarez apparently never served in the military.
Alvarez pleaded guilty on condition that he be allowed to appeal on First Amendment grounds. The 9th Circuit ruled in his favor in August.
His attorney, Jonathan Libby, said Friday he believes both the full 9th Circuit and the U.S. Supreme Court would also find the law unconstitutional
Rick Glen Strandlof, who founded a veterans group in Colorado Springs, was arrested in 2009 after claiming he was an ex-Marine who was wounded in Iraq and had received the Purple Heart and Silver Star. The Marine Corps said it had no record that Strandlof ever served.
A Denver federal judge threw out the case against Strandlof in July.
Strandlof's attorney, Robert Pepin, said he is optimistic about winning at the appeals court or at the Supreme Court.
"It really ends up being a very interesting argument, with solid arguments on our side and strongly articulated arguments on their side," he said.
If government lawyers can't persuade the appeals courts to revive the law, they will likely ask the Supreme Court to hear the case, said Shanmugam, who served as the Justice Department's assistant solicitor general under President George W. Bush. The solicitor general is the government's top lawyer in arguments before the Supreme Court.
"When a federal court declares a federal statute unconstitutional, the solicitor general feels a strong obligation to defend the statute, where a reasonable argument can be made," Shanmugam said.
Shanmugam and others cited two 2010 Supreme Court rulings as indicators that the justices might overturn the Stolen Valor Act.
In one, the court overturned campaign spending limits on corporations and unions, and in the other it struck down a federal ban on videos that show graphic violence to animals. Both were viewed as free-speech cases.
The Stolen Valor Act was written for Political Reasons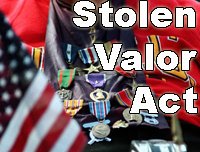 Jonathan Turley, a professor at George Washington University Law School, said the Stolen Valor Act answers no real legal need but was written for political reasons, so lawmakers could show they are on the side of real heroes by punishing impostors.
"There's already a considerable deterrent for people who are engaged in this kind of conduct," he said. "Many of these people are charged with fraud. If someone is only wearing medals without seeking any form of gain, it becomes highly questionable."
Eugene Volokh, a UCLA law professor, said the court traditionally requires the government to prove it has a compelling interest to restrict free speech, which could be difficult in this case.
"I don't think that anybody's going to stop being a brave soldier, or be a less brave soldier, or have less respect for a brave soldier, because some number of people lie about it," he said.
Sterner, the military historian, said he believes the law has a good chance of surviving, citing the divided vote by the three-judge panel of the 9th Circuit.
"The fact that we had a 2-1 split bodes well at the 9th Circuit," said Sterner, whose wife, Pam, wrote a policy analysis in college that became the basis of the bill.
The bill's author in Congress, Colorado Democratic Rep. John Salazar, defended the law and said the rulings against it were misguided.
"You go out and you sacrifice and you earn these awards because of heroism. If somebody comes and tries to act like a hero, it kind of degrades what they did," he said. "It's defending their honor, as I see it."
Readers are more than welcome to use the articles I've posted on Veterans Today, I've had to take a break from VT as Veterans Issues and Peace Activism Editor and staff writer due to personal medical reasons in our military family that take away too much time needed to properly express future stories or respond to readers in a timely manner.
My association with VT since its founding in 2004 has been a very rewarding experience for me.
Retired from both the Air Force and Civil Service. Went in the regular Army at 17 during Vietnam (1968), stayed in the Army Reserve to complete my eight year commitment in 1976. Served in Air Defense Artillery, and a Mechanized Infantry Division (4MID) at Fort Carson, Co. Used the GI Bill to go to college, worked full time at the VA, and non-scholarship Air Force 2-Year ROTC program for prior service military. Commissioned in the Air Force in 1977. Served as a Military Intelligence Officer from 1977 to 1994. Upon retirement I entered retail drugstore management training with Safeway Drugs Stores in California. Retail Sales Management was not my cup of tea, so I applied my former U.S. Civil Service status with the VA to get my foot in the door at the Justice Department, and later Department of the Navy retiring with disability from the Civil Service in 2000.
I've been with Veterans Today since the site originated. I'm now on the Editorial Board. I was also on the Editorial Board of Our Troops News Ladder another progressive leaning Veterans and Military Family news clearing house.
I remain married for over 45 years. I am both a Vietnam Era and Gulf War Veteran. I served on Okinawa and Fort Carson, Colorado during Vietnam and in the Office of the Air Force Inspector General at Norton AFB, CA during Desert Storm. I retired from the Air Force in 1994 having worked on the Air Staff and Defense Intelligence Agency at the Pentagon.
ATTENTION READERS
Due to the nature of independent content, VT cannot guarantee content validity.
We ask you to
Read Our Content Policy
so a clear comprehension of VT's independent non-censored media is understood and given its proper place in the world of news, opinion and media.
All content is owned by author exclusively. Expressed opinions are NOT necessarily the views of VT, other authors, affiliates, advertisers, sponsors, partners or technicians. Some content may be satirical in nature. All images within are full responsibility of author and NOT VT.
About VT
-
Read Full Policy Notice
-
Comment Policy