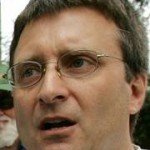 – Veterans For Peace is imploring you all to come together with us in re-evaluating the current U.S. military involvement in Afghanistan, Iraq, Pakistan and elsewhere in the Middle East, Central Asia and Northern Africa. –
By Phil Restino at the Daytona Beach News-Journal
This month marks the ninth anniversary of the Oct. 7, 2001, U.S. military invasion of Afghanistan, and begins the 10th year of our U.S. military occupation there. The past year has been the deadliest year, so far, for U.S. troops killed in action in Afghanistan. In addition, the number of active-duty soldiers dying from suicide has exceeded the number of active-duty soldiers being killed in action since last year, as reported in January 2010. This is to be expected when troops have been sent off to three, four, five, six and even seven tours of combat duty. U.S. military veterans are committing suicide at the rate of 18 veterans per day.
Traumatic brain injury is the "signature wound" for our combat troops, while many others wounded in combat return as single or multiple amputees requiring lifelong care. The number of homeless and incarcerated military veterans in America is reaching all-time highs.
Epidemic levels of post-traumatic stress disorder have, in turn, led to high incidences of alcoholism and drug abuse among our troops and veterans. Military families are being broken up as spouses and children have to endure multiple deployments of their loved ones, and, when the troops do return home, the family members are often exposed to domestic violence. Repeated exposure to depleted uranium, used in U.S. munitions during deployments, has led to our troops and military veterans being subject to various cancers, auto-immune diseases, and other serious illnesses as well as birth defects in their offspring. Depleted uranium has often been referred to as this war's "Agent Orange."
On the home front, the U.S. military occupations abroad are costing U.S. taxpayers $7 billion per month, according to a recent article by retired CIA analyst Philip Girardi in The American Conservative.
That translates into roughly $240 million per day ($10 million per hour) of the U.S. taxpayers' money while Americans are losing their jobs and their homes at record levels, post offices are closing, essential services in cities and towns are being cut, schools are laying off teachers and social services are being drastically cut. Due to years of debt-based funding of the wars and occupations, the prices of food, energy and goods and services are increasing, at the risk of hyperinflation in America.
The American people have a responsibility for what our servant government does in our name, and with our blood and treasure, and it's incumbent upon us that we pay close attention to and continue to evaluate the policies being carried out by our government. It's never more important than when our nation's sons and daughters are engaged in ongoing wars and military occupations in the name of the American people.
With the mention of all of the above, Veterans For Peace is imploring you all to come together with us in re-evaluating the current U.S. military involvement in Afghanistan, Iraq, Pakistan and elsewhere in the Middle East, Central Asia and Northern Africa. Please contact us at 386-788-2918 to arrange for educational talks and documentary screenings and, most importantly, sincere nonpartisan discussions on the matter.

ATTENTION READERS
Due to the nature of independent content, VT cannot guarantee content validity.
We ask you to
Read Our Content Policy
so a clear comprehension of VT's independent non-censored media is understood and given its proper place in the world of news, opinion and media.
All content is owned by author exclusively. Expressed opinions are NOT necessarily the views of VT, other authors, affiliates, advertisers, sponsors, partners or technicians. Some content may be satirical in nature. All images within are full responsibility of author and NOT VT.
About VT
-
Read Full Policy Notice
-
Comment Policy