IVAW Operation Recovery Veterans Day Update
The following had been submitted to VT by Iraq Veterans Against the War (IVAW) as an update to the kickoff article we did on Afghanistan & Iraq Vets Call for End to Deployment of Traumatized Troops-Operation Recovery.
In an effort to raise public awareness about Operation Recovery to stop the deployment of traumatized troops, Iraq Veterans Against the War (IVAW) will be exposing information about the different forms of trauma troops and veterans experience.
In the weeks leading up to Veterans Day, IVAW has been giving public presentations to educate the public about the realities of Post Traumatic Stress Disorder (PTSD), Traumatic Brain Injury (TBI), and Military Sexual Trauma (MST), conditions that affect hundreds of thousands of military members and veterans.
Photo and story of the IVAW 7 Oct kickoff of Operation Recovery in Washington, DC  credited to Rose Marie Berger in her article U.S. War Vets March on Capitol Hill – 9th Anniversary of Afghanistan War
http://rosemarieberger.com/2010/10/07/u-s-war-vets-march-on-capitol-hill-9th-anniversary-of-afghanistan-war/
Posted on behalf of IVAW by Robert L. Hanafin, Major, U.S. Air Force-Ret, GS-14, U.S. Civil Service-Ret, Veterans Issues Editor, VT News Network
IVAW Focus on PTSD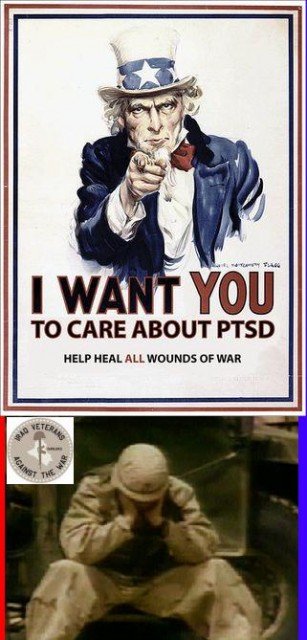 At the end of October, IVAW placed it's focus on PTSD. As Veterans Day approaches, VT readers can help IVAW spread the word by sharing this information with your friends, family, and colleagues.
Click here to send a NY Times article about the surge in veteran deaths once they get home.
The Link Between PTSD and Suicide
Every 36 hours, a military member commits suicide
In order to maintain the operations tempo to sustain the occupations in Iraq and Afghanistan our military is continuing to use exhausted and unhealthy troops who are sent to war over and over again on multiple deployments.
Common sense as well as the Pentagon's own study tells us that increased exposure to traumatic events increases the likelihood of Post Traumatic Stress Disorder (PTSD).
A dangerous symptom of PTSD is suicidal thoughts and tendencies.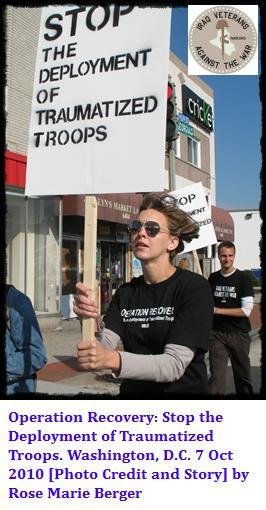 In an effort to de-stigmatize the issue of mental health within the military, the American Psychiatric Association initiated a call to reverse the policy of the President not sending condolence letters to families who have lost a service member due to suicide.  This is one step in addressing an overall military culture that stigmatizes those who seek help for mental or emotional distress, but there is a lot more work to do.
Veteran death rate is 300% higher than rate of those killed in combat
A recent study of veteran deaths in California reveals startling figures – between 2005 and 2008, three times more veterans died at home than died in combat in Iraq and Afghanistan during the same period.  The results of the study, described in a recent NY Times article by Aaron Glantz, counted the deaths of veterans by suicide, drug
overdoses, motorcycle accidents, and other risky behaviors linked to PTSD.  While the study was done just in California, there is no reason to think that similar death rates of veterans would not apply across the country.  The government isn't counting these numbers, thus keeping under wraps the human costs of the ongoing occupations in Iraq and Afghanistan.
You can share this IVAW article with a friend by clicking here
By spreading the word about the effects of redeploying traumatized troops you can help us stop the wars in Iraq and Afghanistan.
Thank you for your continued support.
In Solidarity,
The Campaign Team
Iraq Veterans Against the War is a 501(c)(3) charity,
and welcomes your tax deductible contributions
Readers are more than welcome to use the articles I've posted on Veterans Today, I've had to take a break from VT as Veterans Issues and Peace Activism Editor and staff writer due to personal medical reasons in our military family that take away too much time needed to properly express future stories or respond to readers in a timely manner.
My association with VT since its founding in 2004 has been a very rewarding experience for me.
Retired from both the Air Force and Civil Service. Went in the regular Army at 17 during Vietnam (1968), stayed in the Army Reserve to complete my eight year commitment in 1976. Served in Air Defense Artillery, and a Mechanized Infantry Division (4MID) at Fort Carson, Co. Used the GI Bill to go to college, worked full time at the VA, and non-scholarship Air Force 2-Year ROTC program for prior service military. Commissioned in the Air Force in 1977. Served as a Military Intelligence Officer from 1977 to 1994. Upon retirement I entered retail drugstore management training with Safeway Drugs Stores in California. Retail Sales Management was not my cup of tea, so I applied my former U.S. Civil Service status with the VA to get my foot in the door at the Justice Department, and later Department of the Navy retiring with disability from the Civil Service in 2000.
I've been with Veterans Today since the site originated. I'm now on the Editorial Board. I was also on the Editorial Board of Our Troops News Ladder another progressive leaning Veterans and Military Family news clearing house.
I remain married for over 45 years. I am both a Vietnam Era and Gulf War Veteran. I served on Okinawa and Fort Carson, Colorado during Vietnam and in the Office of the Air Force Inspector General at Norton AFB, CA during Desert Storm. I retired from the Air Force in 1994 having worked on the Air Staff and Defense Intelligence Agency at the Pentagon.
ATTENTION READERS
Due to the nature of independent content, VT cannot guarantee content validity.
We ask you to
Read Our Content Policy
so a clear comprehension of VT's independent non-censored media is understood and given its proper place in the world of news, opinion and media.
All content is owned by author exclusively. Expressed opinions are NOT necessarily the views of VT, other authors, affiliates, advertisers, sponsors, partners or technicians. Some content may be satirical in nature. All images within are full responsibility of author and NOT VT.
About VT
-
Read Full Policy Notice
-
Comment Policy