Road to Hope (R2H) convoy members kidnapped from Libya to Greece
Greek Commandos board Strofades IV in Greek Waters

The Road to Hope humanitarian aid convoy left London on the 10th of October with £500,000 of medical aid for the besieged people of the Gaza Strip. After travelling 4,500 miles through the UK, France, Spain, Morocco, Algeria, Tunisia and Libya the convoy stalled at the Egyptian border on October 26th due to an Egyptian refusal to allow land access to Gaza. As a result the convoy leaders had little choice but to secure a ship at significant extra expense and delay.
On Wednesday November 10th $82,500 was transferred to the Egyptian Shipping Agent representing Maltese registered "Strofades IV" for charter from Derna (Libya) to Al Arish (Egypt).  Convoy Leader Kieran Turner, speaking from the ship off the coast of Libya commented that "Ten members of the convoy along with seven Libyan police officers (including the port captain of Derna, Libya) have been kidnapped."
At the time of writing, convoy members have been held on the Greek-owned ship – at sea with its cargo ramp open (endangering all aboard) – for 40 hours. When mobile phone signals were available while the ship was passing Crete, Turner commented that "We believe we are now being taken towards Greece, away from Gaza, the destination we have been pursuing for four weeks – including over two weeks stranded at the Egyptian border.
With Egypt insisting that aid convoys must travel by sea rather than land, we were compelled to embark on what has been shown to be a dangerous, difficult, and unnecessarily expensive path to Gaza."
Ken O'Keefe, a convoy leader and survivor of the Mavi Marmara massacre, who on that occasion disarmed two Israeli commandos, said "We have spent the past two weeks in Libya trying to get our aid through Egypt by land to Gaza.
Instead we were compelled to enter complex negotiations with shipping agents who appear to have had some kind of falling-out with the ship owner – with no apparent concern for the suffering being experienced in Gaza. This begs the question why land access is not possible into Egypt for Gaza?"
After 36 hours at sea approximately 20 Greek commandos boarded the ship in Greek waters by Zodiak.  The owner of the Strofades IV (who directed the captain to depart Derna Port unlawfully) communicated to the Greek officials that the kidnapped convoy members were "terrorists". Ken O'Keefe commented that "Despite this, the Greek commandos were professional, moral and humane.  This runs in stark contrast to the brutal and murderous treatment we received from the Israeli commandos on the Mavi Marmara."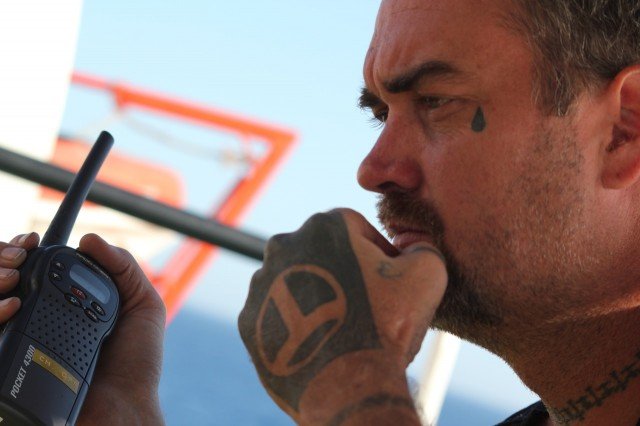 "As of this writing (aboard the Strofades IV) we are safe and comfortable, with one sick convoy member being tended to, and water and toilets being provided on request.  We hope to be processed promptly."  Convoy team leader Tauqir Sharif says "Our main priority now is to be reunited with the convoy in Libya and take our aid to Gaza as soon as possible, whether by sea or land."

Contacts:
London – Eleanor Merton +44 777 037 6701
Libya / Egypt – Kieran Turner & Ken O'Keefe +44 7944 401 757 or +44 7852 927 999
Ken is a former U.S. Marine who served in the 1991 Gulf War and subsequently spoke out about the use of depleted uranium as a "crime against humanity" and the US military using soldiers as "human guinea pigs" with experimental drugs that were directly linked to Gulf War syndrome. He is also a social entrepreneur utilizing direct action marine conservation, he is more widely known for leading the human shield action to Iraq and as a survivor of the Israeli attack on the MV Mavi Marmara in which he participated in "defending the ship" and "disarming two Israeli Commandos".
On January 7, 2004, O'Keefe burned his US passport in protest of "American Imperialism" and called for US troops to immediately withdrawal from Iraq. He replaced his US passport with a "World Passport", subsequently proclaiming himself a "Citizen of the World" with "ultimate allegiance to my entire human family and to planet Earth." His is also legal citizen of Ireland and Palestine citizenship. Read Full O'Keefe Biography>>>
ATTENTION READERS
Due to the nature of independent content, VT cannot guarantee content validity.
We ask you to
Read Our Content Policy
so a clear comprehension of VT's independent non-censored media is understood and given its proper place in the world of news, opinion and media.
All content is owned by author exclusively. Expressed opinions are NOT necessarily the views of VT, other authors, affiliates, advertisers, sponsors, partners or technicians. Some content may be satirical in nature. All images within are full responsibility of author and NOT VT.
About VT
-
Read Full Policy Notice
-
Comment Policy